Fast Track Education Services hosts "Malaysia Education Lead Meet 2018"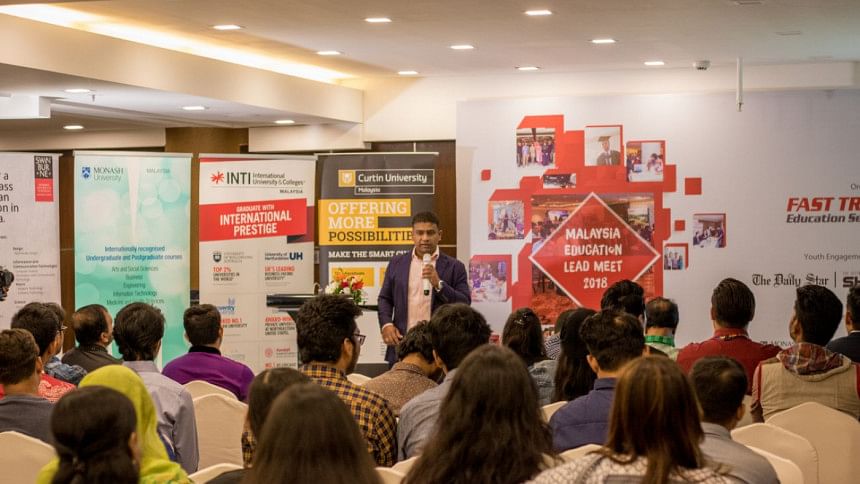 Fast Track Education Services Ltd. hosted "Malaysia Education Lead Meet 2018" on November 16-17, 2018 at Platinum Grand in Banani. The event gave prospective students a chance to learn more about universities in Malaysia through a meet-and-greet with Malaysian university representatives. SHOUT was the Youth Engagement Partner of this event.
Delegates from four different universities were present during this year's event. Students from various educational backgrounds were present, many of whom were accompanied by their parents. The participating universities included Curtin University, Malaysia; INTI International University & College; Monash University Malaysia; University of Nottingham Malaysia; and Swinburne University of Technology Sarawak Campus.
The event began with Peter Paul D'Costa, Managing Director of Fast Track Education Services Ltd. welcoming the students and parents and thanking the participating university representatives.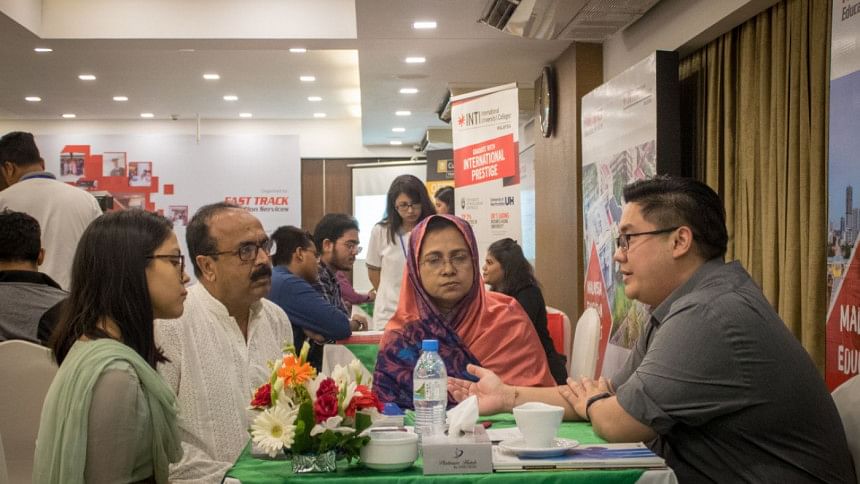 Nicholas Lau introduced the audience to Curtin University, originally located in Australia, with one of its international campuses located in Malaysia. He went on to discuss the various facilities available on their campus. "Our university is ranked among the top 1 percent universities worldwide," said Lau. "While we have many subjects available, we are especially focused on oil and gas engineering. We also provide university exchange programs for our students."
After his speech, Mala Raghavan from INTI International University was welcomed to the stage. This was the only participating university during the event that was originally a Malaysian institution. "We have over 65,000 students from 99 countries, studying across 6 campuses in Malaysia," said Raghavan. She also explained the prospects of students being able to transfer to any of the 350 universities abroad who are affiliated with INTI International University.
Next, Ian Koh from Monash University Malaysia took the stage to talk about the prospects of studying in Monash. "Our university is ranked 59th in the World University Rankings. We not only provide the same certificate as Monash University Australia, but also similar facilities to our students. The Monash University Student Association (MUSA) controls over 50 different clubs and societies for students to explore a variety of activities," mentioned Koh.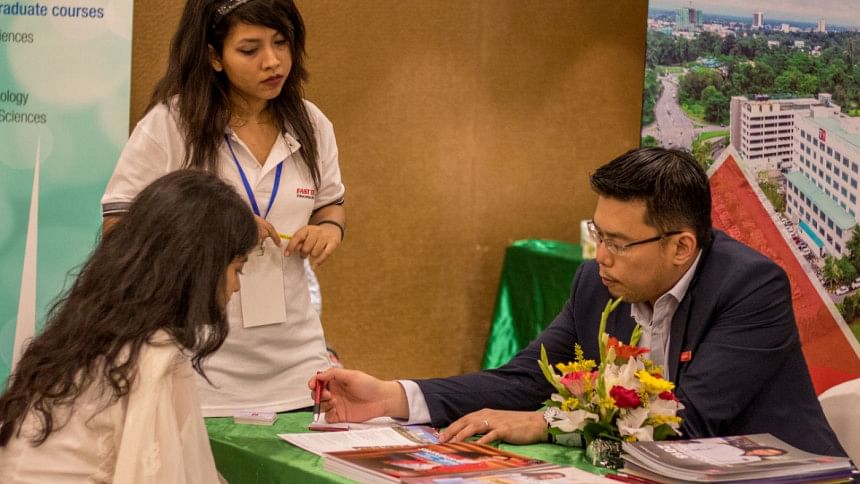 Dylan Ong from Swinburne University discussed about their campus situated in Sarawak. He stated, "Our university has over 4000 students from 50 different countries. Not only do our students graduate with an Australian degree, they get it at around one-third of the cost compared to what they'd have to pay at the Australian campus."
The seminar came to an end with D'Costa talking about why Malaysia is such a popular choice for students. "In the 10 years that we've been recruiting students, we've found that a large number of students prefer to go to Malaysia. The common reasons always include Malaysia being closer to home. The tuition costs are also much more reasonable compared to universities elsewhere in the world."
With the end of the seminar, and a small tea-break, the delegates sat down at their designated tables to provide one-on-one counselling sessions for students and parents. One of the participants, Maisha, a recent A Level graduate had come with her mother to learn more about her options. She said, "I'm glad Fast Track organised this event because it gives me a chance to explore my options in Malaysia before I decide where to apply." 
Fast Track Education Services provides consultation and solution for students who are interested in studying abroad. To find out more about Fast Track Education Services Ltd. visit their website: www.fteducation-bd.com or visit their office at 44/12, (1st Floor) West Panthapath, Dhaka-1205.