East Delta University hosts opening ceremony of new session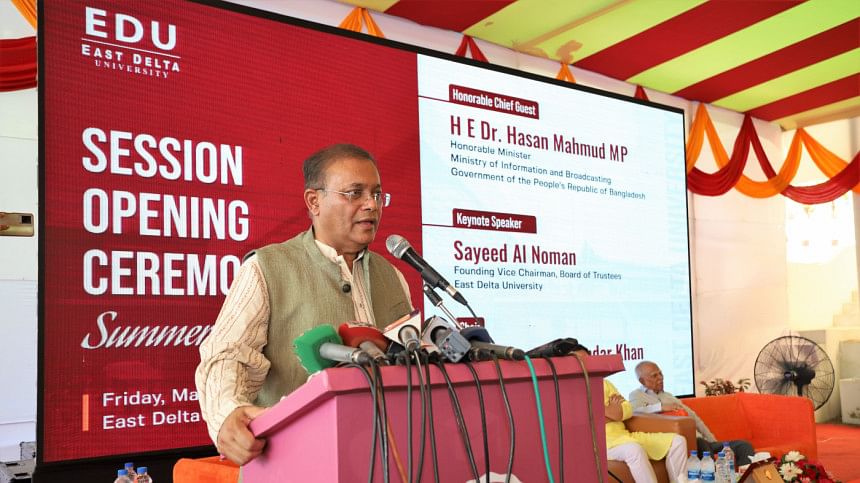 East Delta University (EDU) commenced its new session with great fervour as fresh students from various departments participated wholeheartedly in the Session Opening Ceremony held on campus.
The Minister of Information and Broadcasting Dr Hasan Mahmud MP graced the occasion as the chief guest. Emphasising the significance of university life, he stated, "A university experience encompasses more than just academic education. It is a pivotal phase where you must equip yourselves to overcome obstacles and strive towards personal growth." He also highlighted the significance of developing multidimensional skills, stressing that dreams can only come true through strong efforts and unwavering dedication. 
Speaking at the ceremony, EDU Founder Vice-Chariman Sayeed Al Noman addressed the new students and highlighted the university's core values. He said, "East Delta University was not constructed solely with financial resources; it was built with passion and dedication. Our vision is that, upon completion of your university journey, you will not only hold a degree but also possess the skills and knowledge gained through our groundbreaking projects, enabling you to thrive in the competitive world beyond these walls." The event, chaired by the EDU VC Prof. Muhammad Sikandar Khan and moderated by faculty member Tabassum Chowdhury, was attended by esteemed dignitaries including the Treasurer Prof. Shams-Ud Doha, Registrar, Dean, Proctor, HR Director, faculty members, new students along with their parents, as well as EDU alumni and staff. 
The ceremony highlighted the introduction of the university, showcasing its achievements and contributions to education. To conclude the program on a delightful note, a traditional Chittagong feast was arranged, allowing the guests to savour the local culinary delights.