BULLETIN BOARD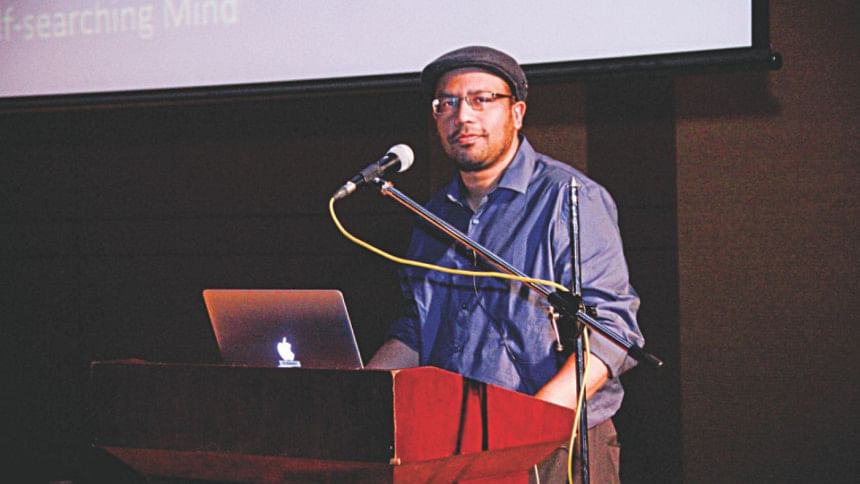 Public lecture by Dr. Zahid Hasan at NSU
The School of Engineering and Physical Sciences, North South University organised a public lecture entitled "Frontiers of Science and Pathways for Discoveries in the 21st Century" on November 26, 2015 at NSU Auditorium. The keynote speaker at the event was Dr. Zahid Hasan, Professor of Physics at Princeton University, USA. 
The programme featured speeches by Prof. Dr. Gour Gobinda Goswami, VC (in charge), NSU who chaired the session and M. A. Kashem, Chairman, BOT, NSU who was the chief guest. Dr. Zahid's lecture was aimed for the students to understand the basic inventions of science and his current research areas that could revolutionise the field of electronics in the near future. 
There was a huge gathering of students who had registered online prior to the event. There was an interactive session between the speaker and students. A performance was was held by the NSU students before the public lecture. At the end of the lecture session Dr. Zahid attended a meeting with the university authority regarding the international affairs and academic curricula. He also congratulated the university authority on achieving accreditation by ACBSP.
Dr. Zahid Hasan and his team at Princeton discovered the elusive Weyl fermion particle this year. He is also a member of the International Advisory Board of NSU. The guests along with Prof. Md. Sirajul Islam, Dean, SEPS and Prof. Dr. Mizan R. Khan, Director, External Affairs welcomed the guest and delivered speeches.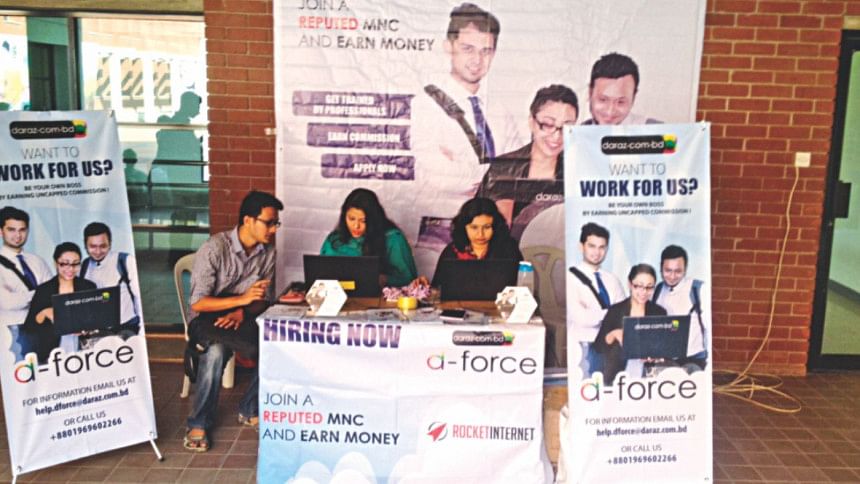 D-Force at EWU
The D-Force team carried out a two-day event at East West University on November 24 and 25, at which the D-Force booth was installed as an information and registration point. 
On November 25, D-Force managed two workshops in which more than 150 students participated actively and enthusiastically, with around 400 registrations in just two days. 
This event, considering the last minute approval by the university management thus less time for marketing, has been strikingly successful. The daraz.com.bd team is geared up and ready to take e-commerce to the next level with their 
biggest sale of the year, "Fatafati Friday", tomorrow. 
Save the date and visit http://bit.ly/1Ybu7lc

Farewell Ceremony 2015 at WUB
Farewell Ceremony 2015 was held on November 21, 2015 at the auditorium of the World University of Bangladesh (WUB). Asaduzzaman Khan, MP, Minister, Ministry of Home Affairs, graced the occasion as chief guest. Prof. Dr. Abdul Mannan Choudhury, VC, WUB chaired the session while Dr. Musfiq Mannan Choudhury, Secretary, BOT, WUB was present as welcome speaker. Morsheda Choudhury, Treasurer, WUB and AHM Nouman, winner of GUSI International Peace Award 2013 were present as felicitation speakers. Prof. Dr. M Nurul Islam, Pro-VC of WUB gave thanks to all for present in the programme. In this farewell ceremony, 380 graduate students were awarded with WUB Crest.
 
DUQS organises Quiz Fest 2015
DUQS Quiz Fest 2015, was launched from November 26-28, 2015, organised by Dhaka University Quiz Society (DUQS).
Thirty-eight teams from different departments and halls of the university took part in the quiz competition where the Public Administration Department became champions defeating Bangabandhu Sheikh Mujibur Rahman Hall in the final which was held at the last day at TSC auditorium.
VC of the university Prof. Dr. AAMS Arefin Siddique as the chief guest and chief speaker handed over prizes to the champions and runners-up. Father Dr. Tapan De Rozario, Chairman and Professor of World Religion department, Abid Al Hasan and Motahar Hossen Prince, respectively president and secretary of Dhaka University Chhatro League, and former general secretary of DUDS Nazmul Huda Suman were present as special guests at the price giving ceremony. The programme was presided over DUQS President Md. Rezaul. There was also a cultural programme including band music and mime show.
Pro-VC (Administration) of DU, Prof. Dr. Shahid Akhtar Hossain, along with Chairman of Criminology Department and Provost of Zia Hall, Prof. Dr. Zia Rahman inaugurated the fest. Pran Mr. Mango was the title sponsor; Toma Group was platinum sponsor and Adarsho Prokashony was the book partner.

TEDxAIUB An intellectual adrenaline rush
TEDxAIUB (American International University - Bangladesh) is taking place on December 12 this year in AIUB is a TEDx University event operating under a license from TED. TEDxAIUB is one of the only few in TEDx events in Bangladesh, designed to gather the unique minds in our community to spark conversation and connection. We strongly believe in the power of ideas to change beliefs, individuals, and eventually societies.
Keeping TED and TEDx events in mind, this year's theme for the event is "Ideas are Infinite". In this event, we celebrate stories of those who have come up with unique ideas in various fields like education, career choices, entrepreneurship, home and much more. With their exceptional minds and immeasurable work ethics, these individuals are truly icons who will surely inspire students, faculties and general audiences alike.
Registration for TEDxAIUB is already open and the last date for registration is December 5. The link is provided here. Seats are limited so only selected participants will get to become attendees.
TEDx events all around the world are successful for generous sponsors and heart warming audiences. This year the sponsors and partners supporting TEDxAIUB are American International University -Bangladesh (Title Sponsor), WebSlack (Website and Web Design Sponsor), KNasif Photography (Photography Sponsor), The Daily Star (Youth Engagement Partner), WebAble Digital (Social Media Partner) and Radio Dhoni (Radio Partner).
2nd National Debate Festival at GUB
Green University Debating Club organised the 2nd National Debate Festival in association with WaterAid Bangladesh. The programme began on November 26, 2015 and ended with a grand finale on November 28, 2015. Country's leading 16 colleges and 32 universities participated in this grand debating celebration. After close battles of arguments, Dhaka University Debating Club became champions and Daffodil International University became runners-up in the inter-university debate competition. On the other hand, Notre Dame College Debate Club-Gold became champions and Notre Dame College Debate Club-Blue became runners-up in the inter-college debate competition. At the closing session, Md. Shahjahan Ali Mollah, Secretary of Bangladesh Public Service Commission was present as the chief guest while Prof. Dr. Md. Golam Samdani Fakir, VC of Green University of Bangladesh presided over the session. Farhana Helal Mehtab, Associate Professor and Head of the Dept. of Law of Daffodil International University and Md. Shahid Ullah, Treasurer of GUB were also present as special guests. Faculty members and students of GUB, different debate teams of different educational institutions were present in the debate competition.
Unbelievable Black Friday offers at Kaymu
Kaymu.com.bd, Bangladesh's largest online marketplace, is all set to launch Black Friday sales for the first time in Bangladesh. Starting midnight Friday (December 4), Kaymu will unleash a range of unbelievable offers on fashion, footwear, accessories, electronics and more.
The time-bound offer will run throughout December 4 and offer discounts of up to 80 percent on many items.
Quazi Zulquarnain, Managing Director of Kaymu Bangladesh said, "Our team has worked to secure the best possible deals for customers to enjoy. At Kaymu our goal is to ensure there is something for everyone, which is why prices for certain products are as low as BDT 50."
Thanks to the Black Friday discounts, wristwatches can be purchased from Kaymu for BDT 50, headphones for BDT 99, memory cards and mouse for BDT 60 and much more. For the fashion conscious ladies, palazzos can be purchased for prices as low as BDT 80. Purchases can be made from both 'Kaymus website, mobile site or through the mobile app.
To enjoy Kaymu's Black Friday deals visit their website at www.kaymu.com.bd/black-friday or join the Kaymu Bangladesh Facebook page at www.facebook.com/kaymubd