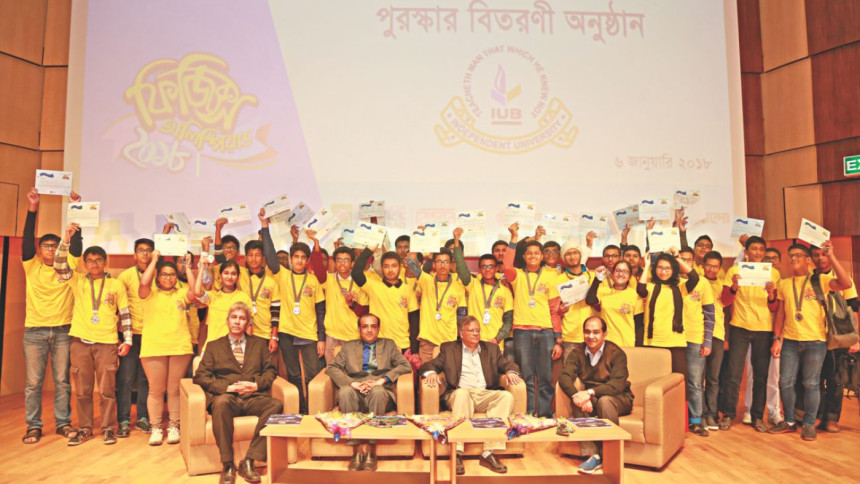 IUB hosts 8th Bangladesh Physics Olympiad 2018
The 8th Dutch-Bangla Bank Prothom Alo Bangladesh Physics Olympiad 2018 was held in collaboration with Independent University Bangladesh (IUB) on January 6, 2018 at IUB's own campus in Bashundhara, Dhaka. 
The Bangladesh Physics Olympiad is held annually and takes place in two phases. The first phase consists of 12 regional contests. IUB hosted the contest for Dhaka region. The top candidates from each category are given awards and participate in the national contest.
A total number of 1084 students from various schools and colleges of Dhaka region took part in this national competition. The daylong programme started in with hoisting of flag and singing national anthem. Then, the Physics exam began. In the afternoon, an interactive Q&A session was held. After the event, Prof. M Omar Rahman, VC of IUB distributed medals and certificates among the winners of Physics Olympiad as the chief quest. Prof. Shahriar Khan, Dean, School of Engineering and Computer Science, IUB; Prof. M. Arshad Momen, Coach, Bangladesh Team, International Physics Olympiad and Professor, Physical Sciences, IUB; Dr. Habib Bin Muzaffar, Head, Department of Physical Sciences, IUB; and Fayez Ahmed Jahangir Masud, General Secretary, Bangladesh Physics Olympiad Central Committee were also present on the occasion.
Primarily, 155 winners from A, B, and C categories were rewarded. Category 'A' consists of students from Class 7 and 8 while 'B' and 'C' categories comprised students from class 9 to 12.
WUB holds seminar titled "Venture Capital for Entrepreneurs"
Department of Business Administration, World University of Bangladesh (WUB) organised a seminar on "Venture Capital for Entrepreneurs" on January 8, 2018 at the auditorium of WUB Main Campus. The ceremony was graced by Chief Advisor of the University, Prof. Dr. Musfiq Mannan Choudhury as chief guest while Prof. Dr. M. Nurul Islam, Pro-VC of the University chaired the session.
Dr. S.M. Ferdous Azam, Faculty of Business Management and Professional Studies, Management and Science University, Kuala Lumpur, Malaysia was present as keynote speaker. Heads of Departments, faculty members and students of Business Administration department were present in this programme.
SEU organises Admission Carnival
Southeast University (SEU) organised an "Admission Carnival" for Spring 2018 semester on January 7-11, 2018 at the main building, SEU, Banani, Dhaka.
Prof. Dr. ANM Meshquat Uddin, VC of SEU inaugurated the programme. M. Kamaluddin Chowdhury, Representative of BOT, SEU Trust; Maj. Gen. Kazi Fakhruddin Ahmed, SPP, psc (Retd.), Registrar of SEU; Prof. Meer Mobashsher Ali, Chairman, Department of Architecture; Dr. Rakibul Hassan, Chairman, Department of Bangla Language & Literature; Dr. Mehe Zebunnesa Rahman, Director of BBA Programme; senior faculties and high officials of different departments of SEU were present at the event.
Students will avail 50 percent discount on admission fees during this Carnival. Expert faculty members will be available for counselling on subject choices, job prospects and other academic issues.
IUBAT appoints Prof. Rab as new VC
Prof. Dr. Abdur Rab has been appointed as Vice Chancellor of the International University of Business Agriculture and Technology (IUBAT). President of the People's Republic of Bangladesh and Chancellor of IUBAT Advocate Abdul Hamid appointed him as the VC for the next four years. Prof. Rab joined formally on January 3, 2018.
Prof. Rab did his doctorate from Belgrade, MBA from Indiana, M.Com. in Management from Dhaka University and CMC from Australia. In his career, Prof. Rab served as VC of Eastern University, Director of IBA, and as a professor at Dhaka University.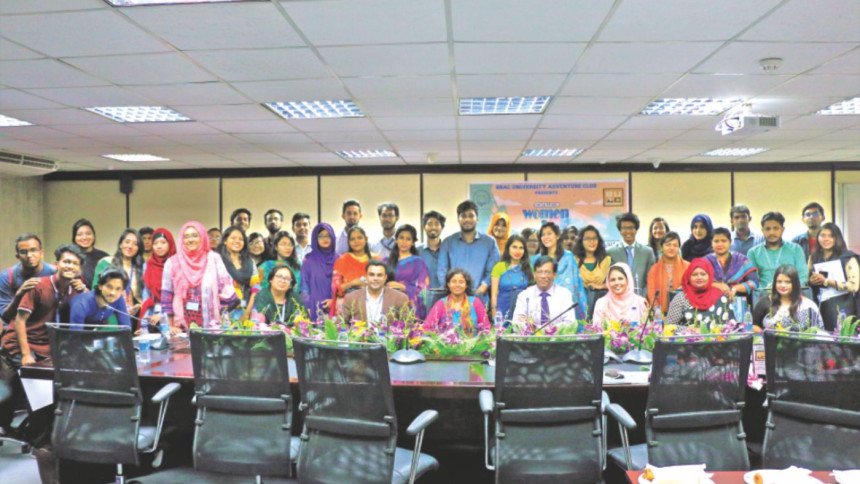 BUAC organises seminar titled "Women in Adventure"
BRAC University Adventure Club (BUAC) organised a seminar titled "Women in Adventure: The Next Chapter" at the BRAC University GLDN Centre on November 27, 2017.
The seminar revolved around the issues regarding women going on adventures or adventure based sports, the adversities that they face and motivating them to overcome those and pursue their wanderlust. It was a 2-hour seminar and Pro-VC of BRACU Dr. Ansar Ahmed presided as the chief guest and as a special guest, the first Bangladeshi woman to climb Mt. Everest, Nishat Mazumder, graced the event.
The seminar started with the welcome speech of the President of the club, Zarin Tasnim Deepty and ended with the speech of the advisor, Muhammad Foysal Mubarak. Among the speakers were Chaity Farhana, an avid traveller and RJ; Laila Noor Begum, Vice President of Bangladesh Swimming Federation; Tanvir Akhter Sohana, retired Flight Manager and Chief Purser of Biman Bangladesh Airlines. These aforementioned women shared memories of their travels and also talked about the adversities they faced and how they dealt with them. All of them put emphasis on travelling in order to explore the world and develop skills. The seminar was much needed in the context of our country and how women get frowned upon if they talk about pursuing adventure or adventure sports.
EWU welcomes freshers of Spring 2018 semester
The orientation programmes of the newly admitted students for Spring 2018 semester were held in East West University (EWU) campus at Aftabnagar, Dhaka on January 4, 2018. Nearly 1600 students have been admitted to graduate and undergraduate programmes in 14 different departments this semester. Each Department of EWU arranged individual programmes for their newly admitted students to welcome and introduce them to university facilities, faculty members, the academic system and the rules and regulations of the institution.
Those programmes were attended by, among others, Dr. Mohammed Farashuddin, Chairperson of BOT, EWU and former Governor of Bangladesh Bank; Prof. Dr. M.M. Shahidul Hassan, VC; Prof. Dr. Fakrul Alam, Pro-VC; A. Z. M. Shafiqul Alam, Treasurer; and the Deans of the University.