Becoming A Street-Cricket Pro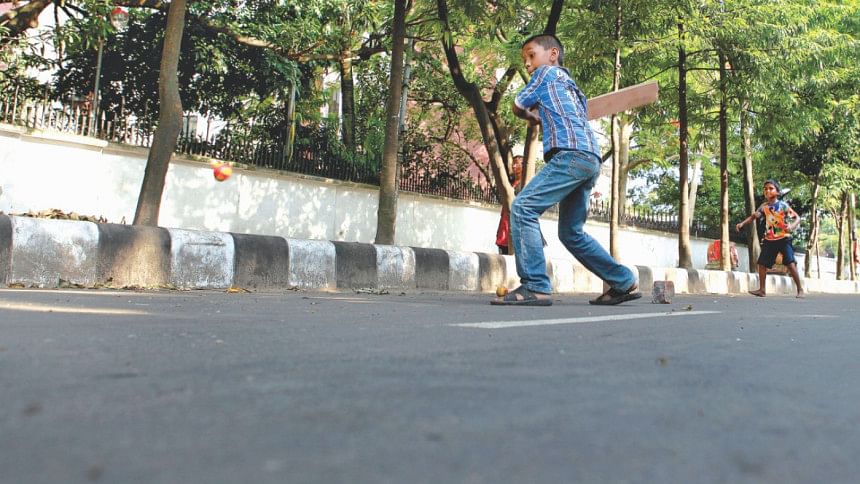 Move over Messi, it's Mustafiz now! The BD Tigers' recent turn in fortunes, coupled with the loss of prime footballing real estate in the city has led a lot of teens to now try and ply their trade with bat and ball, in the roads of the city. And we all know what that means... the title of "Don Bradman of 28 number" is up for grabs.
First, the basics: make sure you are familiar with the rules of the game, and you have everything you need. Take out that old MRF bat (whose grip resembles a zombie's skin by now) from behind your cupboard, and since nobody seems to own stumps, grab a chair, bucket or something similar. Stock up on tennis balls and tape from the mama's dokan nearby, familiarising yourself with inflation as you do so (these balls cost Tk 30 now), and we're good to go.
Next, find yourselves a long, straight piece of tarmac that you can call your MCG, and set the boundaries. Here's where you can get sneaky by setting short boundaries so you can get some runs on the board. Longer boundaries usually mean low-scoring games with lots of tedious running between the wickets. Who needs all that?
When batting, it's best to hit straight. Straight drives are the highest scoring shots on the streets, and if you can play lofted ones, even better. Occupy the crease as long as you can by any means, regardless of how underhanded they may be. Always guard your stumps and dismiss any LBW appeals by vehemently insisting that 'the ball pitched on the on-side'. Make sure you've turned the umpire on your side with a promise of a treat at Takeout, to get no-balls and free-hits in your favour. Your friends are probably lousy wicket-keepers, so you can rotate the strike by playing pace bowling off your legs, or down to third man. And if you do get out, create a scene and make sure to let the entire neighbourhood know that the bowler only got you out because he 'chucked'.
When bowling though, chuck! It doesn't matter if you're no Mitchell Johnson-esque speedster or no spin wizard like Murali; if you chuck well, you'll still do a good job. Forget about line and length; here, all you want is to avoid the shame of being hit for a six. Bowl as full as you can, and at the batsman's legs. Even a full toss at the pads will rarely be hit for six. For weaker batsmen however, you can cut loose and bowl that Shane Warne leg-spinner you've been secretly practicing. Just make sure you don't bowl wides, and appeal for a wicket whenever possible, even if you know there's no way that was out.
Finally, and most importantly, SLEDGE! This is your ultimate opportunity to put to good use all those swear words your driver taught you. Cricket may be a gentlemen's game, but street-cricket certainly isn't. Be prepared to bully and taunt your opponent; who cares if you're losing a few friendships along the way and irreparably damaging a few others? Remember, you make the rules and you change them to what suits you when needed. And if still nothing goes your way, unleash your inner genjam-ist. Throw a tantrum befitting a six-year-old, wreak some havoc and leave.
*throws tantrum, "ami r khelbo na", drops bat, walks out, goes home, plays Brian Lara 2006*
Nibras is a hopeful doctor-to-be and a lover of murgi roast. He spends his free time stalking you on instagram, so DM @niibbzzz