Bangladesh YouthFest to hold finale on May 13-14 at NSU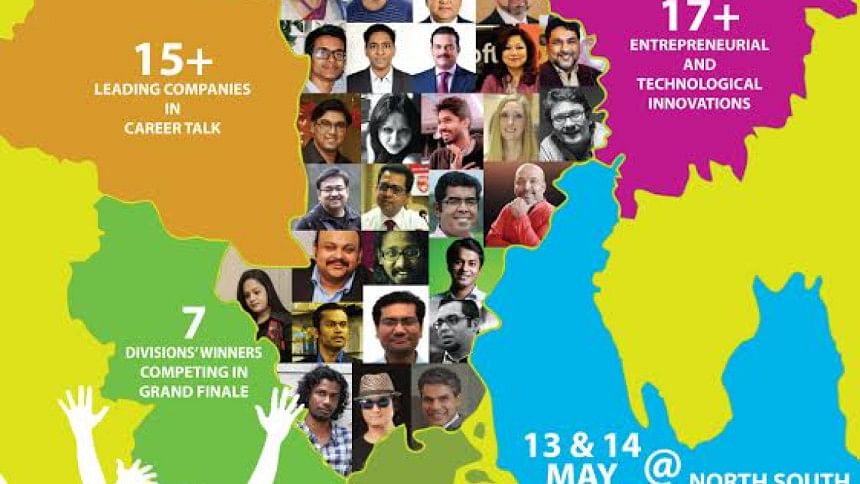 DCCI presents Bangladesh YouthFest will complete its first season with a grand finale and a two-day festival on May 13-14, 2016 at North South University. The festival is powered by Symphony and is open to registration for all undergraduate students.
With the mission of "Inspiring the Nation's Future", Bangladesh YouthFest started its journey in February 2016. An initiative of Bangladesh Brand Forum (BBF), YouthFest is a unique endeavour designed around the vision of creating Innovation Hubs in seven divisions to drive the next level of economic growth for the region. BBF believes that it is the youth who will lead this journey. So far, the initiative has engaged students from seven divisions: Dhaka, Chittagong, Rajshahi, Khulna, Barisal, Sylhet and Rangpur. In addition to day-long knowledge sessions, showcasing and interactive lecture series, extensive ideation competitions were held in each division.
In the finale, a total of 42 winning teams from the seven regional rounds will compete in seven broad categories - Social Issue, Technology: New Product, Technology: Fresh Idea, Entrepreneurship Idea, Tech-based Entrepreneurship Idea, Paper Presentation on Prediction of the Regional Economy for 2025, and Women Entrepreneurship. Winning teams from each category will attend in Spikes Asia 2016 in Singapore, the largest festival of creativity in Asia.
The grand finale and gala round in Dhaka is also designed with a number of interactive knowledge and entertainment sessions.
Lecture Series is designed to share insightful learning from real-life experiences of over 40 experts of the country, ranging from academicians to CEOs. Some of the experts who will be conducting the lecture series are Geetiara Safiya Choudhury, Chairperson, Adcomm Ltd., Abrar A. Anwar, CEO, SCB, Sonia Bashir Kabir, Managing Director, Microsoft Bangladesh, Gousul Alam Shaon, Managing Director, Grey Dhaka, Sajid Rahman, CEO, Telenor Health, Amitabh Reza Chowdhury, Director, Half Stop Down, Yasir Azman, CMO, Grameenphone, Anisul Haque, Mayor, Dhaka North City Corporation, Syed Ferhat Anwar PhD, Professor, IBA, Dhaka University, Nazia Andaleeb Preema , Visual Artist and President, Women in Leadership.
An exclusive "Career Talk" session will be conducted by 15 most sought-after companies for jobs, respectively. This interactive session will answer many queries of the participating students as well as guide them to land with the right job. The participating companies are Unilever, Grameenphone, Reckitt Benckiser, Nestle, Standard Chartered, British American Tobacco, Symphony, Asiatic 360, Shwapno, and Microsoft.
Under the banner of "Innovation Hub", a number of exciting programmes are also designed to engage the visiting youths. Among them are start-ups showcasing, exclusive Cannes Lions Seminar 2015, conceptual art development by students of Institute of Fine Arts & North South University, innovation showcasing based on technology projects developed by students, showcasing on tiger conservation  by WildTeam and water challenges in Bangladesh by IFC, gaming corner by Grameenphone, etc.
Bangladesh YouthFest will be also graced by popular media celebrities like Nafisa Kamal Jhumur, Leemon, Shafin Ahmed, Tahsan, Mehreen and many more who will carry out live performances and interactive sessions with the audience.
Bangladesh YouthFest is presented by Dhaka Chamber of Commerce & Industry (DCCI), powered by Symphony, co-sponsored by Sajeeb Group, supported by Dhaka Bank, City Bank and Shift. Bangladesh YouthFest is initiated in association with Prothom Alo and Chakri.com. This initiative also has Grameenphone as Digital Partner, US Bangla Airlines as the Official Carrier, Light Castle Partners as Digital Analytics Partner, IBA Alumni Association and SD Asia as Strategic Partners, North South University as Learning Partner, GTV as Media Partner, MastHead PR as PR Partner, and WebAble as Social Media Partner.
SHOUT is the Youth Partner of the event.