Navana 3S Centre: One stop solution to pamper your ride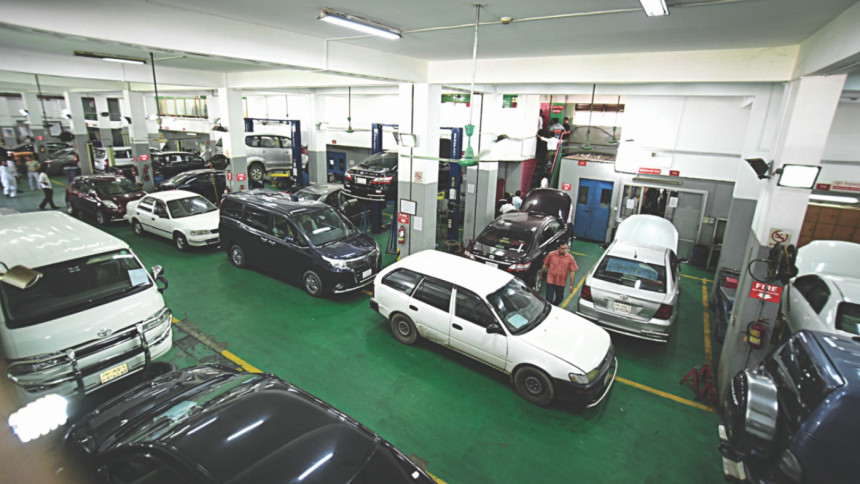 One of the perks of owning a brand new car is not having to deal with erratic neighbourhood mechanics due to the warranties provided by the dealers and near bullet proof nature of new vehicles. But you do not know what luck you have, and might be compelled to visit the workshop even the day you buy your new car. Imagine driving out of the dealership and a careless autorickshaw gives your shiny new car a love bite. Cringing, you will be obliged to take it to the workshop to be repaired before taking the car home. Things become very easy if the dealer has a functional workshop to take care of the issue.
Navana's strict adherence to Toyota's Quality Management
Navana has been in the business of selling brand new Toyota vehicles for over 50 years in Bangladesh, and to complement that, they have quite a few service centres around the country to help customers overcome car troubles. Adjoining their dealership in Tejgaon, they have their 3S Centre, a state of the art, Kodawari (Japanese for "pursuit of perfection") certified service station.
A Global Operations Guideline (GOG) is applied from the very beginning of the service operations to the delivery stage. It comprises of all aspects of the service from compliance to providing original parts to attaining total customer satisfaction. If you have a new generation Toyota vehicle, it is suggested you get it checked though Toyota's VIM (Vehicle Interface Module), and not tampered with other interfaces available locally.
What the service station houses:
Toyota divides their service station in three parts - General Repairs (GP), Periodic Maintenance (PM) and Body Paint (BP). Naturally, the 3S Centre in Dhaka is built accordingly. There are four service floors, each connected to the other with a winding driveway.
The ground floor houses the billing offices with the General Repairs section. An advanced engine inspection system is stationed there that analyses the motor by studying exhaust gases the combustion chamber emits. Engine overhauls and drive train replacements are carried out here. Some suspension work like wheel alignment, balancing and caster/camber adjustment facilities are also located here.
Climb up to the first floor and you will enter the Body Paint section, which houses two body paint booths and a Hawk chassis aligner. To ensure a factory quality finish, the body paint section controls the dust, temperature and pollution of the vicinity. Paint-in-process vehicles are baked under the right conditions (60-65 degrees Celsius) before being transferred to the next phase of the paint job.
The second floor is dedicated to General Repairs of high tech vehicles including hybrids and Lexus models. All Lexus models are worked upon without any issue, confirms Navana. Vehicles diagnosed with electrical issues including sensor troubles and air conditioning problems are also sent here. Currently, the only hybrid vehicles Navana is selling is the 2.5 litre Camry. Recently, the Bangladesh government commissioned 50 Camrys to its Minister pool, and considering the heavy usage, they require regular inspection.
Lastly, the third floor has quite a few sections to it. The Periodic Maintenance unit works on thirty to forty vehicles a day; usually takes care of vehicles under service warranty, such as replacing the engine oil or air filters. It is to be noted that maintenance parts are not included in the warranty (such as a fuel filter change). The other section houses specialized diesel vehicle works (including Commonrail technology), where most of the vehicles are either owned by the Armed Forces or government. Finally, the floor also has a large training room, where we sat down to be briefed upon all these before the workshop tour.
How are the technicians trained?
Previously the technicians were flown to Japan, but Toyota made an extensive training facility in Bahrain recently, where Toyota technicians from most South East Asian countries are now sent to for periodic trainings. Once trained, the technicians conduct follow up training in the local (Tejgaon) training centre. Furthermore, pro technicians from Japan are occasionally flown over to Dhaka for extensive local trainings.
Not all technicians are allowed to touch your precious vehicles, unlike your neighbourhood workshop. Depending on the diagnosis, pro technicians or master technicians will be appointed to oversee your vehicle's work progress.
Is there any mobile assistance?
In order to tackle on-the-road emergencies, Navana 3S Centre has a fully functional Spanner Patrol team ready to go over wherever you get stuck with your vehicle. Some of the most common on-the-road problems are battery and radiator related issues; indicating sheer negligence of car owners/drivers.
The most common car troubles Navana 3S Centre faces:
It is common knowledge that newer generation vehicles are nowadays more intelligent than the drivers themselves. As a result, most errors are coded into the "Engine check" warning in the instrument cluster. Some of the most common reasons for your engine check warning to go off can be issues with CNG system, bad fuel or electric sensor issues. Besides that, the terrible road and traffic condition of the country is to be blamed for tons of suspension and brake jobs. Lastly, engine tuning is also reported to be one of the common problems of customer vehicles.
Should you trust Navana 3S?
There are hundreds of workshops around, and your vehicle's longevity is directly proportional to the service you get from them. Navana goes all out in terms of customer satisfaction – it is known that converting your brand new car into CNG system will void you of the dealership warranty, but Navana 3S Centre will continue assisting customers with these conditions out of sheer goodwill.