Test Drive
Sharp suited: 2011 Toyota Vitz RS
Toyota is finally designing interesting cars after a long, long break. We have a moderately warm hatch to play around with. Is it fun?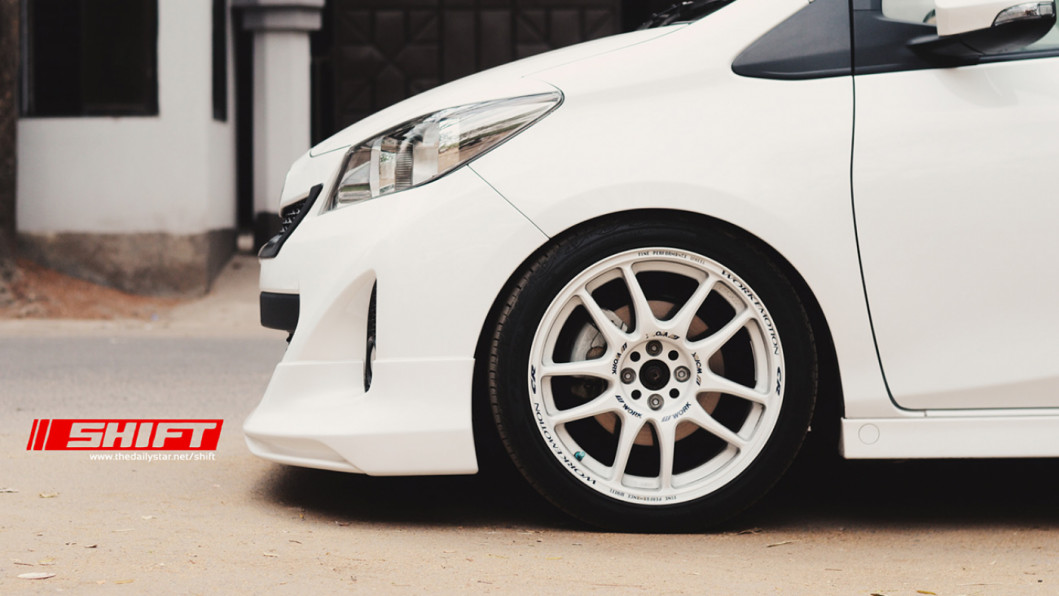 When a friend calls and says he has a Vitz for me to drive, I don't get excited. The Vitz doesn't offend. It's a likeable car. It is like the little house pets that are cute, trained not to pee on guests and know how to go fetch a ball without chewing it to pieces. The Vitz, also known as Yaris, always did what it was asked but had limitations. It just wasn't cool. It was a toaster with a couple of added features.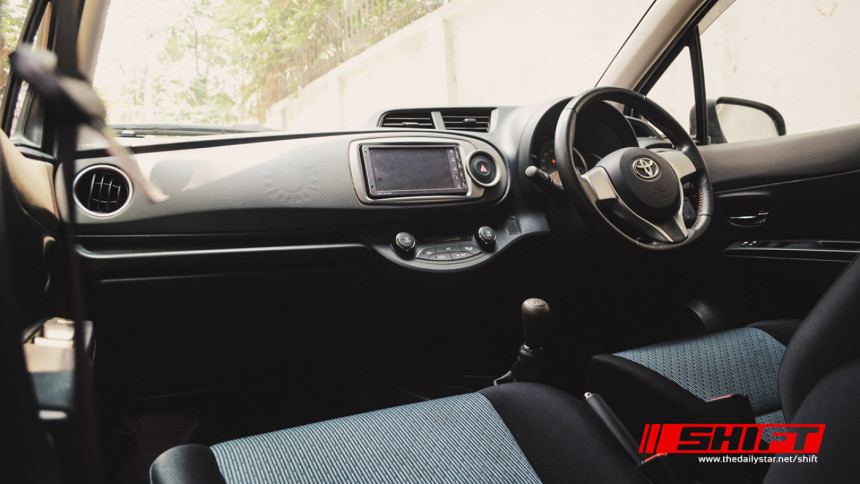 But then the friend says it is an RS. Now that gets me interested. Toyota added some apparent cool to the Vitz by adding the RS badge to the hump. Did they add anything mechanically cool? A slightly bigger than stock engine with better brakes and lowered, stiffer suspension. And this, the third generation, looks pretty damn good. If you remember, the sedan version that came first (known as Echo in Bangladesh) was a horrible little car. It looked worse than a miniature hippopotamus that got abandoned for being clueless. The stubby shape of that car worked better with the hatchback. Fast forward a decade or so and with this third generation current model, they added some contemporary angular slashes to create a sharper looking car.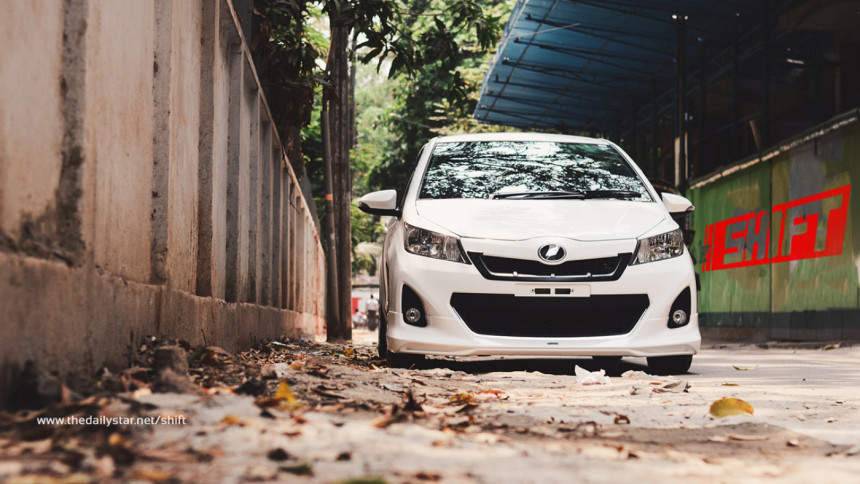 The one you see in the pics is a Modellista optioned version. It comes with a redesigned body kit and a centre mounted, slightly more free flowing exhaust. The stock Vitz RS also comes decked with a kit but that is less aggressive looking than the Modellista. All RS come with disc brakes all round. Engine options for 3rd gen, post 2010 are 1.5 with a 5-speed manual or a Japan market-only optional 7-speed CVT.
Previous generation RS used to be a 1.8. This particular RS now tops at 1.5 with a sub 110bhp power figure. That's not a lot hence this is not exactly a hot hatch. It is more of a warm hatch. Here's why. The freer exhaust makes it sound a little snazzier that it is. The car is also light at barely over 1000kg so those easy revving horses make for zippy movement. It's not a fast car but it is moderately quick. That means pottering around our crowded city is a fun affair. The limited time I had with this was mostly on crowded streets. Let's face it, that's where it will be all the time anyway.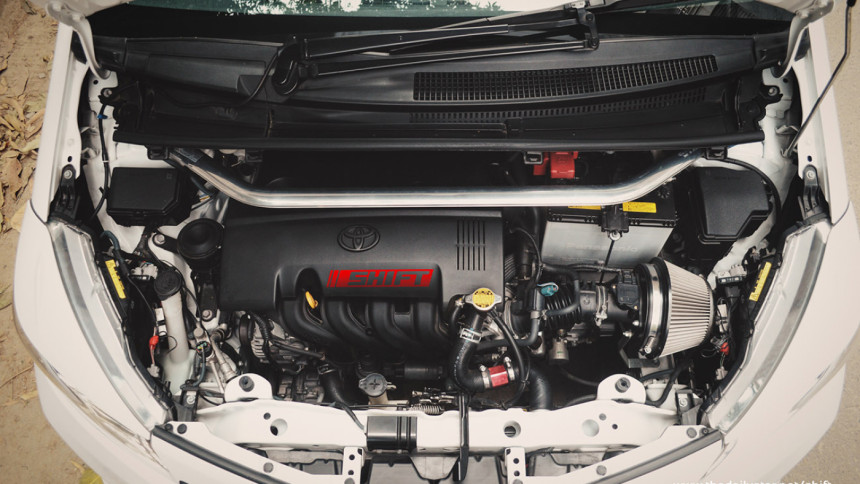 The 5-speed manual has a soft clutch that you can operate with ease all day long. The gear snicks into place making it feel 'racecar' without tiring you out. It sits on coilovers so the ride is much firmer than a stock Vitz RS. Yet the stiffness is on the right side of comfortable. The regular RS itself is a little lowered and stiffer than the absolute bone stock Vitz. Either case, you get a comfortably firm ride without rattling your bones.
The car is well packaged with a spacious interior full of places to store/hide things. I don't think people as tall (or wide) as 6 feet will have much trouble fitting in. One good change is the gauge cluster now sits in the traditional location in front of the steering wheel as opposed to the previous, oddly placed in the centre. There is huge trunk space which shouldn't be wasted on a CNG tank because the fuel efficiency on this little fun car is stellar. Previous experience with stock 1.5 Yaris/Vitz shows at least 10kmpl in the city on average.
Why you should get one: The RS is fun. Its lowered, slightly stiff suspension makes it handle better than any other 'appliance' level cars like the Corolla/Allion/Premio. Since these cars spend most of their time in the congested cities, the interior is well insulated from the chaos of the outside world. Visibility is excellent although rear is a little tight to see out of.
Why you shouldn't get one: Because you want completely boring cars. You want an Allion. Life hates you.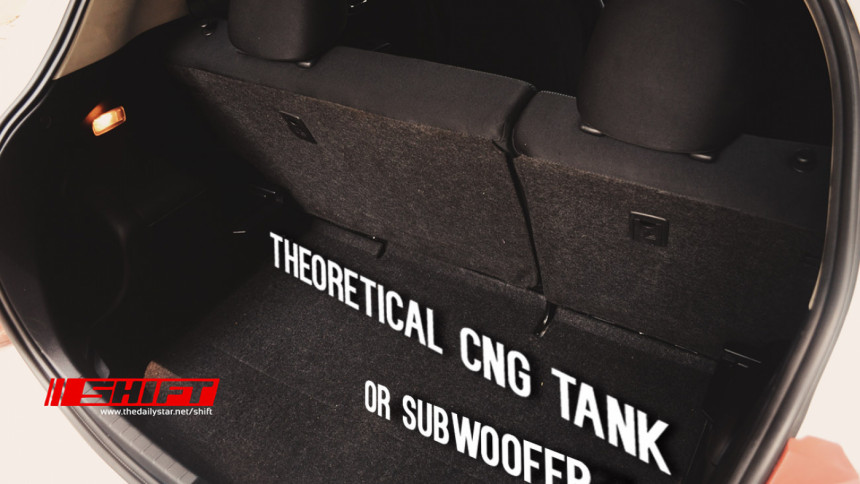 SPECS:
Modellista kit/exhaust package, Tein coilovers, 17 Work Emotion rims, push start, 1.5 litre, 5 speed manual, power everything. Price as of this article: 18.5 lakhs
Stock Vitz RS will be a little cheaper. Car was given to us by JZ Automobiles.