2018 Suzuki Ciaz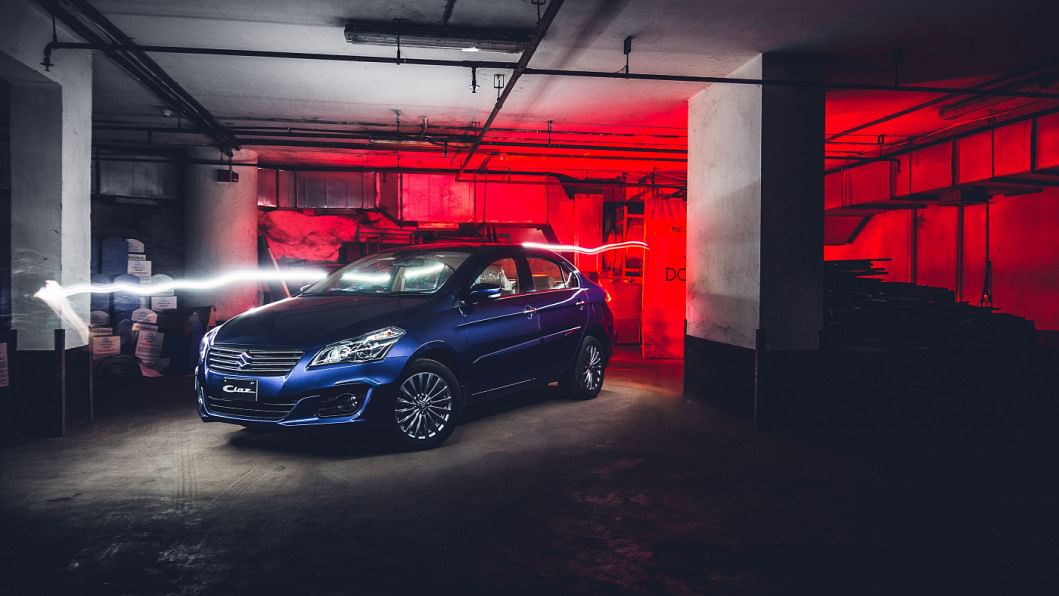 What a surprise. Suzuki DOES make cars bigger than a suitcase. Except our local market barely seems to know anything about that. So we asked the dealership to send us one for a drive. They sent us two.
What is this thing?
The current Ciaz has been in the market for a while now. Why should you know about it? It was originally launched worldwide back in 2014 to replace the SX4. The compact sedan falls into the same body style category as the Honda City, Nissan Almera, Toyota Vios and Hyundai Accent, all of which are sold here.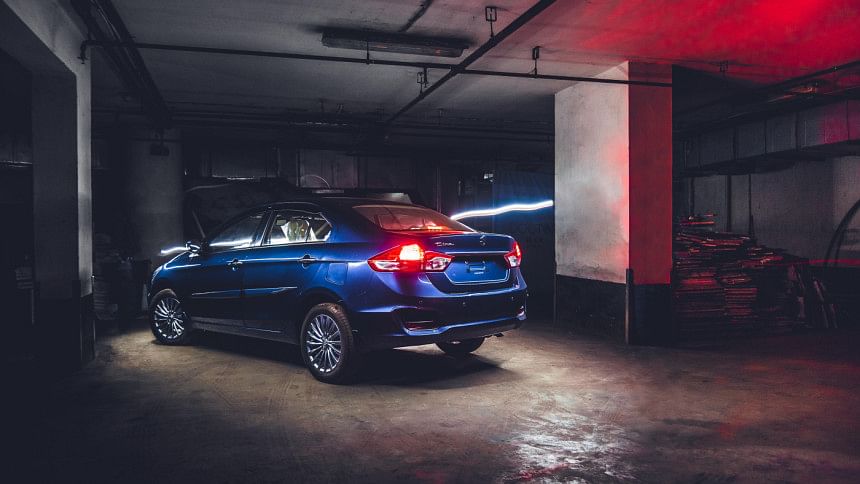 It has the contemporary proportions of a compact urban car: large cabin, sloping nose, slightly cab-forward design and big windows. It has a smart profile starting with a raked nose that gradually rises up and flows down to a short rear deck. The large slab sides are smartly broken up by a crease running lengthwise. Visually, this follows safe design cues, but it does it well. The wedge shape is similar to the very popular Axio Corollas we see here, albeit with what appears to be a slightly longer hood. The proportions are aesthetically pleasing as opposed to the odd, bloated, puffer fish style design of the competing Nissan Almera. Pointy tail and headlights of the Ciaz complete the contemporary looks with the tail section looking vaguely like a Honda City. Not at all a bad comparison. 16 inch wheels ensure it doesn't look like a body builder who avoids leg days. 
What is it like inside?
Simple, fuss-free controls and bright gauges create a familiar territory: you've been here before and you won't mind being here again. Our test units featured beige and black interiors. It created a bright, airy cabin that made it look even bigger inside.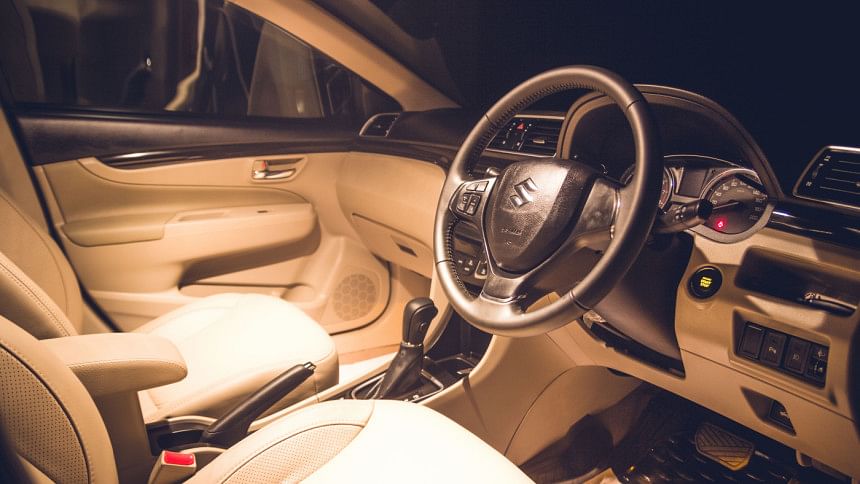 We pitted it against a second generation Premio used by our photographer. The Ciaz happened to be only about three inches shorter in overall length. That created a spacious interior with very generous rear legroom courtesy of an almost flat floor.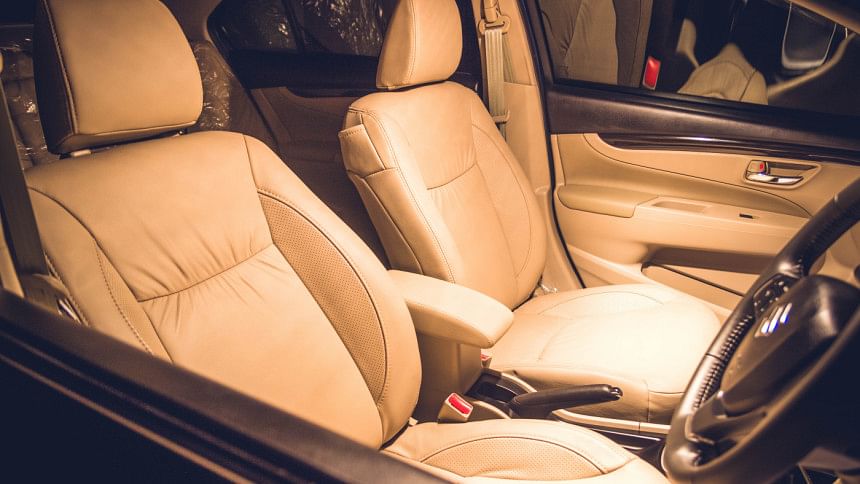 The plastics used are similar to the Toyota Vios and Hyundai Accent, and many grades above that of the middling Nissan Almera. Not premium but they did not feel like they would fall apart anytime soon. 
Driving impressions
There are a plethora of engines for the international market, all the way from 1.2 to 1.6 litres (including a diesel). Bangladesh gets the fully specced 1.4 litre packing 91 HP and 95 lb-ft torque. It accelerated confidently, quite overlooking the sub-100 HP output. Beyond the initial surge, things get a little flat near the higher end. 
The engine is mated to a traditional 4-speed automatic transmission. It was smooth without the head jerking 1-2-3 motions, mostly because the gears are long and held in place longer. Can't help thinking a 5-speed auto would be better for quicker upshifts.
How it rolls
The ride quality was soft, allowing bumps to be soaked up with ease. It was quiet too, despite the bigger 16-inch wheels. Sharp lane changes and roundabouts showed the rear was softer sprung than the front, as there was a lot more body roll around back.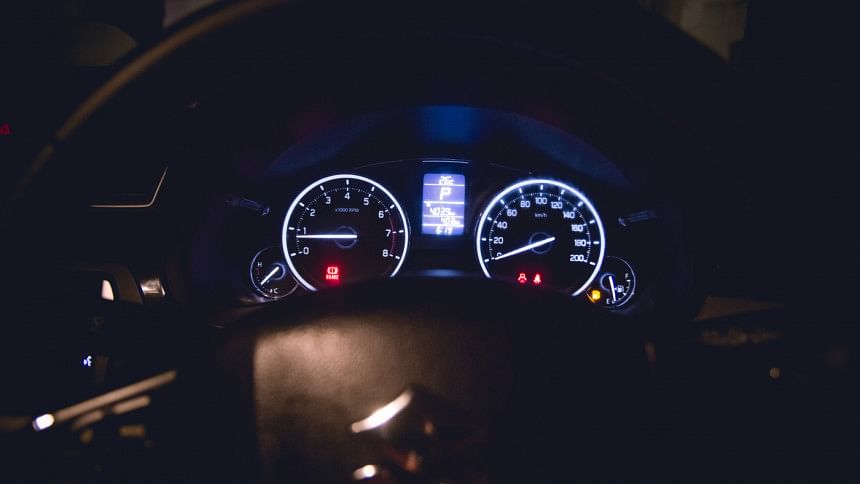 This is no racer for carving out Srimongol's twisty roads, but a dedicated urban pothole muncher. If you want more driver involvement from this brand, may we suggest the Swift? Even the basic one will surprise you with its handling.
What the minion thinks
The Ciaz is a nice looking car from a brand that people typically associate with bargain city cars. As a compact sedan it's not short on refinement—on the contrary, it has equipment from a higher tier and that does make it a good bargain, just not the sort of bargain you'd expect from Suzuki. As a Japanese manufacturer Suzuki is often overlooked, and I think that's a little unfair—with years of experience in building more than decent cars, Suzuki deserves their fair share of exposure in markets like ours. It rides well, looks good and has the kit, so why not?
Verdict
The car is due for a mild refresh with a facelift and a few big mechanical changes. Mild because Suzuki realises this design works, so why change too much? This is a decently sharp looking car that compares favourably with its competitors and goes toe-to toe with some higher tiered rivals in terms of size. Think Axio Corolla and the Ciaz is easily bigger, wider and just as well equipped. Interior material quality isn't premium but it looks the part in comparison.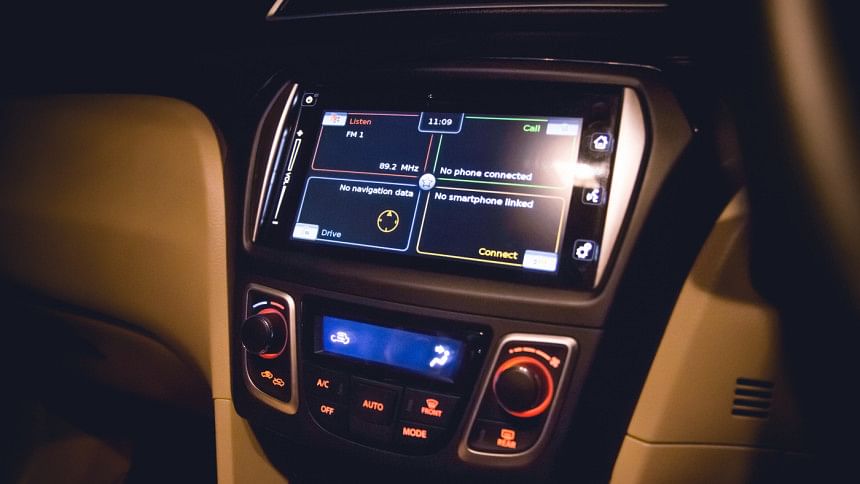 A good audio system and steering mounted controls sweeten the deal for bored drivers in our gridlocked city roads. If you're not driving, rear AC vents are there to cool your temper as to why nothing outside is moving. It isn't fast but it drives well and will pamper you over bad roads.
Suzuki managed to build a decent looking urban cruiser with plenty of space and good road manners. It undercuts many rivals for price while offering a large car for an average sized family. They did play it safe though, and created a good sensible car that does things well without being exceptional. Much like the used, grey market Axio Corolla that is so popular here. Except the Suzuki is brand new.  
Now you know what it is, stay tuned for the next batch of these biggish cars coming from Suzuki next year. ​
SPECS:
Engine: 1400 cc 4 cylinder VVT petrol (91 HP, 96 lb-ft)
Transmission: 4 Speed AT, FWD
Safety: Dual airbags, ABS with EBD, ASEAN NCAP rating of 4/5 stars
Features: SmartPlay infotainment system with touch-screen and Apple CarPlay/CD/USB/Aux/Bluetooth, 4 speakers with 2 tweeters, keyless entry, push start, rear air-conditioning vents, multifunction steering wheel, engine immobiliser.
Price: TK 21,95,000
For details, contact Uttara Motors Ltd.
Photos: Farhan Ahmed