2010 Toyota iQ: Chic urban mobility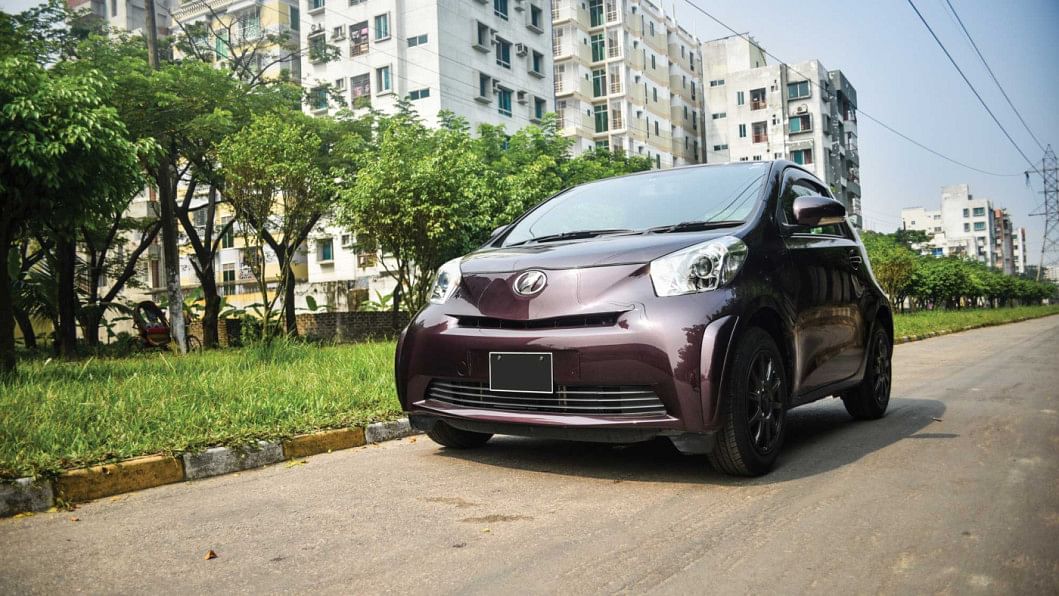 Tiny cars have always fascinated me. There's something ultra-cool about compact mobility. Now when a chic iQ gets in the equation, I cannot resist the temptation to check out Toyota's ultimate expression of refined and environmentally efficient urban mobility.
From an aerial view, it is almost like a box. But we humans are not birds. From our POV, the car, with its stubby nose and squat arse stance has an aura filled with controversial exterior design cues. It grows on you and you will eventually realize it is one of the cutest things you can lay your eyes on the road. Especially Bangladeshi roads, where both cute things and cute two legged beings are hard to come by. Don't be fooled by the size factor of the iQ- for a car that is about 3 metres long, 1.5 metres high and around 1.7 metres wide, there is extraordinary interior space, thanks to the clever placement of the wheels at extreme corners of the vehicle, giving the miniature car a robust stance. It is stereotypical of Bangladeshis to jump to a conclusion that a small car is a girl's car. No, the iQ is NOT a "girls only" car. Any gym going muscle-busting bloke would look metro in it too. Our rather bulky photographer looked a bit out of place while he was in the driving seat doing what he does best. It's probably his funny hairdo.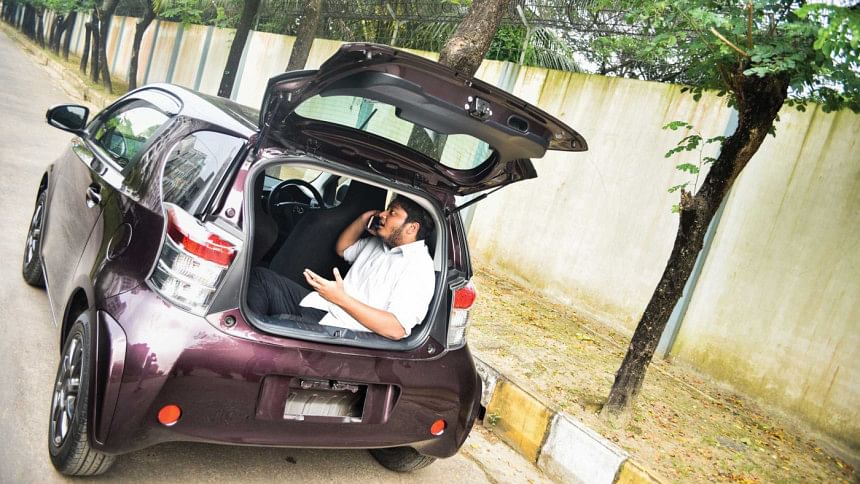 Just because it is a coupe hatch, it is not fast. Sorry racer dudes. The 1,000 cc multidrive CVT of this little car is as unresponsive as a happily fed lazy kitty at the dab of the soft throttle. But give it a moment or two and the measly 68 lb-ft of torque will eventually start to show from 4K RPM onwards. As the miniature RPM gauge nears 4,500, the CVT shifts up a notch to accommodate my heavy throttle foot. I noticed I was doing well over 70 KPH suddenly which implies the transmission must have shifted gears before that. You won't feel a thing as the lab-coats at Toyota did some sort of magic with the tranny that enables smooth shifts eliminating the 'shift shocks' we usually experience with gear changes. Once I was doing over a 100 (which did take some time, I'll be honest- only 67 bhp, that too at 6,000 RPM), I started paying attention to other details.
Cool factor alert: there's an ECO driving indicator lamp on the multi-information display of the iQ. This encourages more economical driving by signaling when fuel is being saved and, consequently, emissions are reduced significantly. Current and average fuel consumption are also permanently on display. It almost does 15- 20 km/l depending on your right foot and our vicious traffic system. It has a 32 liter fuel tank positioned cleverly to increase interior space further. Because of its petite configurations, we at SHIFT reckoned the iQ will be relatively unsafe. Interestingly though, global safety rating of the iQ has been reasonably acceptable between three to four stars among most categories. There are eight airbags in that small car. I repeat, EIGHT. ABS and EBD comes standard with electric power steering control to minimize the risk of under or over-steer. The front disc and rear drum squishy brakes felt good enough to stop the little car.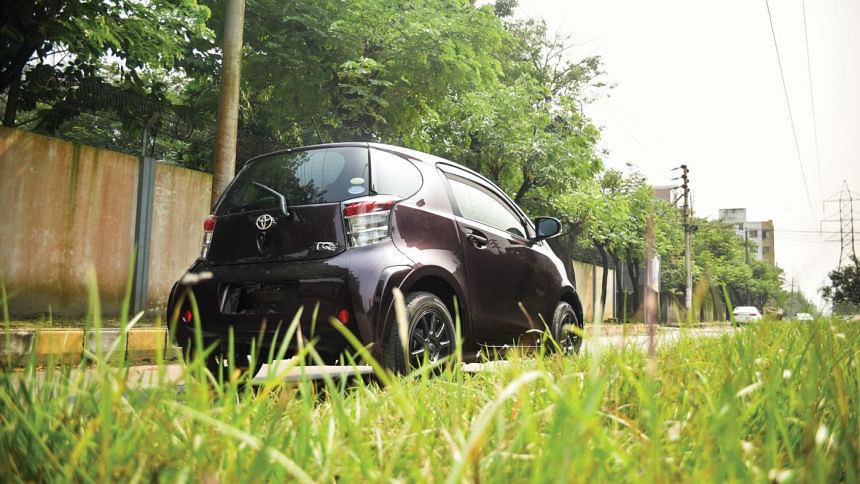 The ride height is a little too high, the front MacPherson strut and rear torsion beam suspension a tad jerky. The iQ lacks the tight feel of grip, despite this particular car coming with a nice set of wheels and semi-sticky Bridgestone tyres. As a result, you will not be comfortable taking sharp turns or curves. But why would you? Toyota's purpose for the iQ build has been solely urban functional mobility. The iQ might struggle up hills, but it has sufficient juice to zip around its natural habitat. The best thing about the iQ is its truly astonishing turning circle of 3.9m. This city car pulls a U-turn unlike anything else I've ever driven. Parking is effortless. Unless you are reverse parking on a steep driveway; the thing groans like a miserable old woman.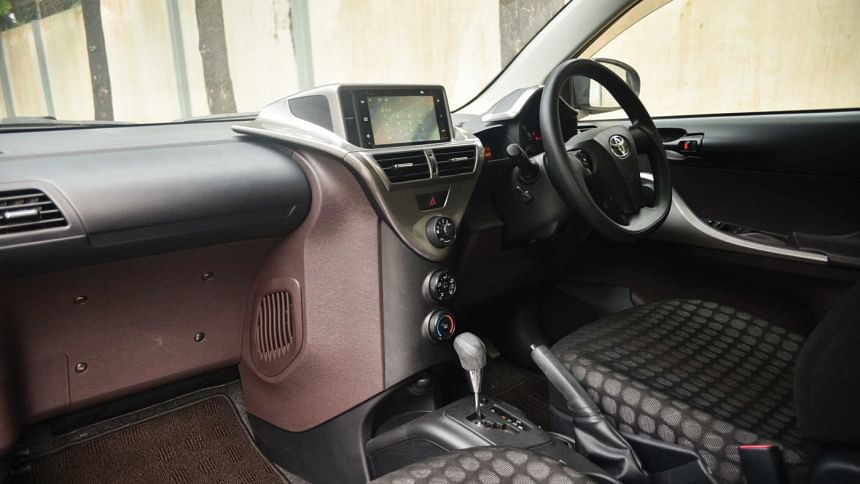 You will be only be satisfied with its interior if you slightly lower your expectations, as honestly, Toyota didn't endow any touch of premium in it. The model we got to test had a standard trim package with no push start, no smart key, no soft key controls on the sting ray styled center console, not even the rear passenger seats. It does have a pair of comfortable fabric mesh front seats, stereo control mounted grippy steering wheel, nicely finished two tone door panels matching the exterior cherry red hue, cool air conditioning and vast amount of space for such a small car. We reckon that's all you require for zipping around the city in style. 
VERDICT
The iQ is about to become a pop icon as the Prius; but in all the cool exuberant ways thinkable. Drinks little gasoline, exhales even less gas. Looks fabulous too. While I was driving around from one end of Dhaka to another on a bright Friday noon, the iQ turned more heads than my hot hatch Glanza V ever did, and that was a stunner.
Would I keep the iQ? For a little less than 12 lakh Taka and half a parking space empty, I'd have the iQ in a heartbeat. For details, contact Car House Limited.
The badge-engineered half-brother of the iQ: Aston Martin Cygnet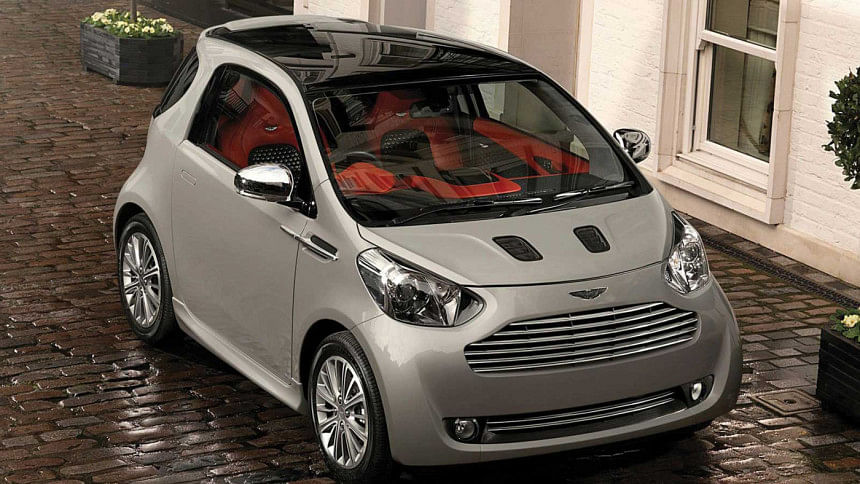 With EU's anti-pollution laws crippling automakers, Aston Martin took a sly approach at reducing the average CO2 emission by the brand's notorious engines- rebadge the iQ from Toyota and market as Aston Martin Cygnet.
Its a Toyota iQ with some minute cosmetic details such as the front and rear lamps, the signature Aston grille, hood and side vents, and aero. Interior also got a makeover with black/red leather. The same Toyota drivetrain now makes 98hp and 123 Nm torque; which for an Aston, is hilarious.
Aston Martin had an ambitious plan of selling 4,000 units, of which they could manage only 143 in two years. A sane mind won't buy a car worth 12 lacs for 50 plus, just because of a badge. Eventually, due to a buildup of negative brand image, the marque scrapped the Cygnet.
We reckon the Cygnet would be a hit on Dhaka streets. There's enough folks out here with fat wallets to flaunt one.