Six exciting EV's coming to market in 2021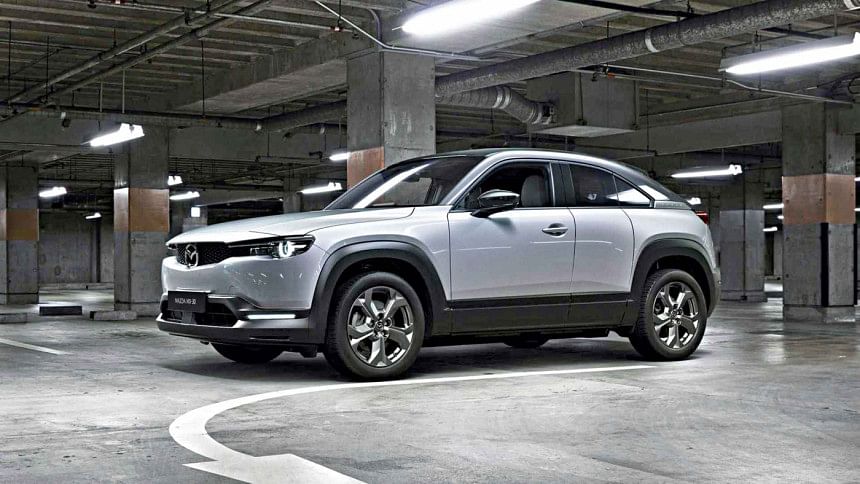 Mazda MX-30
Let's start with something that has a slight chance of making it here. The Mazda MX-30 is the company's first foray into the electrified car market, and in many ways is a distant cousin of the beloved RX-8. How? Well aside from sharing its suicided door with the rotary legend, MX-30's design priorities sportiness over range. The 35.5-kWh battery gives the car a range of approximately 262 kilometers, while the 107 kW motor makes 145 HP and 271 Newton meters of torque. 0-100 takes 9.7 seconds and Mazda's G-Vectoring Control gives this relatively lightweight EV actual sporty handling. Granted, the $35,000 sticker is a bit high, but it still has better odds of making it here than all the cars in this list, BUET willing.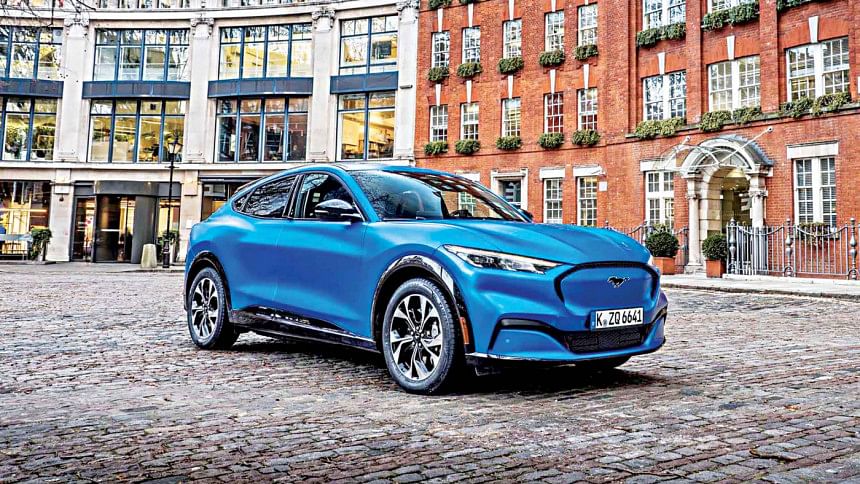 Mustang Mach-E
While Mazda made their SUV sporty, the blue oval made theirs confusing. Not the car itself per se, but rather its nameplate. The Ford Mustang Mach-E shares its name with the legendary family of ICE muscle coupe, despite not having a single thing common with it. With that said, the five-door compact crossover is very well equipped and quite a looker for what it is. Moreover, the car's two electric motors generate a healthy 346 HP and 428 pound-feet of torque with a 0-100 of 4.8 seconds. The sticker price of $44,000 is only slightly under a Mustang Bullitt, which can reach 0-100 in 4.2 seconds. Maybe Ford was right to call this a Mustang after all.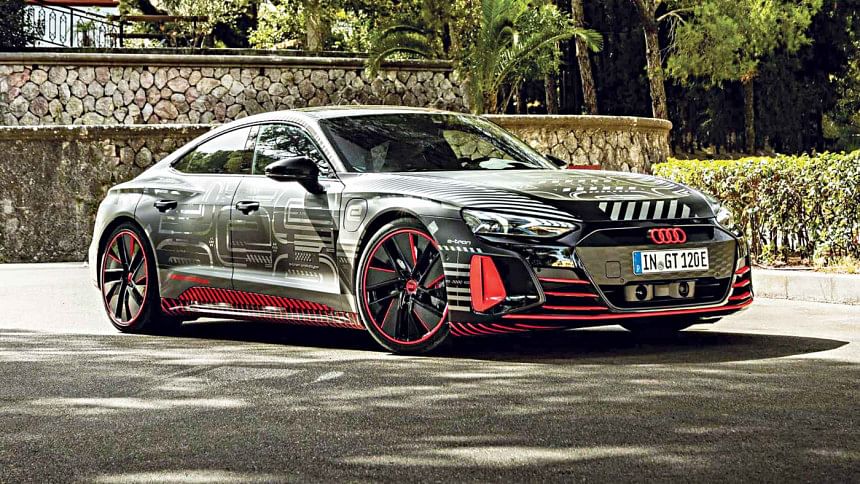 Audi RS e-tron GT
From confusing to mysterious, we have a car from Audi that has yet to make its official debut but has already entered production. What we do know is this four-door luxury sedan shares its platform with the Porsche Taycan and will be the first EV actually built in Germany. The twin-motor powering this machine outputs 684 HP and 612 pound-feet of torque, with a 0-100 of 3.5 seconds. To keep all that power on the road, Audi also borrowed Taycan's four-wheel steering and complemented three-chamber air springs with multiple adjustable modes. There are rumors of a three motors version on the pipeline, but until that becomes official, this is the fastest electric Audi you can buy. Assuming you can afford the $100,000 price tag.
Lucid Air
Moving from mainstream brands to startups, the new California based EV Automaker Lucid is set to release its first production sedan to market this year. Dubbed the "Air", the car was meant to be a better Model S, designed to be faster, quicker, and most importantly, luxurious. And if reports are to be believed, they succeeded. The interior is fitted with bigger screens, better seats, and the largest cabin in its class. As for performance, the $165,000 launch edition will make around 1,000 HP with a 0-100 of 2.5 seconds. It seems one of the "Tesla killers" finally made it past the development hell and keep good on its promise, though at double the price of a base model S.
Tesla Cybertruck
Speaking of Tesla, Elon Musk's personal pet project is set to hit the market this year. There isn't much more we can say about this stainless steel battering ram that hasn't been said already,  but here a refresher. The truck looks nothing like anything else currently on the road, and that's mainly because of how it was built. Unlike a normal car, the has not of unibody construction but an exoskeleton made out of 30X Cold-Rolled stainless-steel. This literally bulletproof material is really hard to change shape, meaning the designer had to make some aesthetic compromises. On the bright side, they have ended up with a $39,900 truck that will wreck through anything, and can probably withstand the storms on Mars. Maybe that was Elon's plan all along?
Lotus Evija
Switching the flavor of crazy, Lotus's first electric Hypercar will finally come out this year. Delayed by Corona, the 1,973 HP quad motor, carbon fiber monocoque, limited edition ride will be the faster Lotus ever made.  0-100 is reported to be under 3 seconds and a top speed of over 300 km/h. Lotus is only planning to make 130 of these lightning fast beauties, each going for somewhere between $1.8 and $2.5 million. And if you think the price is astonishing, better sit down, because all the car coming out this year has already been sold out.