Narayanganj local builds "Lamborghini"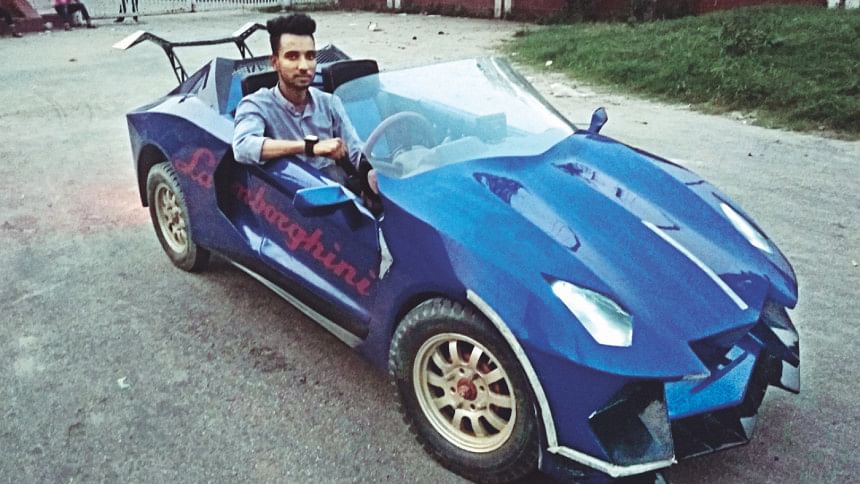 "I had dreamt of buying a motorbike, but couldn't due to fear of road accidents and lack of funds. But I did not let my dream of owning a vehicle go in vain," said Akash Ahmed, a 23-year-old autorickshaw mechanic from Narayanganj, "For the past one-and-a-half years, I have worked day and night to build a car that resembles a Lamborghini."
Akash's blue "Lamborghini" as built at Nabi Engineering Workshop on Dhaka-Narayanganj Link Road. The two-seater car is made of steel, and runs on five batteries. "The car can run for 10 hours at a 45 km/h speed. It takes five hours to charge it. There are automated doors, sound system, and lighting," said Akash, adding that his total cost behind this car was around Tk 3,50,000.
Akash acknowledged Sakib Al Hasan, a worker at the shop who helped him assemble the car. Sakib said, "Akash used to work at the shop during the day and spend the night working on his car."
"I saw so many motorbike accidents on the road where our workshop is situated, I decided against buying one. I told my father I want to 'make' a car, and he agreed. He gave me Tk 5,000-10,000 every month for the car," said Akash.
Being a fan of Lamborghinis, Akash did his research and made the design of his vehicle. "I followed YouTube tutorials, and I had experience in ship breaking which came in handy when handling steel. From shaping the steel for the car to the paint job and engine installation, I did everything myself," he said. "Only the wheels and steering wheel have been bought from outside."
Akash says this car was built using local technology and it is environment-friendly. "I already have 25 orders for new cars. I hope the government will allow me to put these cars on the market. I don't want to sell this design to any other entity."