2015 Q1 Bangladesh Automobile market round-up
2015 SUVs
Sporting Utility: The best small to mid-size sport utility vehicles for sale in Bangladesh
SUVs are the ultimate statement of luxury and wealth, and as far as a display of social status goes, SUVs are right up at the top of the list with a caviar entre at a five-course meal followed by less than subtle pandering of how important you are in this world. Needless to say, SUV owners are viewed with a certain kind of apprehension reserved for the powerful and wealthy, but setting those aside, SUVs are basically the automotive equivalent of Apple products: you don't really need them, but it feels good to have them anyway.   
Entry Level Segment
Ford Ecosport
The Ecosport is the smallest SUV in this list. So small, in fact, that face to face with one, you'll be hard pressed to categorise it as such. It is a huge bargain. Filling the gap between small hatchback and small SUV, the Ecosport comes in 1.5 liter diesel/petrol variants, and offer great deal of equipment for the price. When we reviewed it, it was enthusiastic, a small terrier that is just extremely willing to do anything to make you happy. 
Price: Starts from 30 lakh Taka
(Ambient Petrol A/T), 31.5 lakh Taka
(Ambient Diesel M/T).
Hyundai Tucson
The Tucson is larger in every way than the Ecosport, and has a larger engine (2.0 liter 4 cylinder) and more upscale aspirations, so piling it together in the entry level segment with Ford's smaller offering is a bit of an injustice. However, the Tucson is still a bargain deal, offering the "proper" SUV experience at a much cheaper cost than the rest of the SUVs on sale here. The design is funky and the interior looks great, so if you can't afford the larger Santa Fe, the Tucson should be your Hyundai SUV of choice.
Price: Starts from 47 lakh Taka
 
KIA Sportage
We were genuinely surprised when we tested the KIA. It sold very well in Dhaka considering the relative lack of brand familiarity, and the success of the Sportage paved the way for more KIA models entering the market. Zippy handling, a responsive engine and loads of kit for the price makes the small KIA a great starting point for new SUV buyers. The loud colours and funky styling are better suited to a younger crowd, however. 
Price: Starts from 50 lakh Taka. 
Mid-size Segment
Ford Escape
The latest contender in the mid-size SUV segment, the Escape combines the space and equipment of a full-size SUV with the comfort and dynamics of a soft-roader. The Escape has a gem of an engine under the hood, a 1.6 liter Ecoboost turbocharged four cylinder, and don't let the lack of displacement fool you: the Escape promises kick in the pants acceleration. Combine that with the frankly impressive options list and you have the makings of a possible hot-seller. Watch out for this one.
Price: starts from 75 lakh Taka.
Honda CRV
The CRV has been the soft-roader of the world for a while now, out-selling competitors in almost all parts of the world. Here in Bangladesh, the CRV was a popular seller when first introduced because the latest CRV is an efficient machine with great mileage figures thanks to its i-VTEC engine and it has the space of a full-size SUV. Its not exactly a good looker, but Honda is one of the only manufacturers on the planet who can somehow make awkward proportions look good and fitting. Price: Starts from 66 lakh Taka.
Suzuki Grand Vitara
Its squarish, handsome and has remained unchanged for a while now. The 2.0 liter petrol engine underneath is sourced from Japan, so put your fears of an Indian-assembled SUV to rest, because the Grand Vitara ensures top-notch quality at a bargain price. The design is the best feature on the Vitara though, because if the same basic shape (facelift in 2013) hasn't aged a minute for five years, it's definitely a good thing. Price: Starts from 60 lakh Taka.
Hyundai Santa Fe
The Tucson's older, more refined brother has a more brutish front end and is much larger, although you wouldn't be able to say so from a cursory glance. The Santa Fe comes equipped with a 2.4 liter MPI engine and a 6 speed automatic, so cruising highways is a breeze for Hyundai's mid-size SUV. You get options like Cruise Control and a touch screen infotainment system, so you get some pretty good kit as well. Price: Starts from 75 lakh Taka.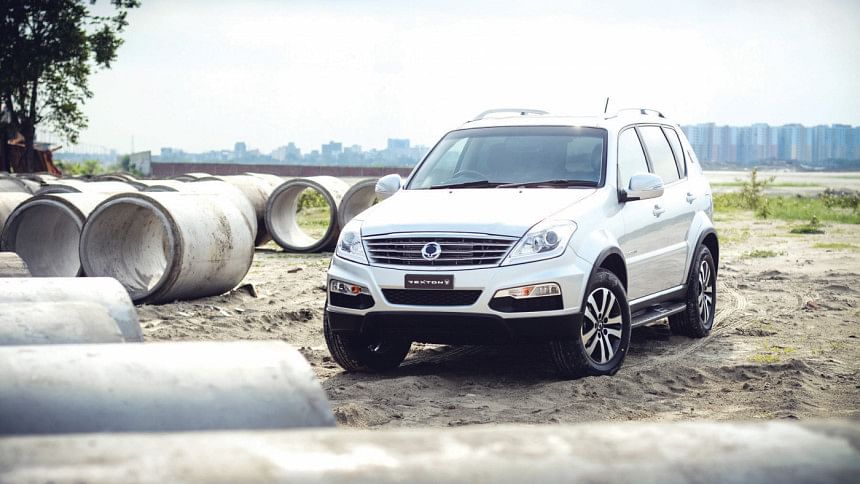 Ssangyong Rexton
The Rexton is a cut price Korean alternative offering the most amount of kit and space you can get in this segment and at this price. Its good looking, is decently made and has a fiesty 2 liter turebo-diesel engine with gobs of power and torque. It also has part time 4WD, which is a bonus offering in this segment. What do you get over its rivals? Well, the price is definitely a big enough bargain, but the features like rear AC, HID headlights, automated sunroof and others make it a sweet deal. Price: Starts from 55 lakh Taka. 
Mid-size High-end Segment 
Volkswagen Tiguan
Its not the cheapest of the Germans, but VW is known for bulletproof build quality and top-shelf materials, and the 2.0 liter TSI engine has the torque to pull around all the weight you can throw at it. Coming in three grades, Trendline, Comfortline and Highline, the Tiguan offers a surprising amount of versatility when it comes to personalising the options and features. It's also a very handsome soft-roader.
Price: Starts from 1.20 crore Taka (Trendline).
BMW X1, X3, X4
BMW may have a confusing corporate nomenclature, but product differentiation seems to work for them. The X1, X3 and X4 are all similar cars mechanically, with different body styles and interiors. The cheapest and smallest, the X1, is a relatively bargain deal considering you get the finest German engineering for under a crore. The X3 and X4 offer increasing levels of kit, and are sure to encase you in a luxurious cocoon that you'll find well worth the money. All three come with 2.0 liter diesel engines, which are efficient and torquey.
Price: X1 starts from 95 lakh Taka, X3 starts from 1.35 crore Taka, X4 starts from 1.48 crore Taka.
Mercedes BENZ GLA
The pictures are deceiving and make the GLA look like an oversized hatchback, but it's a fully loaded compact SUV in every way, so expect the price to be steep. The GLA is a good-looking car, although its debatable considering it's a hyper-modern Benz. Under the hood is a 2.0 liter inline 4 cylinder, which can get the compact SUV moving at a brisk pace. We'd get it in the loudest colour possible, because the muted colour options render the funky GLA inert. 
PRICE: TBD (TO BE DETERMINED).