Autoart Trueno AE86
Crazy details make this a must have collectible. From the collection of Fahim-uz-Zaman.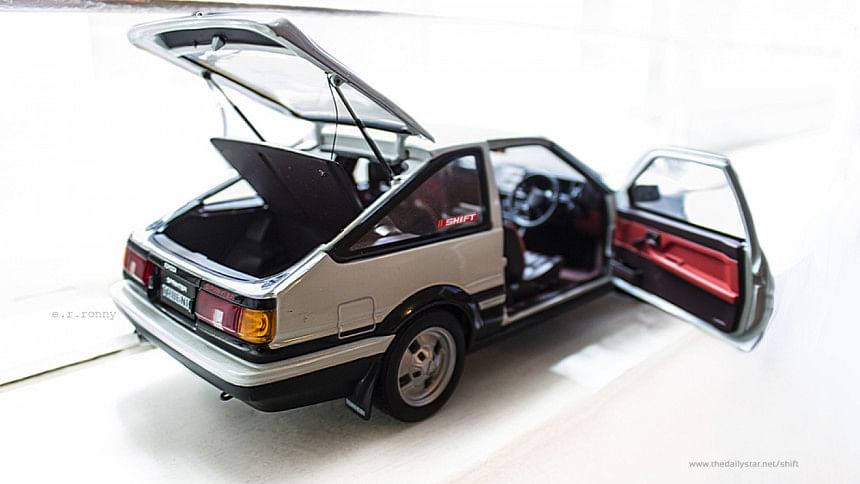 That's an original factory spec AE86 Trueno with a silvertop 4AGE. If we had taken the photo outside with proper attention to the background, you'd never know that this was not the real thing. But it was hot outside and inside we had many more treasures like this to touch. That was incentive enough to stay inside forever and check out these amazing scale models belonging to a friend and Shift co-conspirator Chowdhury Fahim-uz-Zaman.
Autoart is legendary for building insanely detailed models. Only thing they don't do is put in a real working engine. This particular model has working suspension, steering, accurately scaled hood support stand, seat belts and so on. Those little things make for an intense display model. It further features an insanely detailed engine bay, actual struts holding up the rear hatch and working pop up headlights. We're in love with this lovely piece of scale art. Most petrolheads love this car and want one especially since the Initial D anime was released. There the lead character drives one of these and beats the likes of R32 Skylines, FD RX7 and Evos. Bad luck if you are a Bangladeshi wanting a real AE86. There are only two life-size AE86 Truenos in Bangladesh and we can't import any old cars. So if you want one, this scale size is your best bet.  Autoart also makes the Initial D anime version with added changes like an upgraded engine, racing bucket seat for the driver and the now famous Fujiwara Tofu Shop decal emblazoned on the side.
How do you get it? eBay or Amazon is your friend, a friend that asks for a lot of money. Prices start roughly around $150 (around 12000 BDT). Then you add shipping and so on which could bring the price closer to 16-18k because we live in Bangladesh and nothign comes easy. Or if you are lucky enough to travel to foreign lands where women walk free all the time, you might find a good deal at toy stores. (prices based on time this was posted)