VC gets intimate about his campus protest experience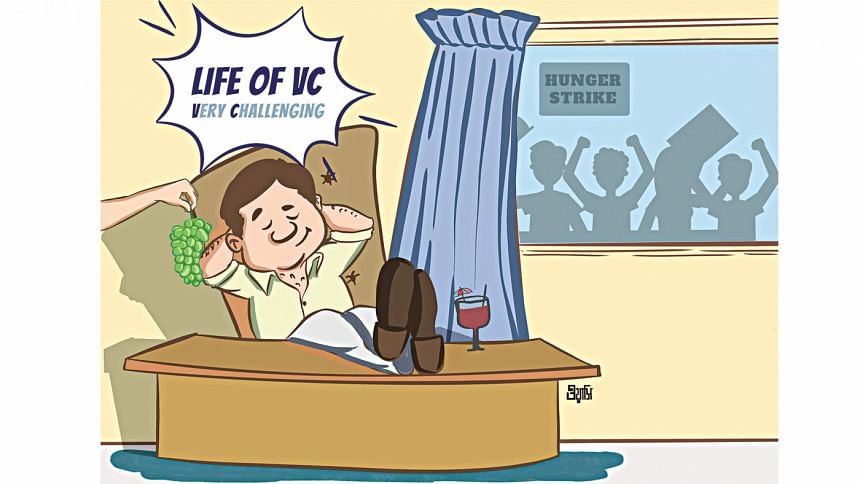 The following is an excerpt from the diary of a VC, which Satireday obtained when he left home to get sushi after the end of the students' hunger strike:
So there I was, just chilling, when I saw a bunch of stupid students chanting against one of the hall provosts. We give them a bed and ceiling; what more could they be asking for?
"Here we go again," I thought, "a new day, a new demand, a new protest."
Being the head of an institution for so long, I knew how to handle this. I just had to agree with these dimwits and tell them, "We will take the matter into consideration."
Fast forward, the provost is gone, and I'm trapped inside a building. Guess I didn't know how to handle this.
While I was a teacher of economics in my earlier days, what I was actually interested in was "thuganomics", the subject world-renowned wrestler John Cena did a doctorate in.
With that in mind, I had one simple solution. After some time, I heard rubber bullets being fired, sound grenades going off, and the hiss of tear shells.
And eventually I got out. Yay!
I thought everything was all good in the hood. I thought wrong.
Turns out calling the cops on your students is not the coolest thing ever? Now they're asking me to resign? That's just preposterous. Who's going to sign all the papers if I'm gone?
I didn't budge. I knew this university is nothing without my sexy, voluptuous brain.
But then these buffoons started a hunger strike unto death.
After witnessing so many symbolic hunger strikes, I thought this wasn't such a big deal. They'll eventually get hungry and call it off. Thinking about all this had made me hungry, so I ordered some sushi.
After a couple of days, my food deliveries stopped coming, and my power went out. I knew something was gravely wrong.
I then found out that the doo-doo brains blocked the entrance to my residence and cut off the electricity! Oh, and they were still hungry, by the way. Now, how will I get my sushi?
If that wasn't bad enough, apparently a sound clip of me saying women of a certain university are "unmarriable" got leaked.
Look, I, being an empath, was just concerned for those students. Since marriage is the biggest event in a girl's life, I was just looking out for them. I guess this world doesn't deserve caring and thoughtful people like me.
The good news is everything's calming down. Two people came to the campus and somehow convinced the students to stop being hungry and remove the barricade in front of my crib. So, I'll be back on my grind pretty soon.