Satire: Shimanta Jalil meant to say 'rap' not 'rape'; claims it was a pronunciation error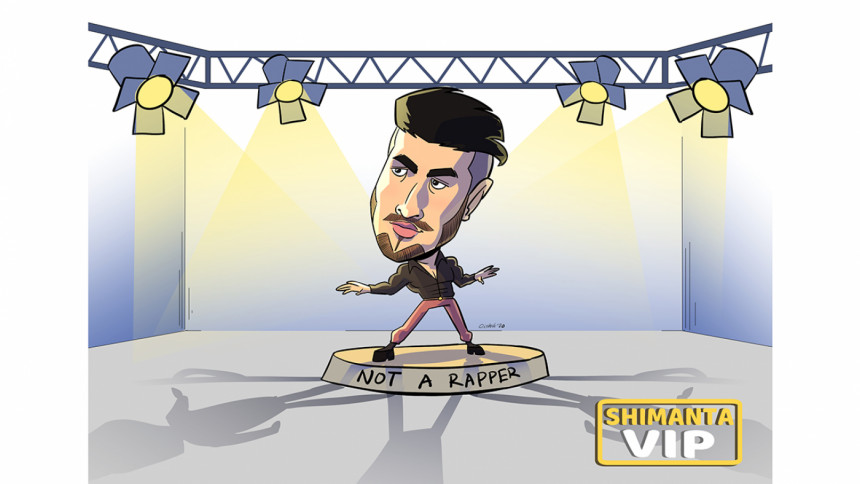 Village idiot turned self-made superstar Shimanta Jalil today became the first mainstream celebrity to call out the rape culture in Bangladesh, but he claims his message was misunderstood.
His five-minute tirade, where he took up a FIRM STANCE against rape, went viral. 
The speech, with a seductive background score, also culminated in Jalil declaring that he would now be making movies with the female characters always wearing burqas to inculcate a culture of "modesty".
Shimanta, hours after the video's release, changed his earlier statements about what women should wear and said he never meant that men would be tempted to rape women based on their clothes but rather they would be tempted to rap about it.
"I pronounced it rap as in they will rap about women. And you all know how Western and vulgar rap is," he said, before asking this correspondent to wait for his latest video on the matter. "I will have CGI-effects this time around," he added. 
The original video was later modified and re-released around 5:30pm, with the part about what women should wear having been cut out. This was done so Shimanta could announce his brand new "Modesty" fashion line and his new movie "Life in Burqa".
Shimanta's original five-minute video was split into three parts of life-changing information: the first minute dealt with him shaming the rapists, asking them to think about their mothers and sisters (what?), and began by him politely asking if he should refer to the rapists as "tomader" or "toder". He then decided on "toder" as a show of disrespect towards the rapists and to take away their honour.
The next two minutes were dedicated to victim-saving, wherein a man explains to a prospective victim how they can be saved from a crime. He urged that Bangladeshi women stop wearing western clothes, while he himself sported a western shirt and pant in an attempt to demonstrate how seductive the choice of wear was.  He asked the women to dress more modestly, by which he meant to only show their face and cover everything else.
"This way men will not be tempted to rap you," he declared. The so-called actor got visibly angrier as he kept talking about western clothes that women wear and how those lead to sexual crimes.
The Ben Shapiro logic also won him many admirers amongst his fan base, who agreed that they would not rape anyone if they were dressed modestly. Some also made calls for diapers to be shaped less provocatively in a country where babies also get raped on the regular.
Shimanta then spent a minute staring intensely at the camera so people could digest all the "bitter truths" he had just spewed. The final minute was dedicated to him calling upon his "beloved" rapist brothers and apologising to them for calling them "toder" instead of "tomader".
"I called you toder, I am sorry for that. But think if your mother or sister faced this problem [rape being the problem], would the blood not rush to your head," he asked, before compassionately pleading with rapists to ask themselves whether they thought what they were doing was right or wrong. He then spent a few more seconds talking about mothers and sisters, the apparent untouchables when it comes to rape in his esteemed opinion.
Shimanta also spoke about his movie Life in Burqa. "I am taking proactive steps to solve this problem [rape being a problem, by the way]. Every female character in my film will be in Burqa, otherwise audience may break into the movie sets and rape our characters."
When asked why his definition of modesty was exclusively for women, he said that it is not and that he too will wear a Burqa, a male version of it, when his new fashion line comes out.