People who 'managed' crucial vaccine despite not meeting criteria still proud of themselves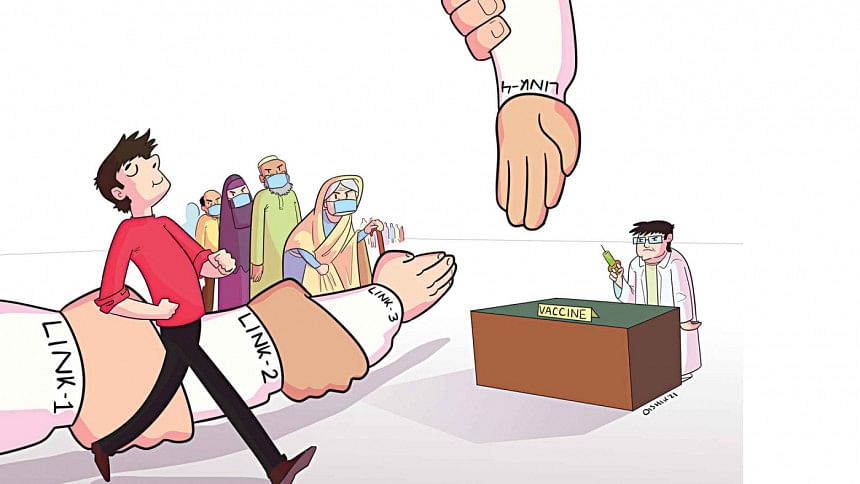 Of all the people who inundated the country's social media feed with pictures of them getting vaccinated, more than half had not met the criteria, data from a public health watchdog shows.
Many of those vaccinated were not above the government-required age of 40 or above to qualify for the vaccines. They, however, secured the vaccine by qualifying as "front line" workers, despite their front line being grocery shops and parties.
"My father owns a number of businesses and I was bitten by the travel bug very early in life. Knowing that I was at high risk of being exposed to the virus during my travels, and also exposing others, I did my entire community a service by getting the vaccine," Kauser Haque, 28, said to this correspondent.
Kauser had recently uploaded a photo of him getting the vaccine to his Facebook page and received 112 reactions, the most he has gotten this year.
"Vaccine pictures, in terms of likes, are on par with pictures of your newly-born baby. A lot of my father's employees also commented on the picture, reminding me of what a great thing I had done for society by getting vaccinated," he said.
Fahad Alam, a journalist at a top newspaper, also got the vaccine, even though he is 14 years old. "I work from home a lot, but I am still a journalist. Every week, I have to write a fictional story for my tens of readers. If I don't need the vaccine, I don't know who does," he said.
Many who have jumped the line, as the country's folks are prone to, have pointed out that those that may qualify for the vaccine aren't really getting those.
Sunehra Tagore, a thespian apparently, said she was tired of having to wear masks all the time and it was really hampering her artistic spirit. "Many of the people in our country don't even know how to use the app for getting registered for the vaccine. So, should I wait around for them to finally learn? Or should I get mine? I know people who could help me get mine, so I did it," she said.
At the moment, there really is no shame in getting the crucial vaccine by twisting the semantics a bit. There are plenty of vaccines to go around, the health ministry says. And its free too, so why not.
Studies show that the vaccinated and unvaccinated may soon go on to form two more opposition forces in an already divided country. And the former group will always have more clout.  
"If you can bend the rules to benefit society and your family, like I have, then please go ahead. All the best," Fahad said.