Letter from Tigers to the cubs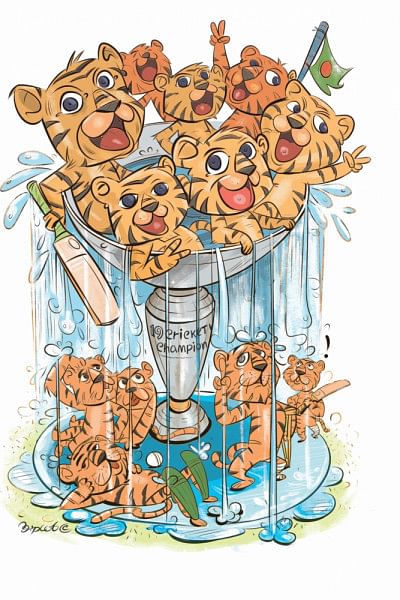 Crickileaks has obtained a letter sent by the Bangladesh national team to the Bangladesh Under-19 team on the day that the latter became the first team from Bangladesh to win a World Cup. It was also the day that the national team, nicknamed the Tigers, ended the third day of their first Test in Pakistan teetering on 126 for six and needing 86 runs to avoid their fifth innings defeat in six Tests since the start of 2019.
Dear cubs,
We could not shout it out on social media to the extent we would have liked to, but I doubt there was anyone who wanted you to win the Under-19 World Cup final as much as we did when we were holed up in Pakistan. You see, when we were 124 for two and trying to get 86 to make Pakistan bat again, you had reduced India U19 to 170 for nine. Three minutes later, when Naseem Shah became the youngest to take a Test hattrick and Mahmudullah was walking back bewildered, you guys bowled India out for 177.
Hell, you bullied those guys right from the start. Shoriful, what the hell?? Sakib, you nearly took his head off with that throw.... insane, dude! We didn't even know you could do that against India.
  You made India, India of all countries, look like underdogs. But more than anything else, you ensured that whatever happens tomorrow, no one will be talking about us. Our gratitude in that regard knows no bounds.
A warning though… you will get a ticker tape parade and be seen as heroes. Until you make the step up. Remember that guy Ravi Bishnoi? You guys nearly choked against him the way we have choked against leg-spinners like Rashid Khan and Lakshan freaking Sandakan. That's what happens when there are no leg-spinners in the country. And the last two years? You spent those in a cocoon without the spotlight from the jackals, or the non-cricketing members of the board choosing who will take the field. You know no fear of failure… that will not last. School's out.