City residents blast 'Buk ta faitta jaay' amid political clash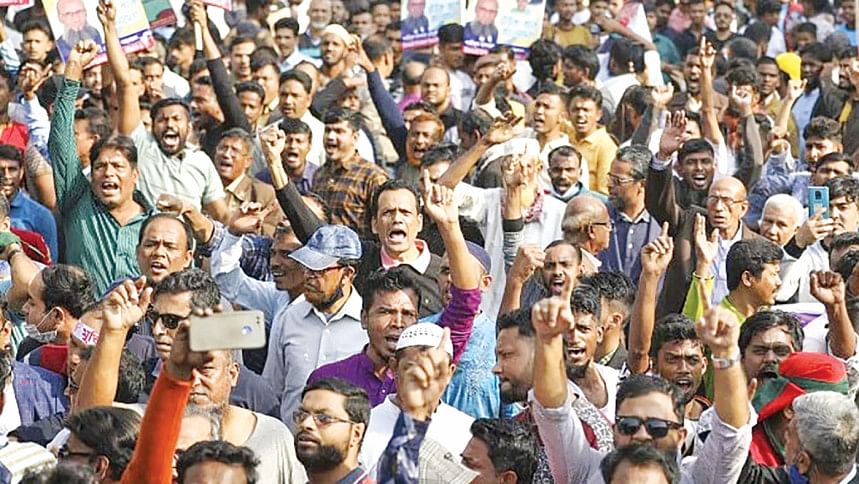 Political clashes ahead of elections is not new for Paltown residents. Sometimes law enforcers, in their attempt to do "crowd control" take part in the fray.
Citizens are the worst sufferers when party supporters engage in the havoc that passes for "demonstrations" these days.
 "We just can't seem to catch a break. It's always democracy this and democracy that, and no one seems to be remotely concerned about the effect it's having on us, especially the children," said Profulla Sheetijen.
 "When I bought my son a cricket bat for the first time, I thought he'd have dreams to be the next best cricketer in the country. But the other day, I found my son and some kids in the locality playing a game of 'smack the opposition'. I was mortified," said Champa Yassmin, a Paltown resident.
"Violence like this can never be justified. But what are we to do? Nowadays, we tell ourselves that at least they are not burning down buses anymore. But deep down we're aware that this is just our Stockholm syndrome talking," said Amirul Politik, a service-holder.
This correspondent talked to a Paltown aunty, Parvin Khunshuti, who is known to keep tabs on everyone in the area.
 "So many of our residents have left the area, unable to keep up with the chaos. The ones who had money moved to the north, while the less fortunate ones had to stay back in Paltown," she said, rolling her eyes.
"I'm sick of it. I can't even listen to a spicy fighting match between the new couple that moved in next to us. It's been so hard to gather juicy gossip in these conditions," she added.
However, in the latest turn of events a group of activists came up with an inventive solution.
Paltown Samobay Kalyan Samiti sat with Paltown residents to hear their concerns. After much debate and discussion they all agreed to one solution: item songs.
 "My fellow residents of Paltown. We've suffered, we've endured. But enough is enough. We won't take part in any of the violence, however we can disrupt the movement in a different manner -- a non-violent protest through music!" said Matobbor Miah, head of the organisation.
"Next Sunday, when the political parties clash again, we will blast the most iconic pop song this country has had the privilege of hearing, by a name that is loved by all – Mumtaz!" he said. "Just think about it … it's a song about heartbreaking betrayal, but also about taking back the power. It's a classic representation of our political landscape."
And so, when Sunday came along, Paltown residents were prepared with their speakers ready. As soon as the teargases went off, the resident's tapped on their respective play buttons.
Suddenly, the thick, wide-ranged vocals of Mumtaz engulfed the whole area as the lines "Bondhu Jokhon Bou Loiya, Amar Barir Shamne Diya, Rongo Kore Haitta Jaay … Faitta Jaay, Buuk ta Faitta Jay '' took over the atmosphere.
The clash on the ground paused as the political muscle from both sides got confused. They dropped their bats, took off their helmets, swept by the masterful lyrics of Mumtaz, as she describes the ways in which her heart was stomped on by her lover.
"They dated for three years and he just forgot about her! Men are trash!" said a law enforcer wiping his tears.
Some political activists were seen apologising to the victims they beat up, helping them get up. Others hugged it out, wiping off each other's tears. A few others called their moms and wives.
It seemed that Mumtaz's iconic song saved the day, yet again.