Leverage CSR to achieve SDGs
Speakers emphasise at CSR Dialogue-Khulna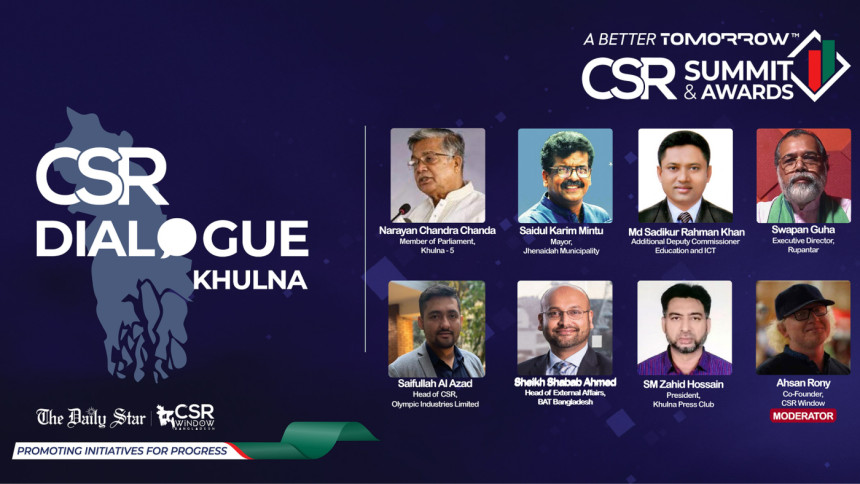 Speakers at an online discussion suggested that Corporate Social Responsibility (CSR) initiatives should be designed with the Sustainable Development Goals (SDGs) in mind.
The COVID-19 pandemic has caused a significant setback in the country's plans for achieving the SDGs. Corporations, primarily those who experienced growth during the pandemic, can use their CSR initiatives to help address major social issues such as access to healthcare, basic utilities, education, etc., all of which have worsened during the COVID-19 crisis, they said.
The event titled CSR Dialogue: Khulna was held on July 15, 2021. It was part of a joint initiative of The Daily Star and CSR Window known as "A Better Tomorrow: CSR Summit and Awards". The annual nationwide programme aims to create dialogues for future development and sustainability solutions and recognise corporations for their innovative and world-class CSR initiatives, social projects and programmes implemented for sustainable impacts in society.
Md Saifullah Al Azad, Head of CSR, Olympic Industries Limited, said, "CSR in Bangladesh is currently too heavily focused on the philanthropic dimension, with a great deal of emphasis on media coverage. Our focus should instead be on the results generated by individual projects. It is important for NGOs to adequately address risk assessment, background analysis, area and demographic analysis, future impact assessment, etc., in such project proposals. Otherwise, obtaining long-term CSR funds would not be feasible."
Private companies should also focus on specific development fields within which they want to operate. For example, Olympic Industries Limited is working in health and nutrition, education and environmental impact. If companies set their CSR targets in advance, then it is easier to find quality projects that do meaningful work, added Saifullah.
Sheikh Shabab Ahmed, Head of External Affairs, British American Tobacco (BAT) Bangladesh, said, "We are working with both private and government entities using our CSR initiatives. Our plan for this year is to address the huge drinking water crisis in Khulna by setting up water treatment plants in areas that are vulnerable to unsafe drinking water. Another one of our projects, Bonayan is working with afforestation, and for that, we are providing saplings free of cost to beneficiaries and institutions for creating a greener Bangladesh."
Narayan Chandra Chanda MP, a parliamentarian from Khulna, said that local projects in Khulna had played a crucial role in helping address some of the shortcomings of the public sector during the pandemic.
"When our public healthcare facilities were flooded with patients during the peak of the pandemic, young organisations helped provide them with blood and oxygen cylinders. The corporate offices of most companies engaging in CSR are located in Dhaka, which is why they cannot address such issues that occur at a district or upazila level. In this case, the government should inform the companies engaging in CSR activities of the challenges and shortcomings in different districts, so that they can plan their activities to address these problems," added Narayan Chandra.
Saidul Karim Mintu, Mayor, Jhenaidah Municipality, said, "We developed the low-cost housing model which is now being implemented throughout the country by the government. If corporations participated in funding such low-cost housing, many poor people would have shelter. However, sometimes, these companies are too focused on their own benefits. Some of them are yet to start operating in my municipality because of issues around taxation. If we truly want to use CSR funds to benefit society and not just corporations, then we must change this mentality."
Swapan Guha, Executive Director, Rupantar, suggested focusing on improving the public healthcare system.
"If we can improve the public healthcare facilities for people, especially those who cannot afford private healthcare, then we can ensure they can continue to be economically active. CSR projects should work at the upazila level to not only solve social problems but also to create employment opportunities for the locals," he said.
"Another critical point would be to increase youth involvement, as they are our future. Many youth organisations are already working in the development field, and we hope that companies engaging in CSR activities will work with such organisations," he added.
Sadikur Rahman Khan, Additional Deputy Commissioner, Khulna mentioned that companies could target long-term economic growth through their CSR activities by using the government's knowledge about the economic situation in different districts.
"At the government level, we are aware of the different district level areas where the local economies need to be developed. However, it is not always possible for the government to address all these underdeveloped areas due to limited funding. The big corporations and industries that engage in CSR activities should focus on working with the government to ensure this gap is filled," he said.
Sanzid Islam, Dhrubotara Youth Development Foundation; S M Zahid Hossain, President, Khulna Press Club, were also present at the discussion. The session was moderated by Ahsan Rony, Founder, Green Savers.