Before Rohingya relocation, allow UN visit to Bhashan Char: HRW to govt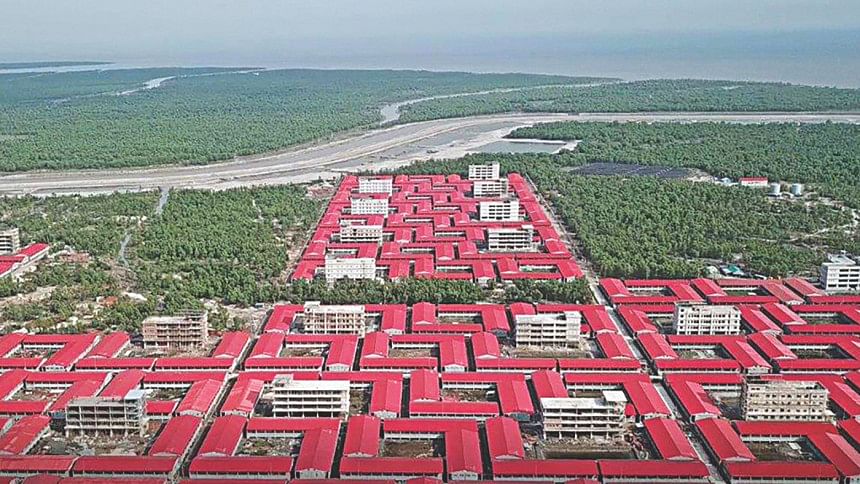 Human Rights Watch has called for Bangladesh government to allow a visit by the UN to Bhashan Char before any Rohingya relocation.
In a statement today, it said the government has reneged on repeated promises to await clearance from UN agencies and independent technical experts on emergency preparedness, habitability, and safety of the island before relocating Rohingya refugees.
"Any decision to relocate Rohingya to Bhashan Char, after the completion of technical assessments, needs to be voluntary and fully informed," said HRW, New York-based global rights watchdog.
A government committee formed in late September to manage the relocation of refugees to Bhashan Char appears to be the latest effort to push through a relocation process in breach of basic rights protections and despite repeated concerns raised by the UN and humanitarian experts, it said.
The statement comes weeks after a group of Rohingyas, including community leaders, were taken on a visit to the island where the government has built 120 cluster villages on the 40sqkm island under a Tk 2,312-crore housing project for one lakh out of the nearly 10 lakh Rohingyas sheltered in cramped camps in Cox's Bazar.
The purpose of the "go and see visit" arranged by the government was to allow the Rohingyas to see for themselves the facilities. Officials say the houses have been built four feet above the ground with concrete blocks and are protected by a 13km-long flood embankment.
There are 120 cyclone shelters planned to be used as schools, medical centres and community centres. The officials say Rohingyas also could be involved in productive activities.
Some 300 Rohingyas who were rescued from the sea early this year were sheltered at Bhashan Char. HRW said Bangladesh authorities beat refugees protesting their "detention" on Bhashan char in retribution for their hunger strike beginning on September 21, 2020 demanding reunification with their families in the Cox's Bazar refugee camps.
"Prime Minister Sheikh Hasina was rightly celebrated for welcoming refugees from Myanmar, but her government is now holding desperate men, women, and children on Bhashan Char," said Brad Adams, Asia director of HRW.
"If UN experts find the island to be safe and habitable, and refugees' rights are respected, then people may freely choose to relocate there. But beating people up for seeking to reunite with their families is completely unacceptable," he said.