Rape of Rohingya Women: Myanmar sees no evidence
Submits report to UN; HRW terms the claim hollow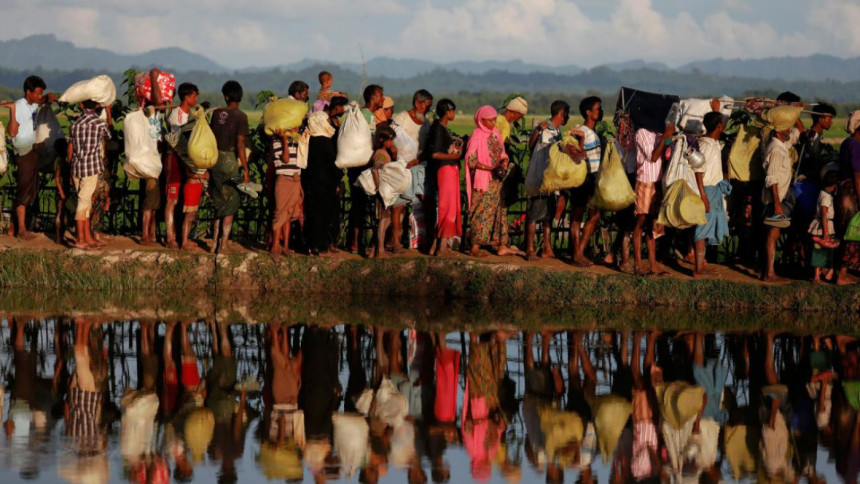 Myanmar has denied that its armed forces raped Rohingya women and girls in a campaign of ethnic cleansing that forced some 750,000 Rohingyas of Rakhine to flee to Bangladesh since August 2017.
"Despite repeated accusations that Myanmar Security Forces committed a campaign of rape and violence against Muslim women and girls residing in Rakhine State, there is no evidence to support these wild claims," Myanmar said in its report submitted to the UN Committee on the Elimination of Discrimination against Women on February 4.
In November 2017, the UN requested Myanmar to submit a report on the situation of women and girls from northern Rakhine State by May last year. Nearly eight months after the deadline, Myanmar government submitted the report, denying the allegations.
It noted that six rape cases had been filed -- all from before the 2017 operations that forced over 750,000 Rohingyas out of Myanmar to Bangladesh. "There have been no evidence and sufficient grounds to convict anyone."
Human Rights Watch termed Myanmar's denial of rape hollow and darkly risible denial to a very painful truth.
Skye Wheeler, researcher of HRW Women's Rights Division, said the overwhelming evidence compiled by HRW and other human rights organisations, the media, and the UN uncovered gruesome accounts of rape, killings, and other crimes against humanity in Myanmar's Rakhine State. 
A UN-backed fact-finding mission said the atrocities included genocidal acts.
Razia Sultana, a Rohingya researcher in her research done in February last year, said Myanmar troops raped well over 300 women and girls in 17 villages in Rakhine.
"With over 350 villages attacked and burned since August 2017, this number is likely only a fraction of the actual total," she said in a report early last year.
Wheeler spoke to dozens of Rohingya women in the camps in Cox's Bazar.
"They risked both renewed trauma and stigma -- with little real hope of remedy -- to tell their stories. A 15-year-old girl, for instance, said soldiers dragged her out of her hut, tied her to a tree, and then raped her," she said in the statement.
"Accountability begins with truth," Wheeler said, calling for the governments to stand with the Rohingyas in Bangladesh and ensure that survivors of rape and other grave abuses have access to psychosocial support and other assistance.