Rohingya Repatriation: China now active but uncertainties yet to clear up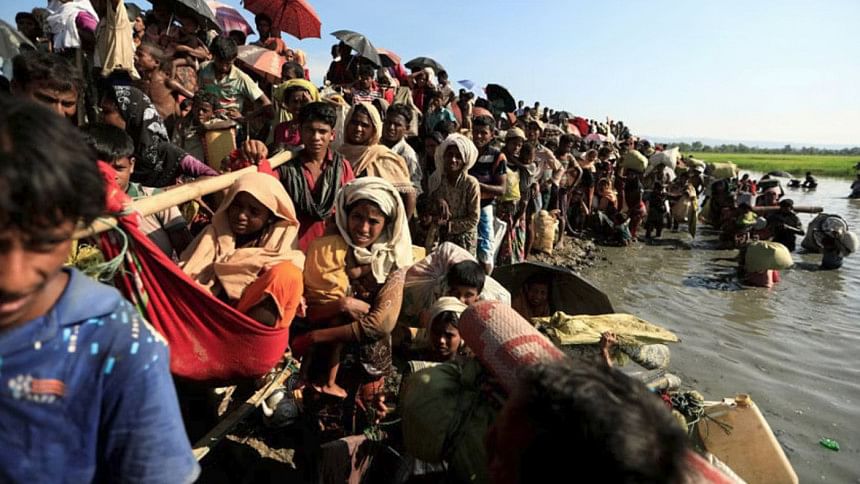 China now appears to be quite active in trying to make the Rohingya repatriation a reality.
Some high-profile visits have been made over the last few months. 
Chinese Special Envoy on Myanmar Deng Xijun visited Dhaka on April 6 and met Foreign Minister AK Abdul Momen. Chinese Vice Minister for Foreign Affairs Sun Weidong's visit ended on Sunday. Weidong met the prime minister.  
Bangladesh Foreign Secretary Masud Bin Momen's went to Kunming on April 18 and met officials from China and Myanmar.
During the Bangladesh-China foreign office consultation (FOC) on Saturday, Weidong said an early repatriation would be beneficial for Bangladesh, Myanmar and the entire region.
While China and Myanmar officials are now more active than before for Rohingya repatriation under a pilot project, the Rohingyas still seem to be lacking in confidence and trust in the Myanmar junta. The junta took control of Myanmar through a coup in February 2021, more than three years after the army carried out a crackdown on the Rohingyas.
During the FOC, Bangladesh Foreign Secretary Masud Bin Momen emphasised the need for engaging the friendly countries, regional and international organisations in the Rohingya repatriation efforts. The statement hinted at involvement of the ASEAN and UN in the repatriation efforts which would boost Rohingya's confidence in Myanmar authorities.
Now the question is: Can China, which brokered a deal between Saudi Arabia and Iran early this year to end their diplomatic rift and open diplomatic missions, effectively pursue the Myanmar junta to amend the Citizenship Law, guarantee citizenship or make arrangement to ensure safety and security in Rakhine? We will have to wait to see if this happens.
While Bangladesh bears the brunt of sheltering more than one million Rohingyas and wants the repatriation to start at the soonest, it also expects the repatriation would be sustainable, safe, and voluntary.
The most important of all is what the Rohingyas want. And therefore Rohingya delegation's visit to Rakhine was very important. After the return of the delegation on May 5, some delegation members said they want their properties in Rakhine be given back to them and also to be granted citizenship, a right denied to them though they had been living in Myanmar for centuries.
A booklet handed to them by the Myanmar authorities during their visit speaks of various initiatives on livelihood, health care, schooling of children etc, but it repeats the same old thing about the Citizenship Law of 1982. The booklet says the Rohingyas will be provided with National Verification Card (NVC) after repatriation and the Myanmar authorities will decide on their citizenship later.
Rohingyas say that handing them NVCs mean they would be considered foreigners. They questioned why they should be given those cards despite not being foreigners in Myanmar. They demand the Citizenship Law be amended to include Rohingya as one of the ethnic communities of Myanmar -- something that would ensure their all rights like those of any other Myanmar citizen.
Meanwhile, the international community is closely observing the latest move on repatriation. UNHCR Bangladesh Representative Johannes van der Klaauw, during a recent meeting with some foreign ministry officials, reminded that the UN refugee agency in Rakhine was not allowed to assess the situation there and that the voluntariness of the Rohingyas was a must for repatriation. He also discussed the issue with some foreign diplomats in Dhaka.
The international community, especially the western countries, want a guarantee of the Rohingyas' safety and security in Rakhine, and their citizenship. Bangladesh also wants justice for Rohingyas and support for The Gambia's genocide case with the International Court of Justice against Myanmar's Rohingya atrocities.
"Rohingyas lack confidence and trust in the Myanmar authorities. Therefore, we have been urging the Myanmar officials to visit Rohingyas and interact with them for building confidence," a foreign ministry official told this correspondent.
Some Myanmar officials' visit to a Rohingya camp in late March and the Rohingya delegation's trip to Rakine were parts of the trust-building efforts.
On May 5, a 20-member Rohingya delegation visited a model village in Rakhine.
A 14-member delegation of Myanmar officials visited Teknaf on May 25 to talk to Rohingyas as part of confidence-building measures.
On March 15, a 17-member Myanmar delegation made a visit to Teknaf to discuss Rohingya identity verification.