273 more zero-line Rohingyas relocated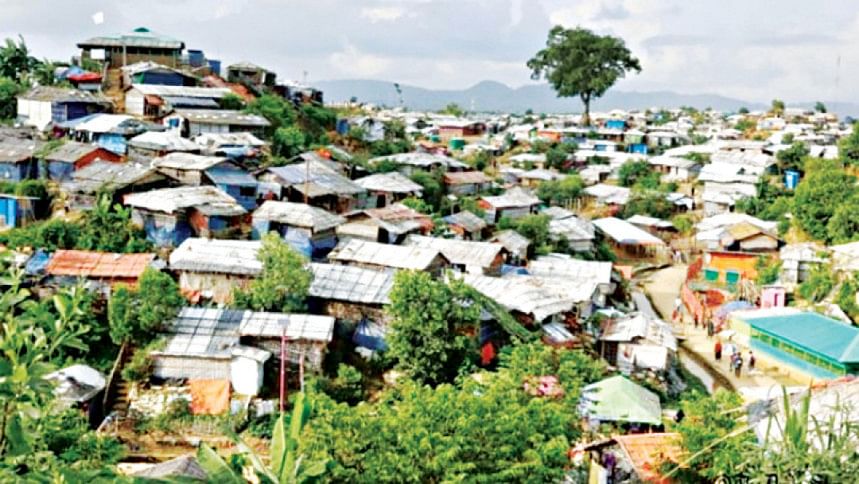 Some 273 more refugees from 53 families were transferred to the Kutupalong transit camp in Ukhiya, Cox's Bazar today, on the second day of relocating the stranded Rohingyas who fled into Bangladesh territory from a zero-line refugee camp amid violence.
With this, a total of 457 Rohingyas from 88 families were relocated from Tambru to the transit camp in two days, confirmed Refugee Relief and Repatriation Commissioner (RRRC) Mohammad Mizanur Rahman.
They are among the nearly 3,000 people who fled the gunfights between two Myanmar armed groups near the Tambru border of Bandarban's Naikhongchhari upazila, reports our Cox's Bazar staff correspondent,
On the morning of January 18, a gunfight started between the Arakan Rohingya Salvation Army (Arsa) and the Rohingya Solidarity Organisation (RSO), both of which were attempting to seize control of the Konarpara Rohingya Camp.
The camp is situated on the zero line near the Tambru border and run by the International Committee of the Red Cross (ICRC).
The firing left one refugee dead and two children wounded, causing widespread panic among people.
The clash continued the next day, forcing many Rohingyas to flee into Bangladesh and seek refuge inside a school in Tambru and districts surrounding Naikhongchhari upazila, according to Rohingyas and intelligence officials.
On February 1, Mizanur Rahman said all the Rohingyas will be moved to different camps in Ukhiya and Teknaf upazilas of Cox's Bazar.
Among the Rohingyas transferred today, there were both registered and unregistered refugees, Mizanur Rahman said, adding that the transfer was a trial run and the relocation process would gradually increase.
After scrutinising their identity cards and other documents, they will be sent to the camps have already been registered under, he added.