World failed to protect Rohingya women: UN
The world has failed to protect the Rohingya women, UN Women Executive Director Phumzile Mlambo-Ngcuka said today.

"I think their [Myanmar] government to begin with. Their country has failed them in a massive way. Everybody has been trying to rescue the situation. Because it has been a tussle, it has not been easy and possible for all those involved, including the UN system, to be as effective as possible," she said.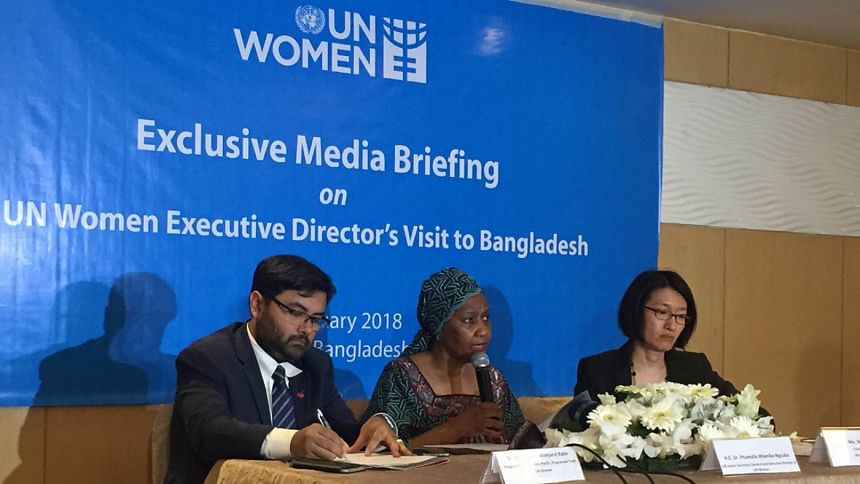 "We continue to do our best. Sometimes our best is not good enough because the situation is so bad. So, this is a collective responsibility," said Phumzile Mlambo-Ngcuka, ending a five-day visit to Bangladesh, including to the Rohingya camps in Cox's Bazar.


Nearly 700,000 Rohingya fled atrocities, including murders, looting, rapes in Rakhine since August 25, creating the fastest-growing refugee crisis in the world, with the UN terming it ethnic cleansing and the rights bodies as genocide.

They live in squalid camps in Cox's Bazar and the future remains uncertain despite a repatriation deal signed between Myanmar and Bangladesh because they are worried over safety, security and livelihood in Myanmar where they have been denied citizenship and basic rights.

Phumzile Mlambo-Ngcuka visited the Rohingya camps, called on Prime Minister Sheikh Hasina, Foreign Minister AH Mahmud Ali, Minister for Women and Children Affairs Meher Afroze Chumki, government officials, civil society members and development partners during her visit.

Sharing her experience in the refugee camps, she said Rohingya women, men and children should never have found themselves in this situation. 

"Ultimately the responsibility for the atrocities and the human rights violation can be blamed to the government of Myanmar, who should have protected this community," she said at a press conference at the city's Westin Hotel.

She said she was extremely worried over the coming rainy season because of the makeshift nature of the Rohingya camps and for the risks of mudslides in the sloppy land in the country's southeast region.