Surveillance of Rohingyas not weak: home minister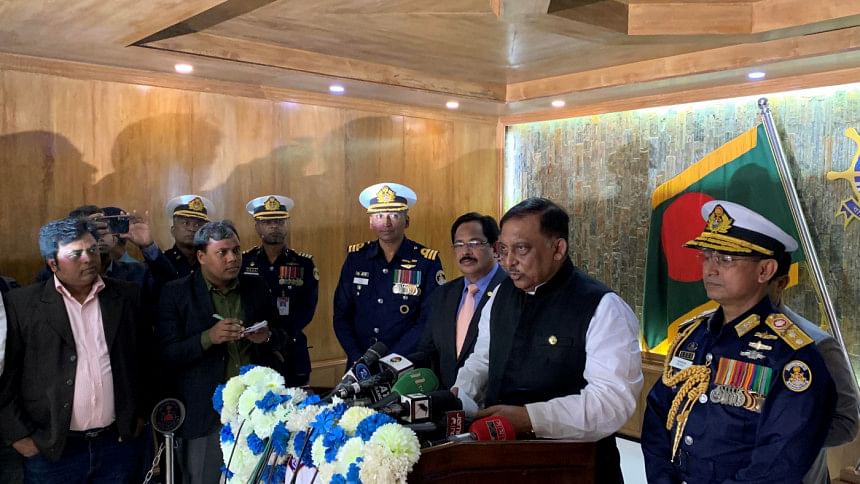 Home Minister Asaduzzaman Khan Kamal today expressed hope that Myanmar will take back their nationals as discussion is still underway regarding the Rohingya repatriation.
He came up with the statement in reply to a journalist's query after attending the 25th anniversary of Bangladesh Coast Guard (BCG) at its headquarters in the capital's Agargaon area.
Asked whether the surveillance of Rohingyas is weak, the home minister said, "The surveillance is not weak at all. You know there are 1,100,000 Rohingyas living [in Cox's Bazar], which is three times the population of Teknaf."
"Rohingyas have been placed under the supervision of our law enforcement agencies including police, Rapid Action Battalion (Rab), Border Guard Bangladesh (BGB) and Ansar," he said.
In addition, watchtower and CCTV cameras are also being installed to further strengthen the surveillance on the Rohingya camps, he said.
The minister further said barbed wire fence is being erected around the Rohingya camps as per the instructions of Prime Minister Sheikh Hasina.
"Bangladesh Army has started erecting barbed-wire fences around the Rohingya camps. The main objective of erecting the fences is that the Rohingyas do not leave the camp," said the minister. 
Earlier the minister attended Silver Jubilee celebration of BCG as chief guest.
This year, 40 members of BCG were awarded the Bangladesh Coast Guard Medal, President Coast Guard Medal, Bangladesh Coast Guard (Seba) Medal and President Coast Guard (Seba) Medal for their significant contribution.
Home minister handed over the medal to the officials and staff of the force.
Addressing the inaugural programme, the minister said the coast guard has become a powerful force now. They have been working on preventing various offences including smuggling and illegal fishing, he said.
The coast guard is also working on protecting the environment, he added.
Last year, BCG seized illegally smuggled goods worth around Tk 2,052 crore and also recovered narcotics worth around Tk 161 crore, according to the force bulletin.
Mostafa Kamal Uddin, senior secretary of Public Security Division under Ministry of Home Affairs, was also present at the anniversary as special guest.
In the welcome speech, BCG Director General Rear Admiral M Ashraful Haq said that the robberies in the Chittagong port have come down to zero due to the relentless efforts of the force.
The international agency ReCAAP (Regional Cooperation Agreement on Combating Piracy and Armed Robbery) has acknowledged the efforts in its report, he added.