'Put pressure on international community on Rohingya repatriation'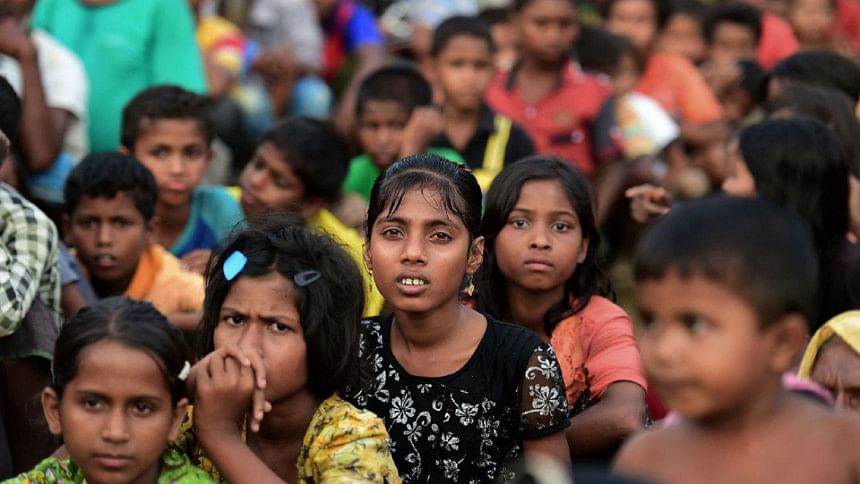 Civil Society members and NGOs today demanded the government should continue pressure on international community to repatriate Rohingya refugees to Myanmar.
Addressing at a human chain in front of Jatiya Press Club, they urged government to give Rohingya refugees human dignity and to pressure the international community to ensure trial of Myanmar Army in international court.
There are more than 68 million people around the world who are displaced from their homes due to conflict, persecution and natural disasters, it is the duty of people to ensure human dignity for them, said Mostafa Kamal Akonda, assistant director (HRM and DRR) of COAST.
He said around 10 lakh Rohingya refugees took shelter in Bangladesh after being deported from Myanmar and to be saved from ethnic cleansing of Myanmar Army. These Rohingya is now the reasons of different short term and long term crisis of Bangladesh, he added.
As the crisis is not only for Bangladesh and it is the crisis of the world for which World community will have to take responsibility of the problem, he said.
COAST TRUST and Cox's Bazar CSO NGO Forum organised the human chain to mark the World Refuge Day on June 20.
Khondokar Abdus Salam, programme coordinator of Bangladesh Institute of Labour Studies demanded to the UN to take immediate steps to repatriate Rohingya refugees making an coordination among Bangladesh, India, Myanmar and other countries.
Citing a report of a survey Salam said there are 2 lakh refugee families in Cox's Bazar where 80 lakh children will be born every year, who will take responsibility of those new comers.
To reduce the humanitarian disaster in Rohingya camp, increasing pressure of international community to repatriate of Rohingya refugees is a must, said Salam.
Ethnic cleansing in Myanmar is still going on and still Rohingya deportation is going on through Mayanmar-Bangladesh boarder, said president of Bangladesh Krishok Federation, Badrul Alam.
Myanmar Army and their government will not be able to avoid the responsibility of the ethnic cleansing and once they will have to face trial, he said.
Urging to give employment AHM Bazlur Rahman of Bangladesh NGOs Network said there are around 10 lakh refugees who are who are now passing their days in different camps idle, who can produce many thing if they get employment opportunity.