OIC seeks international support to resolve Rohingya crisis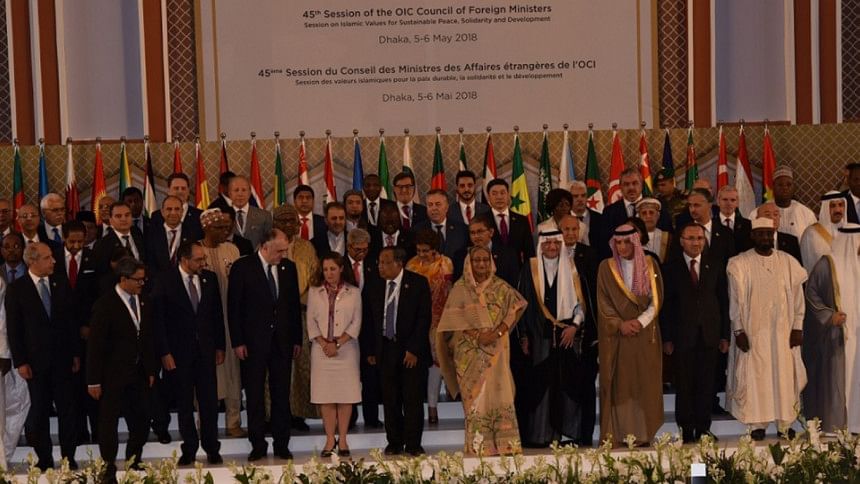 The Organisation of Islamic Cooperation (OIC) has condemned the recent atrocities against Rohingyas in Myanmar, terming that actions against them have reached the level of "ethnic cleansing".
The systematic acts against the Rohingyas by the Myanmar security forces constitute a serious and blatant violation of international law, the foreign ministers and head of delegations of the OIC member-states said in a declaration today.  
Read more: Full text of the Dhaka declaration of 45th OIC Council of Foreign Ministers
They also commended the leadership of Bangladesh Prime Minister Sheikh Hasina in addressing the plights of the Rohingyas and sought international support to resolve the crisis and full implementation of the recommendations made by the Kofi Annan-led advisory commission on Rakhine State.
In the declaration, OIC expressed satisfaction that it is raising its profile in the international level and becoming a strategic dialogue partner in maintaining global peace and security.
The foreign ministers and head of delegations urged the OIC secretary-general to continue reform efforts in a bid to transform, strengthen and reposition of the organisation as a more effective and efficient in order to reinforce the unity of the Muslim Ummah.
They also noted the necessity for full and timely implementation of the OIC 2025 Program of Action (POA) through collective action and project-based initiatives identified in the POA Implementation Plan.