US senators for Reuters journos release in Myanmar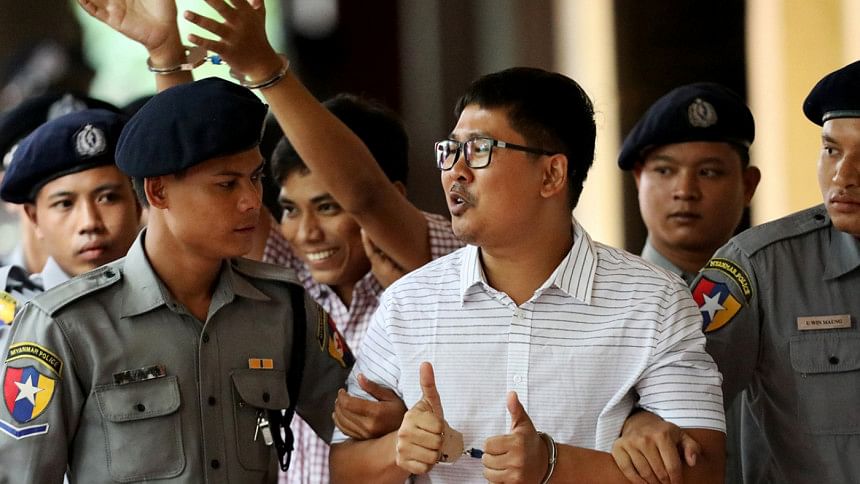 Eleven Republican and Democratic US senators urged President Donald Trump's administration to "use all tools at your disposal," including imposing more economic sanctions, to ensure "the immediate, unconditional" release of two Reuters journalists imprisoned in Myanmar.
"We write today with great concern regarding the case of two Reuters journalists, Wa Lone and Kyaw Soe Oo, who were wrongfully detained and sentenced to seven years in prison in Burma," the senators, led by Republican Marco Rubio and Democrat Jeff Merkley, both members of the Senate Foreign Relations Committee, wrote in a letter to Secretary of State Mike Pompeo, which was seen by Reuters on Tuesday.
The letter was signed by six Democrats and five Republicans.
The journalists were found guilty on official secrets charges and sentenced earlier this month in a landmark case seen as a test of progress toward democracy in Myanmar. The country, also known as Burma, was ruled by a military junta until 2011.
The government of Nobel laureate Aung San Suu Kyi has come under increasing diplomatic pressure over a security crackdown sparked by attacks by Rohingya Muslim insurgents on security forces in Rakhine State in west Myanmar in August 2017.
The journalists were investigating the killing of Rohingya villagers by security forces at the time of their arrest last December, and had pleaded not guilty.
Their imprisonment has prompted an international outpouring of support, including a call for their release by US Vice President Mike Pence.
The senators said they appreciated Pompeo raising the case in August with Myanmar's foreign minister, Kyaw Tin, and calling for their immediate release, but said there should be further action.
Last month, the United States imposed sanctions on four Myanmar military and police commanders and two army units, accusing them of "ethnic cleansing" against Rohingya Muslims and widespread human rights abuses.