Remove hatred from your heart: Rights bodies to Suu Kyi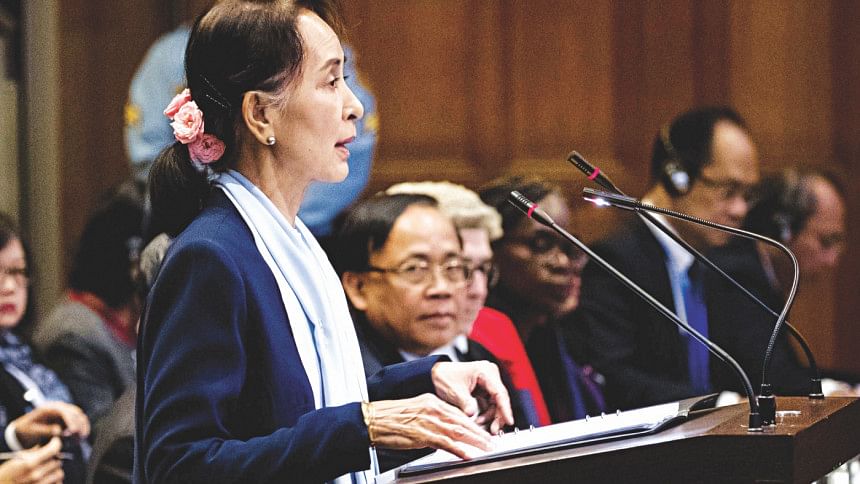 Different international rights bodies today condemned Aung San Suu Kyi's argument in social media as the Myanmar leader ruled out the allegation of ongoing genocide at Rohingya villages in Rakhine.
Brad Adams, Asia director at Human Rights Watch, in a tweet, termed Suu Kyi's argument as dishonest and shameful.
"Absurd #AungSanSuuKyi defense argument number 3: Myanmar's justice system is dealing with abuses against the #Rohingya and abusers will be held accountable. This is dishonest and shameful as she knows from painful personal experience the military has always acted with #impunity," he tweeted
"Another absurd defense argument: #Gambia's case is funded by the #OIC so there is no dispute between Gambia & #Myanmar. But Gambia is a state party to the genocide convention & like all parties has an obligation to prevent genocide. These lawyers are out of plausible arguments," he added.
Fortify Rights CEO Matthew Smith, in his tweet, urged Suu Kyi to open her eyes removing hatred from her heart.
"Remove your nationalism. Remove hatred from your heart. Open your eyes," he tweeted.
"Schabas is arguing that because the ICC is investigating the crime against humanity of deportation, then that shows a possible alternative explanation for what happened, and so no genocidal intent. If that's all they've got, expect provisional measures soon," he said.