Tackling Rohingya Crisis: Canada calls for 'transition plan'
With no job or edn, refugees can be drawn to crime, radicalisation, Bob Rae says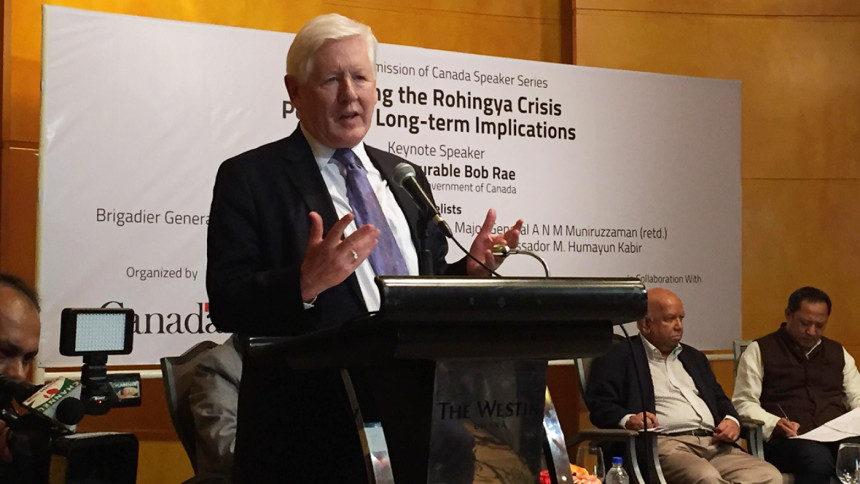 Canada wants a transition plan for the Rohingyas as the repatriation process appears slow amid the refugees' lack of willingness in returning to Myanmar due to insecurity and non-conducive conditions in Rakhine. 
"Not short or long-term, we need to make a transition plan for the Rohingyas," said Bob Rae, Canadian prime minister's special envoy to Myanmar, insisting on providing education and income generating activities for the refugees.
If they do not get education and jobs, they would turn to crimes and radicalisation, he said.
His comments come just days before the UN launches a joint response plan and appeals for $920 million for the Rohingyas this year. 
State Minister for Foreign Affairs Shahriar Alam, however, called for continuous pressure on Myanmar from the international community for Rohingya repatriation.
Providing education to the 400,000 Rohingya children could act as a pull factor for the refugees, he said, adding, "We need to address these pull factors."
The suggestions came at a panel discussion on potential long-term implication of the Rohingya crisis jointly organised by the Canadian High Commission in Bangladesh and Reading Club Trust at the Westin Dhaka hotel. Diplomats, academics, students and civil society members attended it.
It is a heavy burden and a political challenge for Bangladesh to provide humanitarian assistance to over a million Rohingyas, including some 750,000 who fled military atrocities since August 2017, Rae said, adding that the world must recognise it.
Shelter, healthcare, sanitation services at the refugee camps are now much better, but ensuring repatriation of Rohingyas and accountability of those responsible for the atrocities require stronger efforts from Bangladesh and the international community, the special envoy said.
In the meantime, there has to be a transition plan for the Rohingyas, which include providing them with education and jobs. Any development assistance has to be directed at both the host community and the Rohingyas in Cox's Bazar and beyond, he said.
Rae stressed that those responsible for the atrocities against the Rohingyas must face accountability. The process has progressed and it will have to continue.
But imposing sanctions on Myanmar may not work, as it will push the country deeper into the helm of China, he added.
Security analyst Maj Gen (retd) ANM Muniruzzaman said a number of security threats had been identified concerning the Rohingyas. Those include drug, arms and sex trafficking, as well as radicalisation of the Rohingyas.
"Unless the crisis is addressed properly, the threats could be real and spread in the region," he said, suggesting serious security assessments and appropriate measures to address the concern.
Muniruzzaman warned that integration of the Rohingyas with the local communities must not happen. "We cannot legitimise genocide in Myanmar."
Chakma Raja Debashish Roy said settlement of Bangalees in the Chittagong Hill Tracts in the 1980s had created serious problems. Therefore, any settlement of the Rohingya in the CHT would hamper peace there, he added.
Expressing concerns over the growing frustration among Rohingya youths, former ambassador Humayun Kabir said the international community must come forward to address these concerns and help Bangladesh.  
China could be a key player in helping address the crisis, and there must be some other countries to convince China to do its part, he added.
Brig Gen (retd) Sakhawat Hussain, a former election commissioner, suggested more engagements with Myanmar, including with the civil society, academics and retired military officials, for building mutual trust.
Shahriar agreed on building stronger engagement with Myanmar. He said the ASEAN (Association of Southeast Asian Nations) assured Bangladesh of extending its cooperation in solving the Rohingya crisis.
Benoit Prefontaine, Canadian high commissioner to Bangladesh, also spoke at the discussion moderated by Dhaka University Prof Syed Munir Khasru.
In November 2017, Bangladesh and Myanmar signed a repatriation deal. In mid-2018, Myanmar signed a tripartite deal with UNDP and UNHCR in this regard.
Repatriation of Rohingyas slated for November last year did not start as they refused to go, saying that there was no security in Rakhine and no guarantee of citizenship if they return.
The UN also says the conditions in Rakhine are not yet conducive for repatriation.