Angelina Jolie visits refugee camp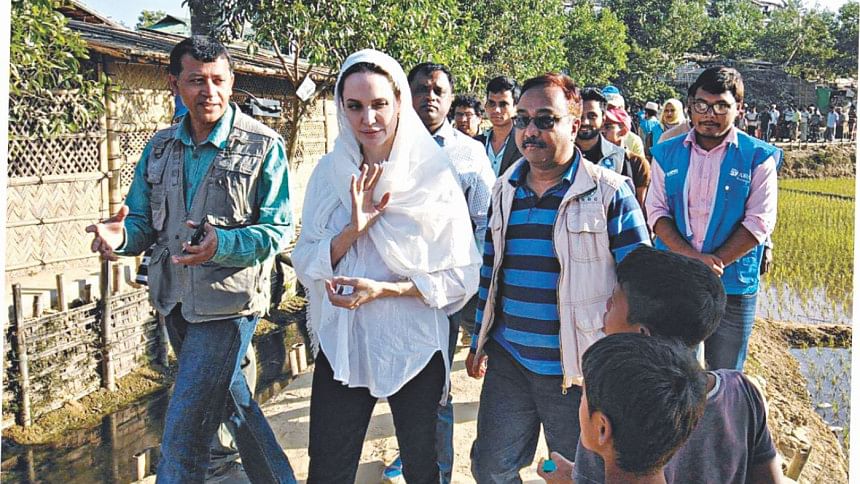 Hollywood star Angelina Jolie met Rohingyas, including some women who had become victims of sexual violence in Myanmar's Rakhine, at a refugee camp in Cox's Bazar's Teknaf yesterday.
The UNHCR special envoy went straight to the camp after arriving in Dhaka around 8:00am.
She is on a three-day visit to Bangladesh to assess the humanitarian needs of the Rohingya refugees and some of the more critical challenges the country is facing as a host.
This is Jolie's first visit to Bangladesh.
At Hoikyang Chakmarkul camp in Teknaf, the envoy talked to some of the 750,000 Rohingyas, who fled from Rakhine during a brutal military crackdown in late August 2017.
UNHCR special envoy and US film star Angelina Jolie has been visiting Rohingya refugee camps in Teknaf upazila of Cox's Bazar.
She first met a 10-year girl named Haresha and wanted to know about her ordeal in Myanmar. She also enquired about Haresha's well-being and her situation in Bangladesh, reports our Cox's Bazar correspondent.
The movie star then moved to house-285 in Block-G of the camp where she talked to some Rohingya women who faced sexual violence in Myanmar. She wanted to know about their life in Bangladesh and the relief materials they receive.
Jolie talked to several other Rohingya people and listened to their experience of torture, violence, killing and arson attacks in Rakhine State. She took their suggestions on what measures should be taken for their safe repatriation to their homeland.
She also exchanged views with volunteers from Brac before leaving for a hotel in Cox's Bazar.
The UNCHR envoy is scheduled to visit other refugee camps in Ukhia and address a press conference today.
Jolie will conclude her visit by meeting Prime Minister Sheikh Hasina, Foreign Minister AK Abdul Momen and senior officials in Dhaka tomorrow, said a statement from the United Nations High Commissioner for Refugees (UNHCR) yesterday.
The meetings would focus on how the UN refugee agency could best support Bangladesh government's efforts for the Rohingya refugees.  
Jolie's visit comes just before the launch of a new appeal for the humanitarian situation in Bangladesh -- the 2019 Joint Response Plan -- which seeks to raise some $920 million to continue meeting the basic needs of Rohingya refugees and the communities so generously hosting them, the statement added.
She had also met Rohingyas during a visit to Myanmar in July 2015 and to India in 2006.