3 Rohingyas die of diarrhoea, 5,000 affected in Bhasan Char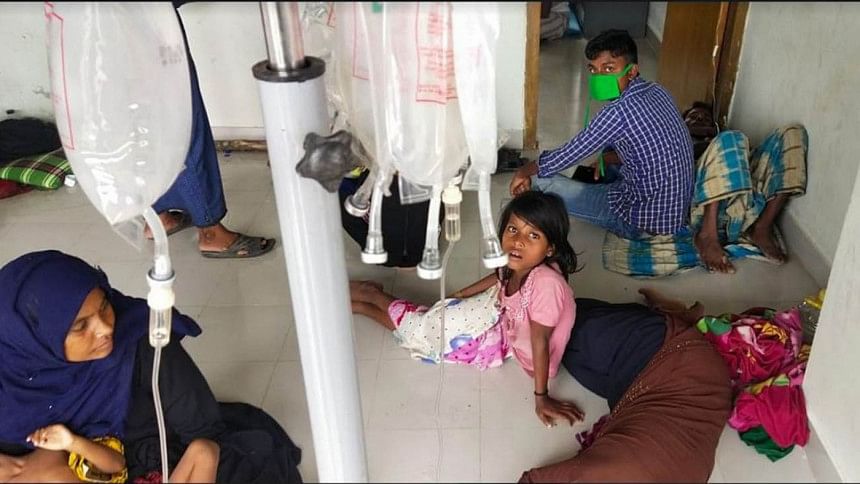 Three Rohingya children died of diarrhoea and at least 5,000 were affected in the sudden outbreak of the disease in the last 15 days in Bhasan Char, a remote island in Hatiya under Noakhali.
The deceased were identified as Joynob (1) of cluster no.10, Jisan (2) of cluster no. 56 and three-month-old child Umme Habiba of ckuster no 55, said Dr Tanvir Anwar, a medical officer of the 20-Bed Bhasan Char Hospital.
Confirming the diarrhoea outbreak in Bhasan Char, Dr Masum Iftekhar, civil surgeon of Noakhali, said diarrhoea is increasing rapidly in the Bhasan Char due to lack of hygiene and health awareness among the Rohingyas and rain after the recent heat wave.
The disease also spread in the refugee camp as the Rohingyas are not able to make saline properly and do not wash their hands with soap before and after defecation, he said.
The employees of health department are working to prevent the disease, the civil surgeon told our Noakhali correspondent.
Medical officer Dr Tanvir Anwar also said there is no separate or special beds at the Bhasan Char Hospital for diarrhoea patients.
"Currently, diarrhoea patients only are being admitted at the hospital not allowing other patients. Everyday, 40-50 patients are being admitted here. Many of them are being treated at corridor and hospital floor due to lack of beds. There are little crisis of medicine as the disease is increasing rapidly,", he said.
The civil surgeon further said there is no crisis of medicine. The employees from the health department tried to go to Bhasan Char with saline and other medicines but they have returned from Hatiyar Janata Ghat due to bad weather.
Medicine will be sent to Bhasan char Hospital after the weather is normal, said the doctor.
Masum Iftekhar said cluster-based health education system has been introduced in the Bhasan Char to make saline properly and increase health awareness.