'Each Rohingya to get $6,000 if returns to Rakhine'
A Chinese government delegation reportedly met Rohingya Muslims in Bangladesh, promising each refugee up to USD $6,000 if they returned to Rakhine state in Myanmar, a Bangladeshi official and refugee leaders said Tuesday, reports BenarNews of Indonesia.
Sun Gouxiang, China's special envoy for Asian Affairs, met with 15 men and 14 women at the Kutupalong refugee camp in Cox's Bazar on March 3, according to Syed Ullah, secretary-general of the Arakan Rohingya Society for Peace and Human Rights (ARSPH), an NGO.
"They asked us whether we would go back if they gave us five thousand to six thousand dollars," Ullah told BenarNews.
"We rejected their proposal and asserted that we will in no way return if we are not given citizenship with Rohingya identity and our other demands are not met," he said.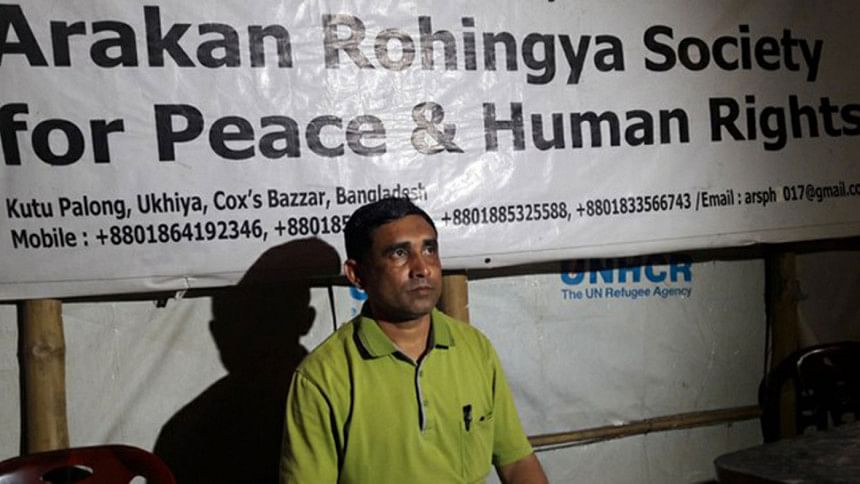 A Bangladeshi official who attended the meeting confirmed to BenarNews, on condition of anonymity, that the Chinese delegation had offered up to USD $6,000 to help the refugees rebuild their homes in Rakhine state.
The Chinese embassy in Dhaka did not respond to a BenarNews email seeking comment.
The United Nations estimates that some 740,000 Rohingya fled to Bangladesh following a brutal crackdown by the Myanmar military in response to attacks by Rohingya insurgents on security posts in August 2017.
"Chinese government offered them the money, so that each Rohingya family can build their own houses when they go back," the official told BenarNews.
But, he said, it would be impossible for the refugees to build their own homes, as most of them have lost the men in their households as a result of the military crackdown that the United States and the United Nations have dubbed as ethnic cleansing. Myanmar has denied the allegations.
Delwar Hossain, an official in charge of the Southeast Asia desk at Bangladesh's Ministry of Foreign Affairs, told BenarNews that his office arranged the meeting between the Chinese delegation and the refugees.
"They discussed the demands of the Rohingya people," Hossain said.
During his visit to Cox's Bazar, the Chinese envoy was accompanied by two officials from the Chinese embassy in Myanmar, a diplomat from its embassy in Dhaka, and two foreign ministry officials from Beijing, Alauddin Bhuiyan, another Bangladeshi official, told BenarNews, a Radio Free Asia-affiliated online news service.
The delegation met with Rohingya leaders and Mohammad Abul Kalam, Bangladesh's refugee relief and repatriation commissioner, foreign ministry sources said.
A Rohingya leader told the Chinese delegation that the refugees would "never accept any repatriation without international security, full citizenship with Rohingya identity and justice," Syed Ullah said.
Muhib Ullah, another ARSPH official, provided more details about the meeting in an interview with BenarNews.
"First of all, they wanted to know whether all of us were Rohingya and we would go back," he said. "We told them that we would go right now if they accept our demands. Otherwise, we will not go."
"If Myanmar grants us citizenship, we will return instantly," Ullah said.
Munshi Fayez, Bangladesh's former ambassador to Beijing, said China's move to start talking to Rohingya refugees about possible repatriation was apparently aimed at protecting Myanmar, its regional ally, from international pressure, and at gaining a foothold on the economic benefits of the return of the refugees.
"Myanmar has created such a situation that China in future may not be able to protect them from international pressure," Fayez said. "So, they are trying to mediate the Rohingya repatriation to save (China's) international image."
At the same time, he said, China was seeking a solution to the Rohingya issue for their economic interests.
"China wants to create an economic zone in Rakhine," Fayez said. "If the Rohingya issue remained unresolved, they would not be able to create an economic zone."
The Chinese envoy flew out of the country from Dhaka on Tuesday, Bangladeshi foreign ministry sources told BenarNews.
Before travelling to Bangladesh, Sun Gouxiang visited several villages in Rakhine state and met with Myanmar's de facto leader Aung San Suu Kyi in the capital Naypyidaw on Feb 27, according to the state-run Global New Light of Myanmar.