Work on barbed-wire fencing around Rohingya camps begins: Army Chief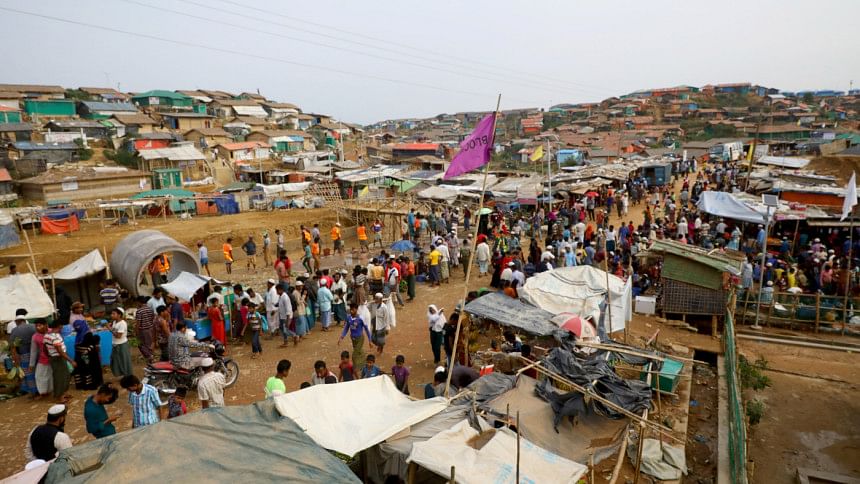 Mentioning that barbed-wire fences will be erected around Kutupalong and Nayapara Rohingya camps, Army Chief General Aziz Ahmed today said initially work on installing boundary pillars over there has started.
"Next month, I'll go to Myanmar where we'll discuss issues relating to improving the relationship between the two countries. Many issues will come up and we may talk about the Rohingya issue but whatever happens, it'll be in the interest of Bangladesh," he said.
The Army Chief was talking to reporters after six units were provided with regimental colours at a ceremony held at Ramu Cantonment.
General Aziz Ahmed provided the regimental colours to 6, 9 and 27 Regiment Artillery under Ramu Cantonment, 6 Engineer Battalion, 13 and 14 Bangladesh Infantry Regiment.
"Alongside protecting the sovereignty of the country, Bangladesh Army is playing a significant role in tackling natural and manmade disasters as well as in socioeconomic and infrastructural development of Bangladesh," the Army Chief said.
In order to safeguard the unity of the motherland and for any national requirement, the Bangladesh Army is always ready to make the highest sacrifice, General Aziz Ahmed added.
GOC 10th Infantry Division Major General MD Main Ullah Chowdhory, five former Army Chiefs and other former officers were present on the occasion.