Suu Kyi's first public speech
A huge disappointment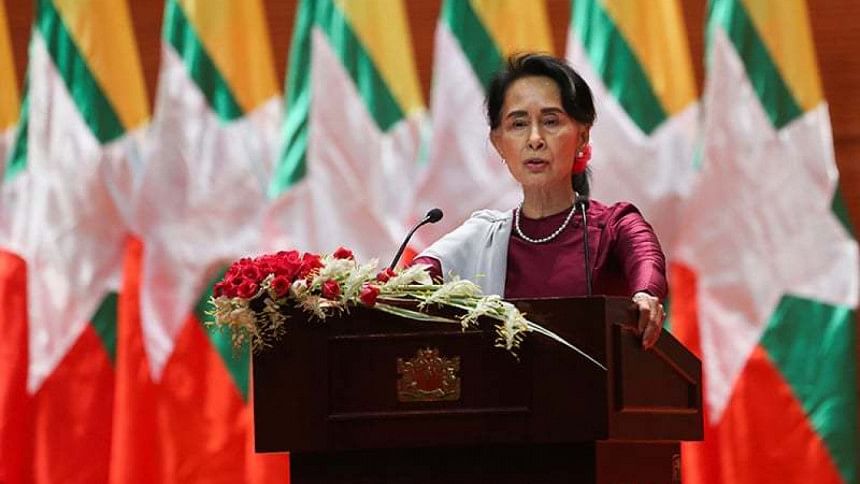 Needless to say that Myanmar's state counselor Aung San Suu Kyi's much awaited public speech regarding the crisis in the Rakhine state is deeply disappointing. We are shocked that she has chosen to gloss over the gross human rights violations carried out by Myanmarese security forces against Rohingyas. Instead, she has said that Muslims have been fleeing the Rakhine state and crossing the border to Bangladesh because of attacks by armed Muslim groups. 
Despite firsthand accounts of Rohingya refugees regarding the horrible crimes committed against them by the Myanmar security forces–the shooting and slaughtering of innocent, unarmed Rohingya men, women and children, raping women, burning their houses, and forcing them to flee their country–Aung San Suu Kyi seems to be living in a different reality than the rest of the world. Not once does she mention any of these atrocities. Rather, throughout her speech, she has repeatedly talked about achieving "peace, harmony and progress of the country" as a whole and her government's efforts to achieve that peace. We find it hard to understand from her speech what peace even means to her, in the context of the brutality against the Rohingya people, who are the rightful citizens of her country.
The international community, different human rights organisations and even her fellow Nobel laureates have appealed to her to take a moral stand on behalf of the Rohingya people, but, apparently, she has failed them. Suu Kyi has wasted the perfect chance to condemn the atrocities and call for an immediate halt to them. Amnesty International has rightly commented after her speech that she and her government are still burying their heads in the sand. Her talks about peace and human rights ring hollow when juxtaposed with the ground reality in her own country.