Rohingya refugees still highly vulnerable: Priyanka
The Bollywood actress says this after visiting Rohingya camp in Cox's Bazar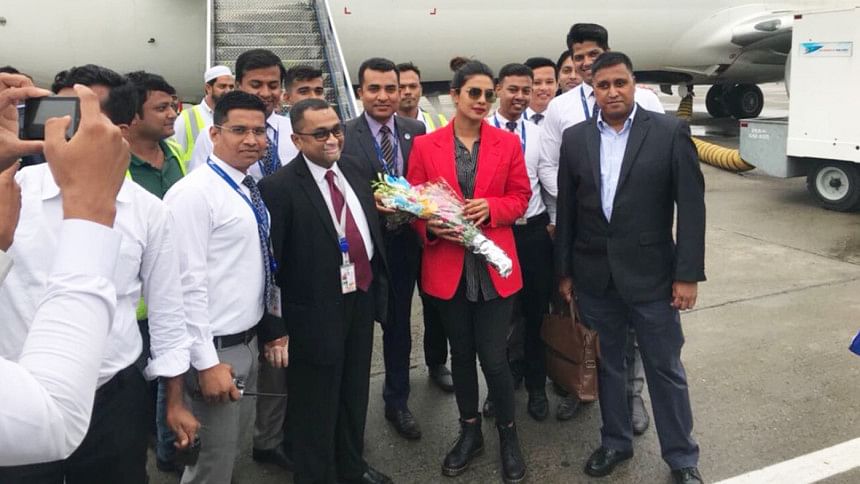 Bollywood actress Priyanka Chopra, the Unicef goodwill ambassador for child rights, today said the Rohingyas staying in the refugee camps in Bangladesh are still highly vulnerable.
She came up with the remarks in a post on her verified Facebook page after visiting a camp in Teknaf upazila of Cox's Bazar this afternoon.
"In the second half of 2017, the world saw horrific images of ethnic cleansing from the Rakhine State of Myanmar(Burma). This drove nearly 700,000 Rohingya across the border into Bangladesh - 60% are children! Many months later they are still highly vulnerable, living in overcrowded camps with no idea when or where they will ever belong...even worse, when they will get their next meal," she wrote in her post.
In her Facebook post, the most popular and globally known Indian actress also said, "These children are at the forefront of this humanitarian crisis, and they desperately need our help. The world needs to care. We need to care. These kids are our future."

"AND...as they finally start to settle and feel a sense of safety, monsoon season looms...threatening to destroy all that they've built so far. This is an entire generation of children that have no future in sight. Through their smiles I could see the vacancy in their eyes," she wrote.
She visited Shamlapur Rohingya refugee camp around 3:00pm and passed around an hour with the displaced people of Myanmar this afternoon," our Cox's Bazar staff correspondent report from the spot.
Earlier in the day, she flew to Dhaka from London, where she attended her friend and actress Meghan Markle's wedding to British Prince Harry.
Priyanka, who has been working with the Unicef for a decade as the national and global goodwill ambassador of the organisation, is now staying at Royal Tulip hotel in Cox's Bazar.
Amid huge security measures, the high profiled Bollywood film star landed at the Hazrat Shahjalal International Airport in Dhaka around 8:00am and later reached Cox's Bazar by a flight of US Bangla around 12:40pm.
She will visit other Rohingya refugee camps on Tuesday and Wednesday, Cox's Bazar Additional Superintendent of Police Afzurul Haque Tutul, who has been appointed to oversee her overall security, told The Daily Star.  
Priyanka is scheduled to return Dhaka on Thursday, according to the police official.
Around 700,000 Rohingyas have fled violence in the Rakhine state of Myanmar and arrived in Cox's Bazar since August 2017, according to the UN.