Agro kits for the malnourished Rohingyas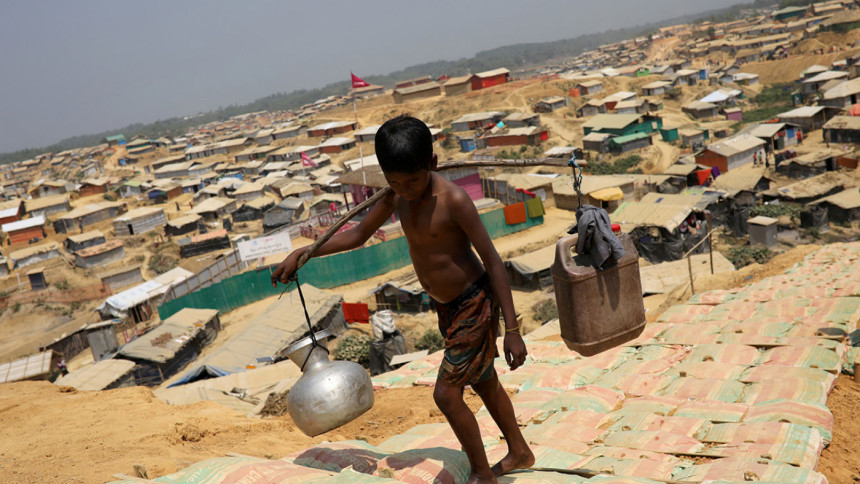 IOM, the UN Migration Agency, and the UN Food and Agriculture Organization (FAO) are distributing 50,000 vegetable gardening kits to tackle malnutrition and improve the diet of people affected by the Rohingya refugee crisis in Cox's Bazar, Bangladesh.
Now reliant on basic food rations of rice, lentils, cooking oil and spices distributed by aid agencies every two weeks, the refugees, particularly children under five years old, urgently need to diversify their diet, said IOM in a statement.
The micro gardening initiative, which will provide seeds and tools to 50,000 families – 25,000 in the refugee camps and 25,000 in host villages in Ukhiya and Teknaf – is part of a USD 3 million programme to promote home gardening and larger-scale production among local farmers.
The initiative is funded by the US State Department's Bureau of Population, Refugees and Migration (PRM). Almost half of the households receiving the kits are female-headed.
"The kits mean that they (the refugees) can grow leaves and vegetables on whatever land they have around their shelters. They can also sell the extra produce," said Mohammad Abul Kalam, Commissioner of Bangladesh's Refugee Relief and Repatriation Commission (RRRC) in Cox's Bazar.
"This will enable people to live better," said Kalam, who handed over the first kits in the Ukhiya yesterday.
As part of the kits, families received red amaranth, high-iron spinach, lady fingers, long yard beans and pumpkin seeds. They also got compost, a spade and a watering can. The kits include a watertight, 60-litre food storage drum to prevent mold and infestation of food stocks, which will be essential in the coming wet season.
Local families received a slightly different kit, as most have bigger kitchen garden areas than the refugees. All the beneficiaries received basic training in micro gardening techniques.
"The initiative mainly focuses on providing high quality, nutritious food to improve nutrition at the household level, but also focuses on production capacity and farm-to-market strategies for farmer groups," said Peter Agnew, FAO's Emergency Response Coordinator in Cox's Bazar.
"Seven months into the crisis, it's not only the refugees, but also the host community that needs assistance," said Manuel Pereira, IOM's Emergency Coordinator in Cox's Bazar.
"The speed of the influx of refugees put huge pressure on local agriculture and the food supply chain. There are 400,000 people among the refugees and host communities who currently need nutrition support.
This initiative will improve their nutritional status. It will also contribute to mitigating an expected 50,000 metric tonne annual food deficit in Cox's Bazar," Manuel added.