Dozens of Rohingya arrive in Indonesia
At least 80 of the persecuted minority group from Myanmar came in a boat
About 80 Rohingya in a wooden boat arrived in Indonesia yesterday, officials said, the latest batch of the vulnerable minority to come ashore in the world's biggest Muslim majority nation.
The group landed in Aceh province on Sumatra island, just weeks after dozens of the persecuted Muslim minority from Myanmar came ashore in neighbouring Malaysia.
All appeared to be in good condition, according to local police chief Riza Yulianto, who added that it was not clear how long they had been at sea.
"Thank God they're all healthy even though a few are just children," he told AFP.
"We have given them food and we are thoroughly checking their health one by one."
It has been rare for Rohingya migrants to attempt the sea routes south since Thai authorities clamped down on regional trafficking networks in 2015, sparking a crisis across Southeast Asia as large numbers were abandoned at sea.
But there have been concerns desperate migrants might start taking to the high seas again after mainly Buddhist Myanmar launched a new crackdown last year that forced about 700,000 members of the Muslim minority to flee to Bangladesh.
This month, a group including two Rohingya men, aged 28 and 33, a 20-year-old woman, a 15-year-old girl and an eight-year old boy were spotted in a small boat off the coast of southern Thailand and Myanmar, some 325 kilometres (176 miles) from Aceh.
Local Indonesian fishermen took them back to Aceh where they were later taken into custody by immigration officials.
The group said they had been travelling with two dozen other Rohingya but got separated and were stranded at sea for about 20 days.
They had gotten lost with five others who later starved to death and their bodies were thrown overboard, officials said at the time.
In 2015, hundreds of Rohingya came ashore in Aceh, where they were welcomed in the staunchly conservative Islamic province.
Indonesia tends to accept asylum seekers but they are usually barred from working and often spend years in immigration centres.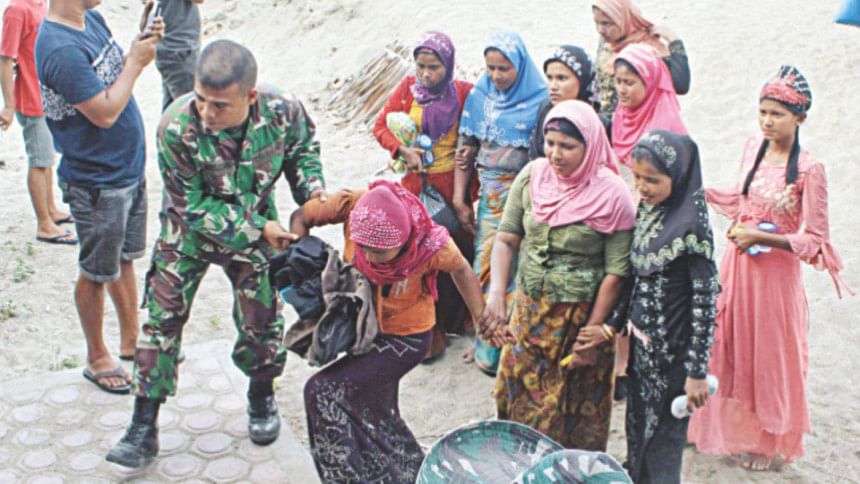 OBEY LAW
Myanmar army chief Min Aung Hlaing has told military personnel in the country that they must obey the law, citing as an example the sentencing of seven soldiers for a massacre of Rohingya Muslim men that was the subject of a Reuters investigation.
In a speech at a military school in the country's north, Min Aung Hlaing told soldiers they "must abide by the military codes of conduct and international laws and conventions", according to a translation posted on his official Facebook page on Thursday.
"No one is above the law. Actions will be taken if someone breaks the law. The problems in Inn Din village ... were solved in line with the Geneva Convention and legal action was taken against military officers and other ranks who failed to respect the law," said Min Aung Hlaing, in his first direct comment on the killings.
Seven soldiers were sentenced to 10 years in prison with hard labour this month for taking part in the massacre of 10 Rohingya men in the village of Inn Din, in northwestern Rakhine state, last September.
The massacre was being investigated by two Reuters journalists - Wa Lone, 32, and Kyaw Soe Oo, 28 - who were arrested in December and remain in custody accused of violating the country's Official Secrets Act.
The authorities told Reuters in February the military opened an internal investigation into the killings independently and that it was unrelated to the Reuters reporters, who they said were accused of obtaining unrelated secret government papers.
The Rohingya men were buried in a mass grave in early September after being hacked to death or shot by Buddhist civilian neighbours and soldiers. Reuters published its story on the murders in February.
The killings were part of a larger army crackdown on the Rohingya, beset by allegations of murder, rape, arson and looting, unleashed in response to Rohingya militant attacks on security forces in late August.
Min Aung Hlaing, one of the most powerful people in a country where the constitution requires the civilian government of Aung San Suu Kyi to share power with the military, reiterated in his speech the army's position that the Rakhine operation was a legitimate counteroffensive against "Bengali terrorists".