. Robin Williams 'had Parkinson's' when he died
Robin Williams 'had Parkinson's' when he died
Robin Williams was suffering from the early stages of Parkinson's disease at the time of his death, his wife has said.
Susan Schneider said her husband had been sober but "not yet ready to share publicly" his struggles with Parkinson's.
She added that he had also been suffering from anxiety and depression.
The 63-year-old actor was found dead in an apparent suicide in his home on Monday.
Police said he died of asphyxia due to hanging.
"His greatest legacy, besides his three children, is the joy and happiness he offered to others, particularly to those fighting personal battles," Schneider said in a statement, adding her husband's sobriety was "intact".
"It is our hope in the wake of Robin's tragic passing, that others will find the strength to seek the care and support they need to treat whatever battles they are facing so they may feel less afraid."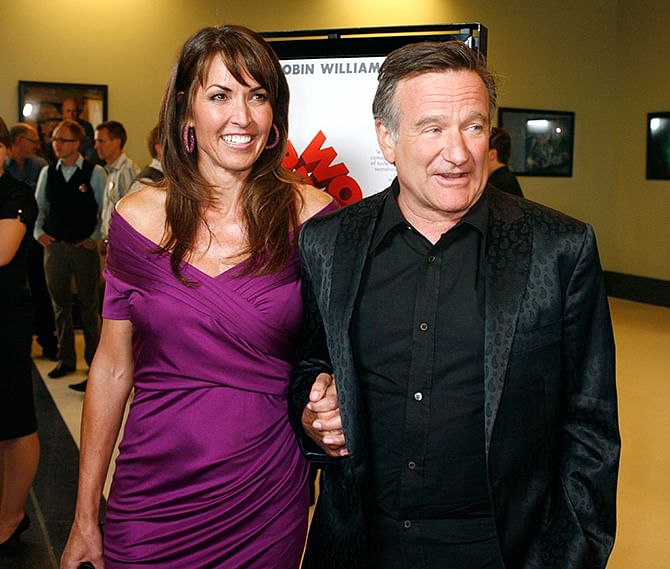 Parkinson's is a degenerative neurological disorder.
It is believed that the disease is brought on by a mixture of genetic and environmental factors, but the exact cause is still unknown.
Zelda Williams remembers her father:
Dad was, is and always will be one of the kindest, most generous, gentlest souls I've ever known, and while there are few things I know for certain right now, one of them is that not just my world, but the entire world is forever a little darker, less colourful and less full of laughter in his absence.
We'll just have to work twice as hard to fill it back up again.
Its symptoms can include tremors and other uncontrollable movements, impaired balance and co-ordination, stiffness, slowness of movement, loss of smell, a decline in intellectual functioning, depression and speech and swallowing problems.
It is estimated to affect about five million people worldwide and usually, but not always, occurs in old age. The statement did not specify when Williams had been diagnosed.
In the past, Williams had talked and even joked about his struggles with alcohol and drugs and had returned to rehab to "fine tune" his sobriety earlier in the year.
Tributes have poured in across the world for the comedic actor and on Wednesday evening the marquees of New York City's Broadway theatres were dimmed in his memory.
Williams will also be remembered at the Primetime Emmy Awards on 25 August.
Williams was famous for films such as Good Morning Vietnam and The Fisher King, and won an Oscar for his role in Good Will Hunting. His break-out role was as an alien on the 1970s TV show Mork and Mindy.