'Release those migrants jailed after Bangladesh return'
Say organisations working on migration issues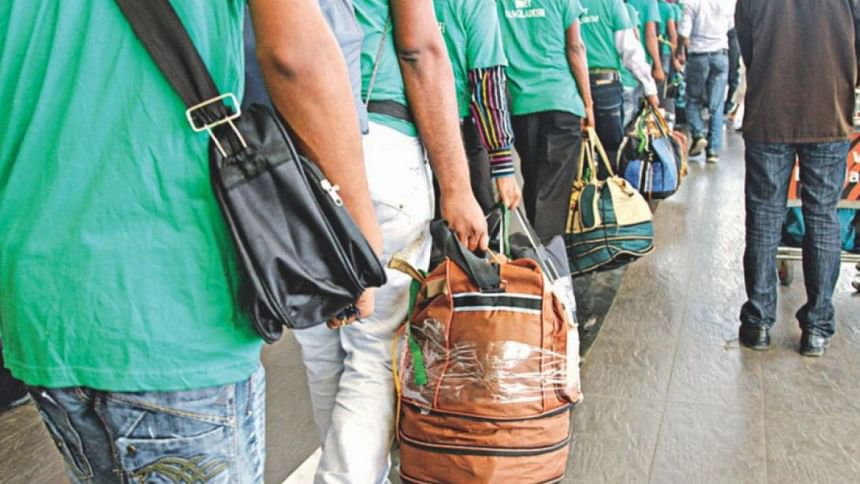 Nineteen organisations working on migration issues have demanded unconditional and immediate release of 255 migrant workers who were detained and sent to jail upon their return home recently.
In a statement signed by Bangladesh Civil Society for Migrants (BCSM) Chair Professor CR Abrar and Co-chair Syed Saiful Haque, the organisations said the families of the migrants have little information other than that their loved ones are in Kashimpur jail.
It has been reported in the media that there are instances of the families being harassed by the investigating officers and some have even subject to extortion, they said.
"The families are in all sorts of uncertainty and expressing deep concern in this regard," the statement added.
The organisations said the migrants were charged under section 54 of the Code of Criminal Procedure on "apprehension that if they are released, they may commit crimes, including murder, robbery, terrorism and sabotage".
Police sources also said they may be charged for committing "anti-government and anti-state" activities.
The police, however, have not clarified the motive of the detainees, they said.
"Moreover, it is completely unlawful to arrest or detain someone for an offence that is yet to be committed," they added.
The platform said initially the court ordered for submission of the investigation report within 10 days, but later it was extended twice due to police request.
Media reports citing Bangladesh missions in the concerned states inform most of the detainees were charged for "being undocumented" and for petty narcotic offences in the destination countries and have received royal pardon after having served half of the punishment or more, said the statement.
BCSM said police stated the migrants were arrested as they have "tarnished the image of the country abroad".
However, none of them were brought back under any extradition arrangement, it added.
Members of the platform include Refugee and Migratory Movements Research Unit, WARBE Development Foundation, BRAC, Bangladeshi Ovhibashi Mohila Sramik Association, Manusher Jonno Foundation, Ain O Salish Kendra, and Obhibashi Karmi Unnayan Program.