Sewing for the groom: Points to remember before ordering the perfect wedding sherwani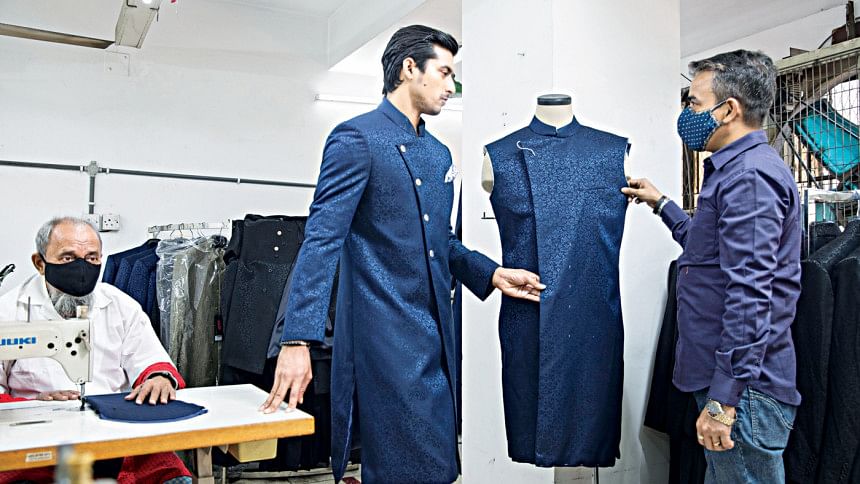 #Fashion & Beauty
Designers across town will vouch for the fact that although festivities calm down at the end of winter, the proverbial 'wedding season' is now a yearlong phenomenon. Sewing for the bride's groom never exactly stops at the tailoring workshops, there is no hiatus for makers of panjabis and sherwanis — quintessential attires for the wedding.
Matches are still 'made in heaven,' but what has changed for mortal Bengalis is that weddings are no longer scaled down affairs. There is now a long list of events, each calling for its own appropriate, Instagram-able moments.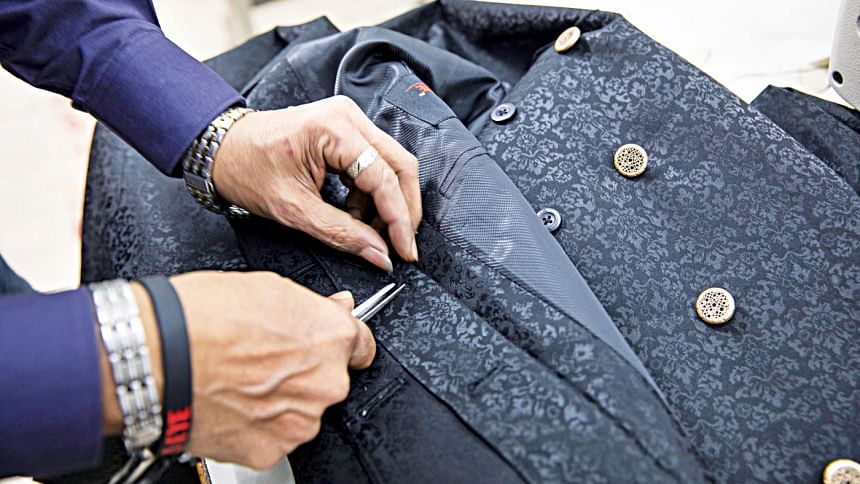 To complement such picture-perfect settings, the groom must also stretch his sartorial repertoire and amp up the glam factor. And, as far as weddings are concerned, the sherwani has now emerged as the South Asian counterpart to the Western jacket.
Sherwanis used to be a stiff affair in the distant past; a heavy outer garment that spelled discomfort every time one tried them on. The colour scheme was predominantly monochrome, that too in popular shades of black and white.
Choice of colour, availability of a wide range of fabrics, and improved sewing techniques now all contribute to making them do justice to the male silhouette. The Bengali man comes in various body shapes, and each can now safely opt for a nice, tailor-cut sherwani that will complement whatever wedding ensemble the bride decides to choose.
Ideally worn as an outer garment that is neither loose nor a snug fit — there is a right cut for every physique, which can only be brought to life through careful tailoring. And this is where the specialised sherwani makers come to your rescue.
Wedding culture has changed, and so did the fashion and styling aspects attached to it. Neither the bride, nor the groom; not even their entourage now stick to age-old traditions. And as far as current trend goes, it is perhaps only possible to match the extensive range of bridal wear with bespoke choice for the groom.
This is of course not true for those who are opting for designer wear. Yet, not everyone can afford it, and it is still popular to select the bridal ensemble first and then handpick every attire the groom is to don on those special occasions. Going bespoke will offer you some freedom; so use it wisely!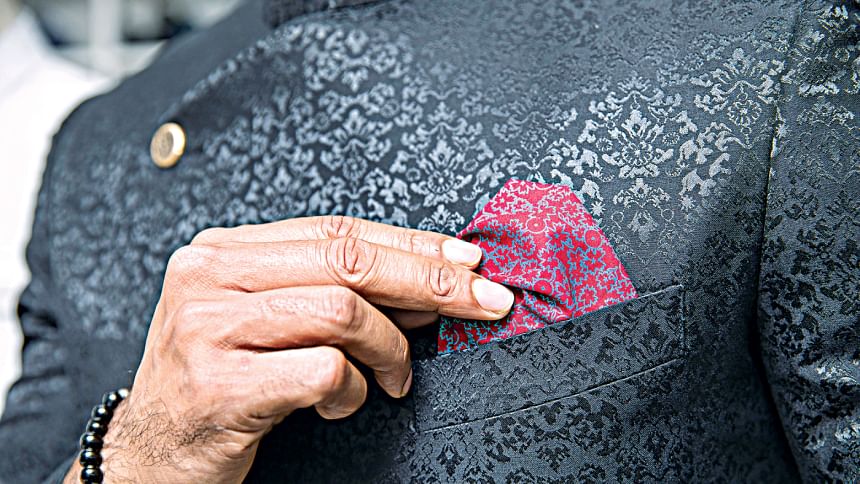 We have spoken to master tailors; they suggest the following mantras to shine on D-day! So, here are some sartorial tips to make you the perfect groom.
01.   Make a pick that befits the occasion
Choose what complements the bridal wear. Remember, the idea is to shine as a duo, and when it comes to choosing the colour, the cut, even the accessories for the groom, it is best if you take cue from what the bride is wearing.
02.   Be occasion specific
Resist the temptation of tailoring a piece that you think you can safely wear on other occasions. When ordering your wedding sherwani, just think of the wedding day itself.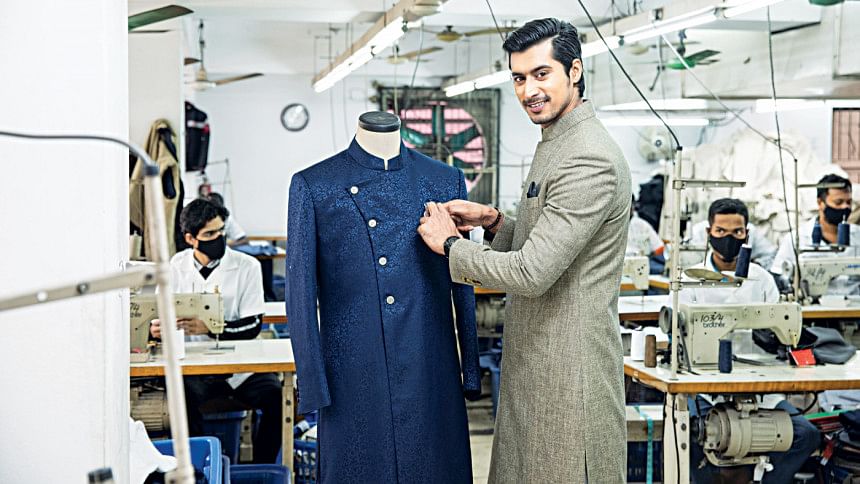 "Does Indo-Western work?" you may ask. Yes! Absolutely, if you have the physique and attitude to pull it off. Go for traditional styles if you are shaky; these ensembles are simply timeless.
03.   Coordinate the colours
Good news is that the colour scheme is no longer limited. Wear a shade that reflects your personality. Remember, your complexion will matter.
04.   The right fabric is paramount
The sherwani you wear will determine the mood for the entire day, and the memories will last a lifetime. Invest on your wedding attire and leave the budget cuts on actual wedding extravagances.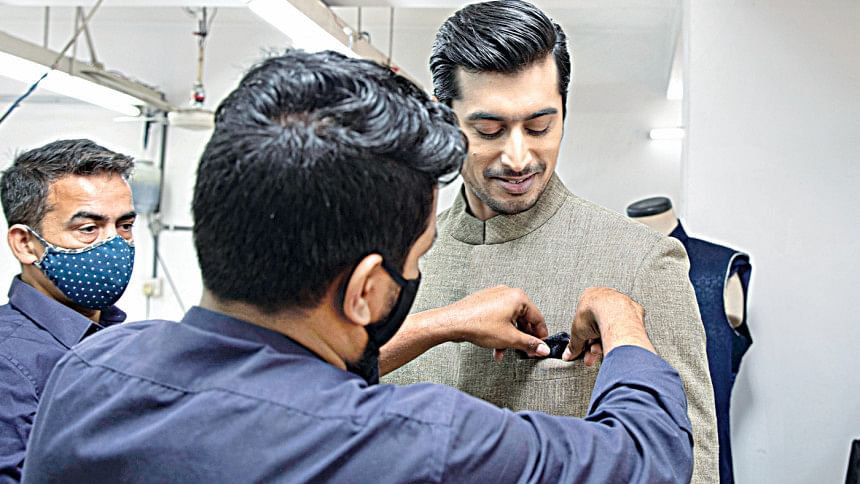 You may opt for silk or even cotton, so that you can breathe. 
05.   Prints vis-a-vis embroidery: Take your pick
For winter weddings, embroidery is the way to go. Skip the prints for winter weddings. Don dazzling geometric/floral prints for spring and summer weddings.
06.   A fit for the groom
Make sure the cut is sharp. The current trend is to go for a body-hugging sherwani suit, but make sure you will be comfortable in it. Always leave some margins to avoid that button popping feeling every time you exhale. Wedding day is going to be a long one!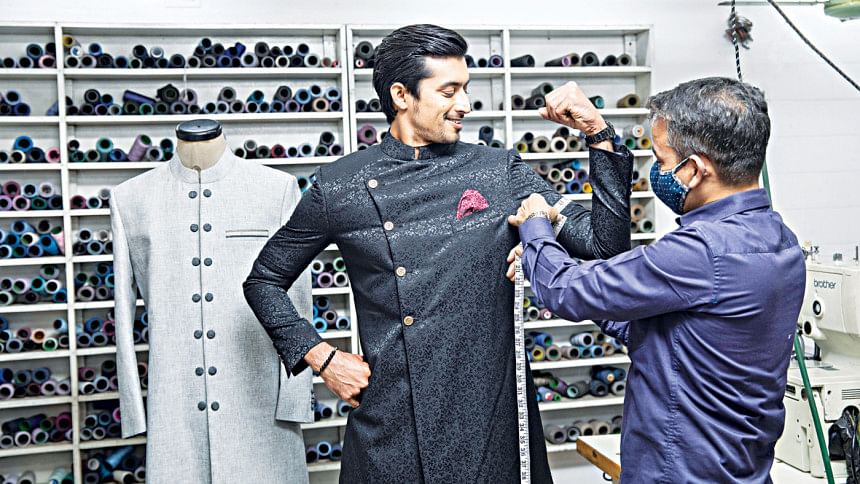 The length of the sherwani will depend on the size of the kurta.
07.   Pay attention to the bottom wears
There is no universal rule for pairing bottom wear with the sherwani. Many options are available, including slim pants, churidars, and even dhoti pants. The right selection will depend on the combination of style and cut of the sherwani, and the groom's physique.
08.   Accessorise to amp up the style game
Well-coordinated outfits are a visual treat for the wedding photos. If the bride wishes to don some daring colours or add elements to her ensemble, rather than selecting an equally adventurous sherwani, wear a shawl. To satiate inner desire to keep to with your bride, perhaps a neckpiece. Perhaps!
Buttons are a safe game to play with.
09.   The all-important turban
You can't complete your wedding sherwani look without a turban. It is that piece, absolutely essential to make your ensemble complete. Never forget the pocket square!
10.   A friend indeed
If there was this one time your trusted tailor will come in handy, this is it. If you are going for specialised sherwani makers, which you should, have faith on their expertise. If you have a friend who has mastered the art of style and fashion a little more than you have, maybe this is the time to ask for some advice!
Photo: Sazzad Ibne Sayed
Model: Rabbi
Wardrobe: Cats Eye
Styling: Sonia Yeasmin Isha