Zia's younger brother to form new political party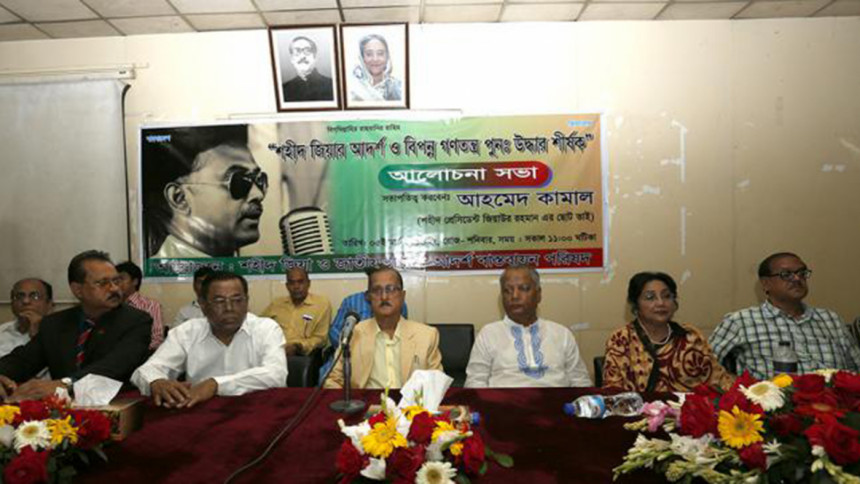 BNP founder Ziaur Rahman's younger brother Ahmed Kamal today announced that he will form a new political party.
Kamal, however, did not make it clear when he is going to form the party.
Talking to reporters following a discussion titled "Shaheed Zia's ideology and restoration of endangered democracy" Kamal made the announcement.
He said, "I will form a political party and that's why I came here today."
Replying to a query regarding the possible date of forming the new party, Kamal said, "I will invite you [journalists] when I form the party."
Talking to The Daily Star later, Kamal said it might take one or two years to start the activities of the new political party.
At the discussion, Kamal read out a written statement. He said, "I can't help but telling something at the present shaky situation of BNP. I sometimes feel sorry when I see that there are acute dissimilarity between BNP's present activities and the ideology of my brother Shaheed President Ziaur Rahman."
Kamal also claimed that a vested anti-liberation war quarter is trying to misguide the BNP leadership including its chairperson.
"This quarter wants to keep the chairperson [Khaleda Zia] in dark. The dedicated leaders and activists from central to grass-root level who believe in the ideology of BNP have been paying dearly for to the mistake of this quarter. With hundreds of false cases against them, they are on the run. They have been living in fear of arrest, killing and forced disappearance. We will have to stand beside those dedicated leaders and activists, and give them right direction to boost up the frustrated men."
Apart from Ahmed Kamal, former whip Ashraf Hossain, known as BNP's reformist leader, former Daily Dinkal editor Kazi Siraj, and former Bikolpodhara Bangladesh leader Sheikh Shahidul Islam, addressed the programme among others.