Charitable Trust Case: Khaleda files appeal against lower court judgment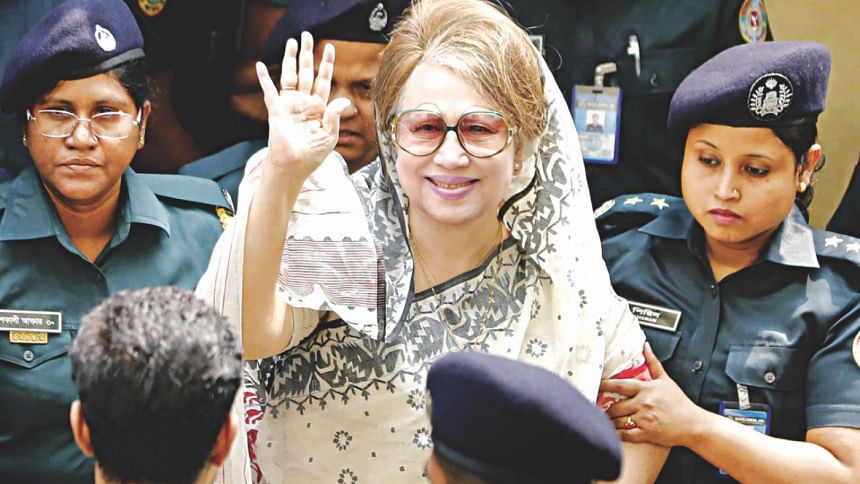 BNP Chairperson Khaleda Zia yesterday appealed to the High Court, challenging the lower court verdict that sentenced her to seven years' imprisonment in the Zia Charitable Trust corruption case. 
She submitted the appeal through her lawyers, seeking acquittal in the case.
Khaleda's lawyer Kayser Kamal told The Daily Star that his client appealed for scrapping the lower court verdict against her, staying the fine imposed on her and granting her bail.
He said 24 grounds had been included in the appeal.
Citing the grounds, the lawyer said the lower court had illegally convicted and sentenced Khaleda in the case.
The initiation of the case was not "lawful" as there was no "corruption" in establishing the Zia Charitable Trust. As the Trust was a private organisation, there was no scope for the government to interfere in it, Kayser said.
The Trust was established with the money of BNP leaders and activists, he said, adding that they would place the appeal before the HC soon for its hearing.
On October 29, a special court in Dhaka convicted Khaleda in the case and sentenced her to  seven years' imprisonment in her absence.
It also awarded the same jail term to Harris Chowdhury, political secretary to then prime minister Khaleda Zia, his assistant personal secretary Ziaul Haq   Munna, and Monirul Islam Khan, assistant personal secretary to then Dhaka mayor Sadeque Hossain Khoka.  
The Anti-Corruption Commission filed the case with Tejgaon Police Station on August 8, 2011.
The BNP chief landed in jail after being sentenced to five years' imprisonment in the Zia Orphanage Trust graft case by the same court on February 8.
The HC on October 30  enhanced her punishment to 10 years in the case after dismissing her appeal.