Summons hung at Khaleda's Gulshan house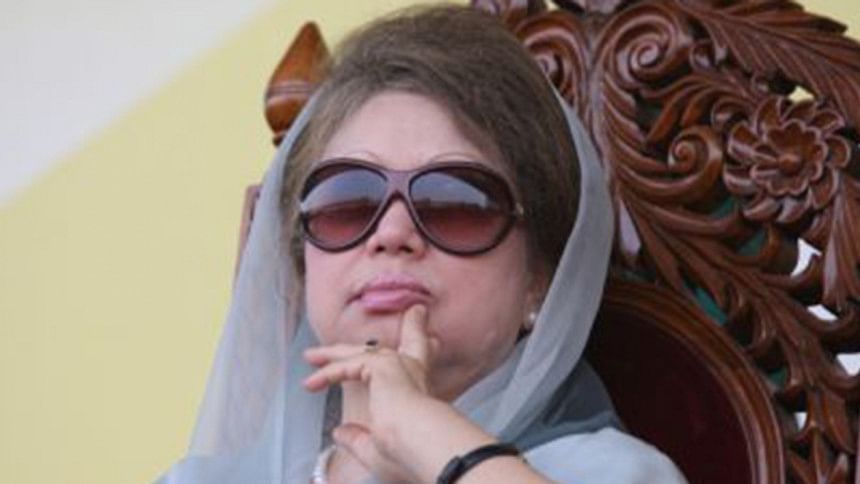 Court officials this evening hung a notice at the main entrance of Khaleda Zia's Gulshan residence summoning the BNP chief in a sedition case.
Earlier, the officials waited for around five hours from 12:00pm for handing the notice to any staff at Khaleda's Gulshan office but they failed, Masud Khan, an official of the CMM Court, told The Daily Star.
Zabid Hossain Bachchu, a process server of the Dhaka Chief Metropolitan Magistrate's Court, put the notice on the wall around 5:00pm, Masud added.  
Contacted, officials at the BNP chief's office declined to make any comment in this regard.
According to law, Masud said, hanging any notice in such way means it has been received by the accused. "And it will mean that Khaleda Zia got the notice."
The notice signed by Magistrate Shamsul Arefin of the CMM Court has asked Khaleda Zia to appear before the court on March 3, the court official added.
A Dhaka court yesterday summoned the BNP chairperson to appear before it on March 3 over the sedition suit filed for her comment on the number of Liberation War martyrs.
Khaleda, on December 21 last year said, "There are controversies over how many were martyred in the Liberation War. There are also many books and documents on the controversy."
Her comments drew widespread flak and sparked protest among pro-liberation quarters.