Rampal power plant: BNP's demo depends on govt response
Fakhrul tells journalists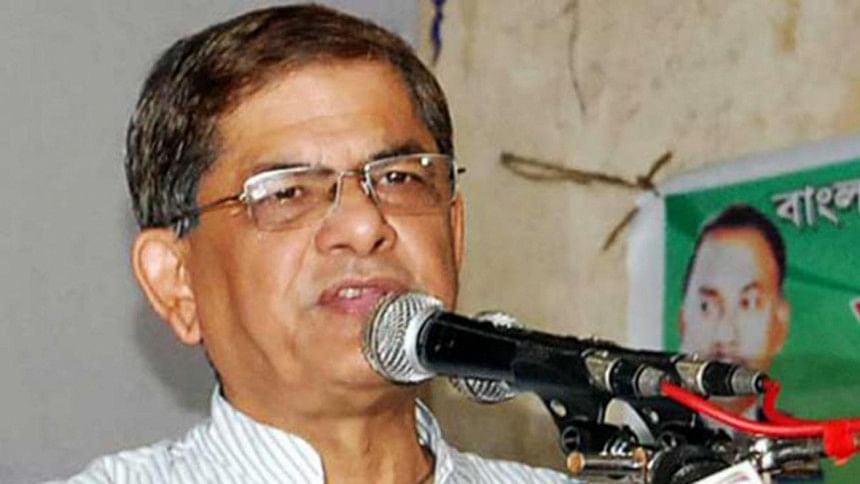 BNP's programme regarding the relocation of Rampal coal-fired power plant depends on the government's response, a top party leader said today.

"We will wait to see how the government acts to meet our demand. Then, we will decide whether to launch the demonstration," BNP secretary general Mirza Fakhrul Islam Alamgir said.

He was talking to journalists after placing wreaths at the grave of the party's founder Ziaur Rahman at Sher-e-Bangla Nagar in Dhaka.

Flanked with the party's leaders and activists, Fakhrul went there to observe the founding anniversary of Jatiyatabadi Muktijoddha Dal, a pro-BNP platform of freedom fighters.

In his brief statement, Fakhrul also said BNP supports left leaning organisations' movements on Rampal power plant.

The party Chairperson Khaleda Zia has placed the demands for scrapping the power plant at Rampal considering its dire consequences on the Sundarbans.

Yesterday, she termed the proposed power plant "anti-people" and "unprofitable" and urged the government to pull back from the project for the sake of the country's ecological balance.

"If the project is implemented, our beloved motherland will no longer remain a place worthy of living ... no citizen of the country will accept it," said Khaleda, adding that it would reduce employment opportunities of the people who depend on the Sundarbans.

"There are many alternatives to generate power and there are many alternative sites as well, but there is no alternative to the Sundarbans ... it cannot be destroyed," she noted.

The proposed power plant will have two units of 660MW that will generate power for local consumption, as nearly 40 percent of the population does not have access to electricity. Environmentalists have been up in arms against the power plant because of its proximity to the Sundarbans, the world's largest mangrove forest and a Unesco World Heritage Site.