Gulalai's allegations: Imran welcomes probe decision
Pakistan Tehreek-i-Insaf (PTI) Chairman Imran Khan welcomes Prime Minister Shahid Khaqan Abbasi's call for the formation of a special committee to investigate the allegations of harassment levelled against the former by MNA Ayesha Gulalai.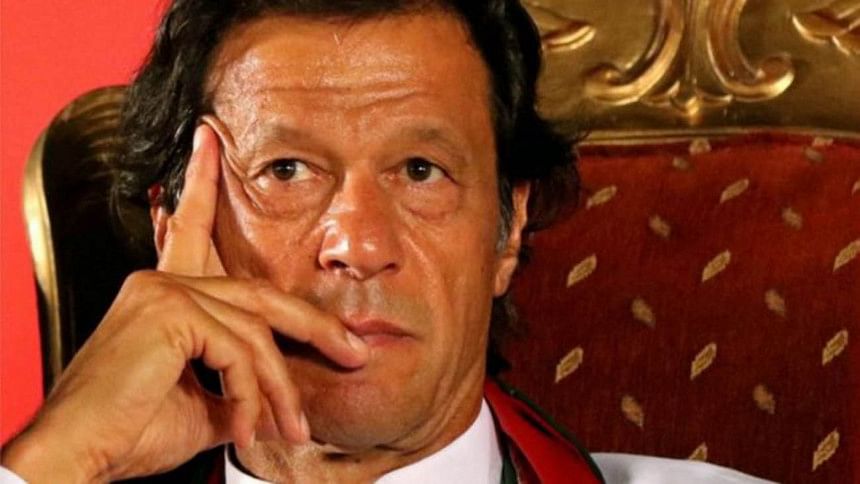 Pakistan Tehreek-i-Insaf (PTI) Chairman Imran Khan on Friday welcomed Prime Minister Shahid Khaqan Abbasi's call for the formation of a special committee to investigate the allegations of harassment levelled against the former by MNA Ayesha Gulalai.
The PTI chief made remarks to this end during an interview to a local TV channel.

Also read: Move to disqualify Imran Khan over Ayesha Gulalai's allegations
Imran Khan also said he doesn't want to comment further on the issue "because it would affect Gulalai's life," however, he said he "welcomes the formation of a commission to probe into the matter".
"I have never sent indecent messages to her [Gulalai]. I challenge the [proposed] committee to find [the indecent texts] if there are any," he said.

Read more: Pak PM backs harassment probe against Imran Khan
"But at the same time, I would also want the proposed commission to investigate the texts of PML-N leader Amir Muqam — particularly those sent to Gulalai's father."
The PTI chief also called for checking the phone records of the Editor-in-Chief of a private media group, "so as to make it clear why the issue was raised after four years".
Imran Khan claimed that PML-N was behind the entire episode. "Gulalai was used by the PML-N and the party was also using [the media group] for its own interests," he maintained.
He demanded that the proposed committee should launch an across the board probe into the matter as he said he believes that "money has changed hands" in this connection.
"They [the PML-N] are disgusting people, Benazir was my friend but everyone knows what the PML-N did to Nusrat Bhutto, Jemima and how they dragged in Sita White for their own political gains," said Imran Khan.
"Gulalai has damaged the cause of women through levelling such type of allegations," he added.
The PTI chief then turned his guns towards the PML-N, saying the incumbent prime minister was present in the National Assembly when "Khawaja Asif had called Shereen Mazari a 'tractor trolly' and later termed Firdous Ashiq Awan a 'dumper'".
"They are the worst people on the face of the earth and I will chase them till my last breath. They are shameless people," Imran Khan said.
'Transparency strengthens democracy'
Talking about the narrative that democracy was in danger in the country, he termed it a false notion, saying: "accountability and transparency strengthen democracy".
"Panama Papers case was not a conspiracy. The revelations affected almost the entire world. It has enveloped several prime ministers and other high-ups," he recalled.
Imran said that country was moving forward towards democracy. He recalled that in the 90s, democratic governments failed several times due to corruption. "Presidents used Article 58 2(B) to topple the corrupt governments," he said.
"It is debatable that whether the change should be brought through elections or any other constitutional means, but one thing about which I am very clear is that democracy should not be replaced with martial law," he asserted.
Seeking justice from court
When asked about the controversy surrounding his statement that he was directed to take the Panama Papers matter up in court, Imran Khan said the honourable judges had said that the Supreme Court was the right forum to seek justice, so we suspended our lockdown of Islamabad and raised the issue of Panama papers in the court.
Elaborating his stance to the allegations against him — particularly his alleged anti-democratic policies — he said, "People like Asma Jahangir said it was a conspiracy against democracy; they [actually] want corruption to flourish."
"Nawaz Sharif has been caught red handed and still she [Asma Jahangir] called it a conspiracy," he said. "For more than three decades, they have been making fools out of ordinary people. Their business was corruption, they made their business infrastructure with the help of money laundering," Imran Khan alleged.
"Although it should have been filed, the Hudabia reference is yet to be filed because the machinery of the 'godfather' is still there," he added.
Foreign funding and accountability
Responding to a question regarding the allegations of money laundering and party funding from illegal means, Imran Khan said he has found mortgage documents, banking transactions' slips and other decades-old documents. "We have also found the record of 40,000 donors," he claimed.
About his experience of governance, the PTI chief accepted that his mechanism of accountability was not as successful as he had thought. "But I have learned a lot through this. Despite the fact that a ruthless accountability mechanism could not be implemented properly, the level of corruption slid down considerably," he claimed.
"I have learned a lot from Khyber Pakhtunkhwa and have realised that the country could be changed in days."
"Accountability is not imposed all at once. It is not an issue of people, but of institutions. Even angels would be helpless if they would have to work under Asif Ali Zardari and Nawaz Sharif," he said, adding that theft could be stopped when "Imran Khan will be on the top."
"I will empower institutions," he concluded.



Copyright: Dawn/ Asia News Network