Imran Khan ties knot for third time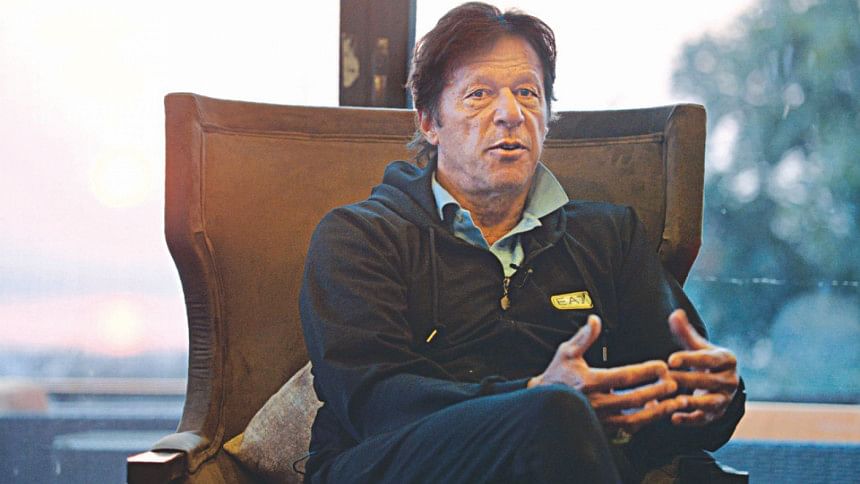 Pakistani politician and former playboy cricketer Imran Khan
has
married a woman described as his spiritual adviser, party officials said, the third wedding for the World Cup champion once touted as Pakistan's most eligible bachelor.
Khan, 65, married Bushra Wattoo in a private ceremony attended by relatives and friends in the eastern city of Lahore on Sunday, his Pakistan Tehreek-i-Insaaf (PTI) party announced on Twitter.
Pictures of the ceremony, showing the bride in a full veil, were posted on the account. Khan, once known internationally for his high-profile tabloid romances, cuts a more conservative persona in Pakistan, often carrying prayer beads and nurturing beliefs in living saints.
PTI spokesman Fawad Chaudhry told AFP the couple had known one another "for a long time" but declined to provide further details. She has been widely reported to be the politician's spiritual adviser.
Khan is loved by millions across the cricket-obsessed nation for winning Pakistan its only World Cup in 1992. His sporting prowess and rugged good looks also brought him international celebrity.
He married British socialite Jemima Khan in 1995 and had two sons with her before their divorce in 2004. The split was attributed to the difficulties she faced in Pakistan, where she was hounded for her family's Jewish ancestry, and to his obsession with politics.
He and second wife Reham Khan, host of a local TV talk show and a BBC weather segment, divorced suddenly in October 2015, just ten months after they wed.
She had been widely criticised after appearing at public meetings of PTI, with opponents accusing her of seeking to boost her own profile through her husband's fame.
Khan, born in Lahore into a comfortable family with origins in the Pashtun northwest, was educated at Pakistan's prestigious Aitchison College, at boarding school in England and then at Oxford University.
He became one of the world's greatest ever all-rounders -- a fearsome fast bowler and dangerous batsman -- whose finest hour came at the 1992 World Cup, where at the age of 39 he led an inexperienced team to the title.
Khan's party plans to contest a general election due in Pakistan this year, telling AFP in a recent interview that he believes this is PTI's "biggest chance" at seizing power.