PM blames Khaleda, Jamaat for losing GSP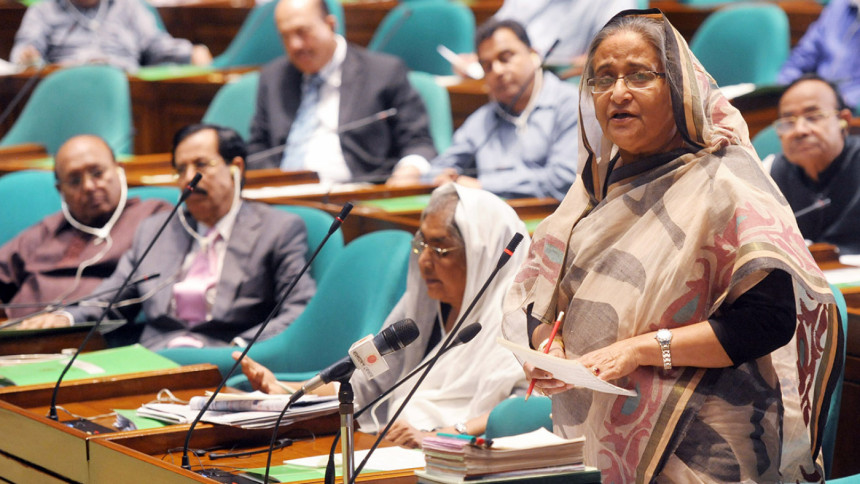 Blaming Khaleda Zia and Jamaat-e-Islami for losing GSP facility in the US market, Prime Minister Sheikh Hasina today said the BNP chief and Jamaat have been spreading propaganda against the country by appointing lobbyists.
The premier, however, expressed hopes to get back the Generalised Scheme of Preferences, saying the USA needs to keep in mind that they have around US$ 2 billion investment in Bangladesh.
"BNP and Jamaat appointed lobbyists to destroy the image of Bangladesh and cancel the GSP facility," Hasina said while replying to lawmakers' queries in parliament.
She said, "It is very regretful that a person who was the prime minister and opposition leader sent a letter to the American government seeking cancellation of the GSP facility for Bangladesh. The political leader also wrote an article in an unknown newspaper in Washington destroying the image of Bangladesh."
On the GSP cancellation, Hasina said, "It was not any superpower but it was the local evil forces that were behind the GSP cancellation."
Without mentioning any name, the premier also said a person became very angry after losing his post as managing director of a bank following a legal battle. "That person got engaged in spreading negative propaganda against the government."
"Their partisan and personal interests always come on the surface and these people are conducting such propaganda," she added.
On US investments in Bangladesh, the premier said, "The USA has to remember that before Awami League tenure in 1996 their investment in Bangladesh was only US$ 25 million. During our tenure their investment has gone up to around 1.2 billion. It happened due to Awami League government. We've given that scope and now it's around US$ 2 billion. They've their investment here, they have to remember that."