'No national unity with BNP'
14-party leaders say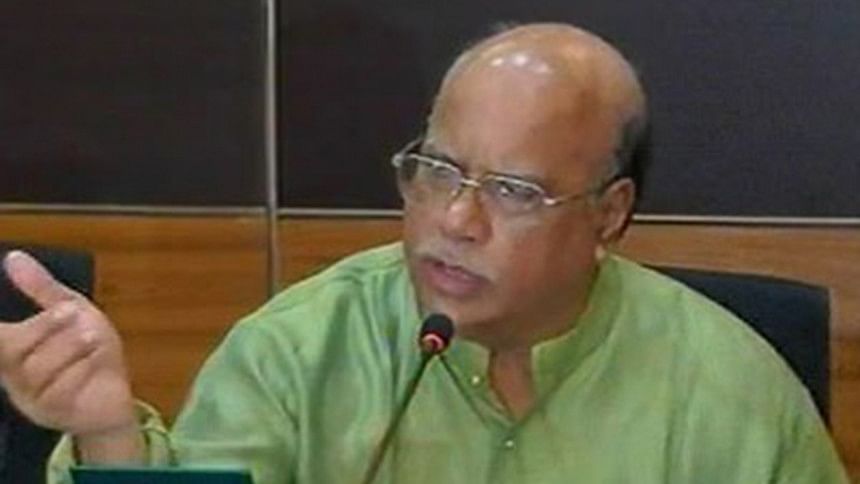 The ruling Awami League-led 14-party alliance leaders today turned down any possibility of forging a national unity with BNP-led alliance for stamping out militancy from the country.
Terming BNP's call for forging national unity as 'mockery', they said unity is not possible with those who patronise militancy.
The AL-led 14-party leaders were addressing a discussion marking the national mourning day at Krishibid Institution auditorium in Dhaka with 14-party spokesperson Mohammed Nasim in the chair.
Addressing the programme, AL leader and Industries Minister Amir Hossain Amu said BNP-Jamaat men are killing people to make the country a 'failed state'. "So national unity with them (BNP-Jamaat) is not possible."
He also said that militancy can't stop the country's march towards development.
Another AL veteran leader and Commerce Minister Tofail Ahmed said BNP's call for national unity is nothing but mockery.
"Unity is not possible with those who have kept children of convicted war criminals in their committee," he said adding that a national unity has already been made with the people of the country under the leadership of Prime Minister Sheikh Hasina.
He alleged that those who killed people through arson and petrol bomb attacks to topple the government in 2015 are now patronising militancy.
AL presidium member and Agriculture Minister Matia Chowdhury said national unity is needed to move the country forward and lead the nation towards peace.
"But, BNP has failed to maintain peace in the country when it was in power," she said adding that BNP is now talking for national unity as it is not in a comfortable position.
Workers Party President and Civil Aviation and Tourism Minister Rashed Khan Menon said militants' main objective is to disturb communal harmony in the country through killing minorities and foreigners.
"We're now still in a war, as we're not secured yet…we're in a war to wipe out militancy from the country," said Information Minister Hasanul Haq Inu, also the president of Jatiya Samajtantrik Dal.
AL-led 14-party leaders Dilip Barua, Sharif Nurul Ambia, Enamul Haque, Sheikh Shahidul Islam, Wazedul Islam Khan, Mahbubul Alam Hanif and Jahangir Kabir Nanak, among others, also addressed at the discussion.